Family
Peaches and Cream Coffee Cake {recipe}
Poke your fork in this delicious spice cake lifting out sweet peaches topped with a generous crumb and creamy glaze.  Perfect for breakfast or as an impressive dessert any time.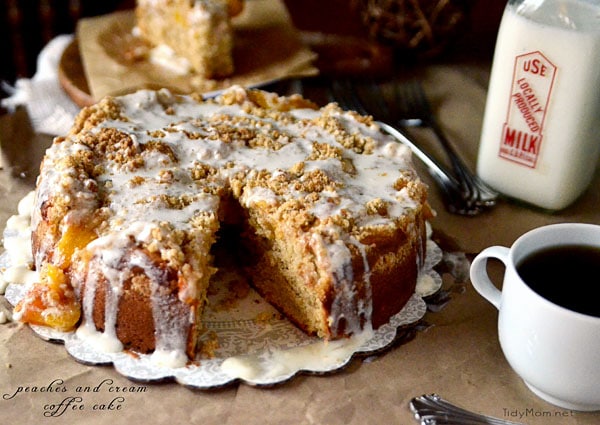 If you like cake for breakfast………..then this coffee cake recipe is for you!
This past weekend my family headed to Kentucky for a family wedding and I stayed  home…..in an empty house. Well, empty as in just me and the dogs.
I cleaned the house Friday evening and it stayed clean until they returned on Sunday.
36 hours of a clean house, I can't lie, I enjoyed it.
I had no one to answer to, no one to pick up after, no one filling up the sink every time I'd empty it and no one to share the TV with.
Then I got this picture.
and I missed them……messes and all.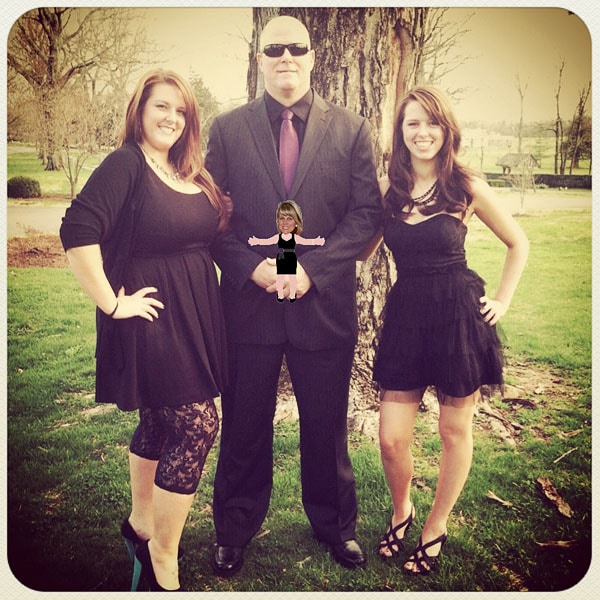 ok, so hubby was going to surprise me and take flat TidyMom along, and he forgot her, so I photoshopped her in! haha
So I decided to bake.  I knew they'd be getting home in the wee hours on Sunday, so why not have a delicious coffee cake, laced with peaches and cream waiting for them when they walk thru the door.
So tie on those aprons, I'm going to show you how easy it was!
(full recipe is at the end of the post)
Alrighty, grab a 9″ springform pan and be sure to lock it and give it a good coat of no stick spray.  Mix the dry ingredients, and removed one cup to set aside for topping.  Add egg yolks and cream and mix until smooth, then gently fold egg whites by hand.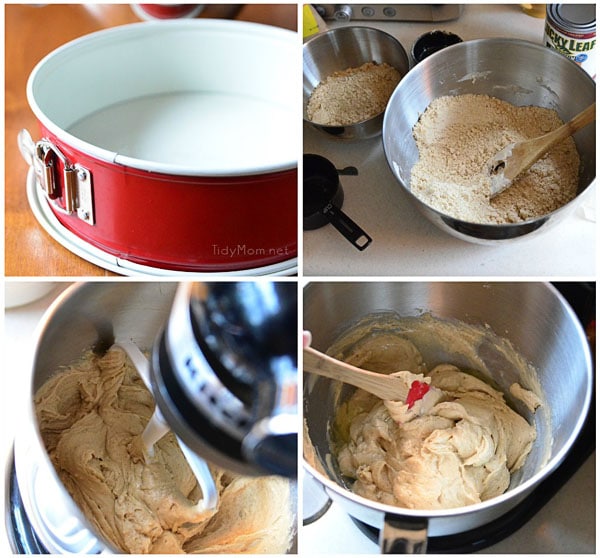 Pour that delicious batter into your springform pan, top with a can of peach pie filling, sprinkle with the cup of crumb mixture you had set aside and then she's ready for the oven!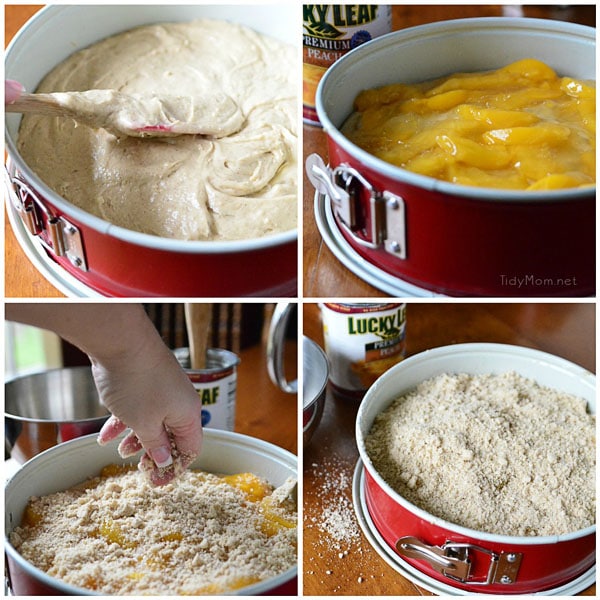 While the cake is in the oven, I use that time to clean up the mess I've made in the kitchen, and make the icing.  You could also make the icing while the cake cools.
Melt the butter and a little vanilla. (can't wait to share my homemade vanilla with you soon)  Slowly add to powdered sugar and stir, it will be very crumbly.  Add about 3 tablespoons of cream, then slowly add more cream one tablespoon at a time until you have a smooth and creamy consistency.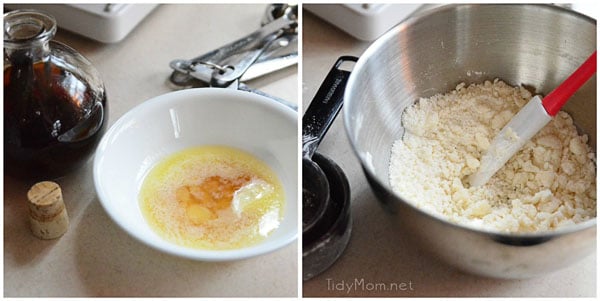 After about an hour, you can remove the cake from the oven!  Allow to cool for five minutes then remove from pan.
After it cooled some, I transferred my cake to a 10″ cardboard cake board and drizzled icing over the top, allowing it to run down the sides.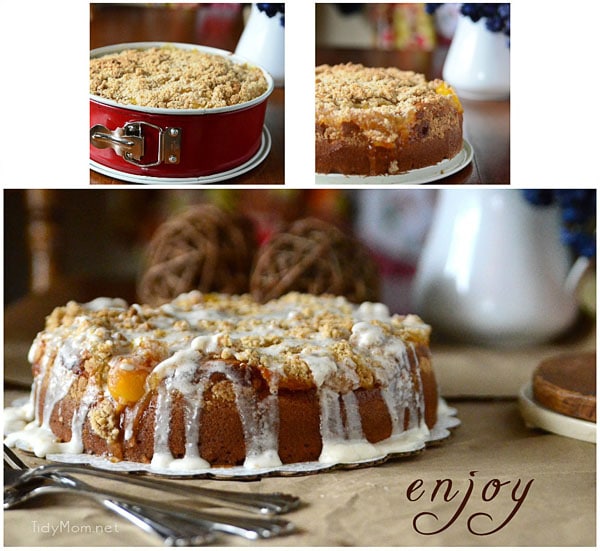 I couldn't resist, and enjoyed a piece while it was still slightly warm!
Go ahead…poke your fork into a piece of warm spice cake lifting out sweet peaches topped with a generous crumb and creamy glaze.
If no one is home when you eat coffee cake for dinner, will anyone KNOW you ate coffee cake for dinner?
PS – my clean house was short lived…….in no time at all my sink was like this again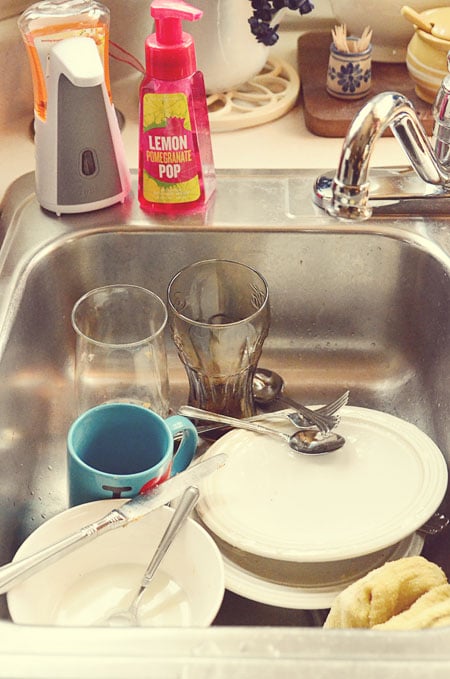 Peaches and Cream Coffee Cake
Ingredients
2-1/2 cups all-purpose flour
1 c. brown sugar, packed
3/4 cup butter, softened
2 eggs, separated
1 cups heavy whipping cream (or milk)
1/2 tsp salt
1 tsp. cinnamon
1/2 tsp nutmeg
2-1/4 tsp baking powder
1 can (21 oz.) Peach Pie Filling (I like Luck Leaf)
for icing
1 Tbsp. butter
1 tsp. vanilla
3/4 cup powdered sugar
3-5 Tbsp. heavy whipping cream (or milk)
Instructions
Preheat oven to 350°
Mix flour, sugar, cinnamon, nutmeg and butter (will be crumbly). Take out one cup of this and save for topping.
Mix egg yolks with cream and add to remainder of flour mixture. Add salt and baking powder and mix until very smooth.
Gently fold in egg whites.
Pour into greased springform pan.
Put pie filling evenly over top of batter. Sprinkle with crumb mixture.
Bake for 55-65 minutes. Until lightly brown on top.
Allow to cool for five minutes then remove from pan.
Drizzle with vanilla icing.

For the Icing:

Melt butter in microwave, then add vanilla.
Slowly stir in powdered sugar. (will be clumpy)
Add 3 tablespoons of cream (or milk) stir until creamy and smooth. Add more cream 1 tablespoon at a time until right consistency (runny enough to drizzle over cake).
Notes
you could also bake this in a greased 9x13 glass pan at 375° for 45 minutes.
Recipe adapted from Luck Leaf
http://tidymom.net/2012/peaches-and-cream-coffee-cake-recipe/
Copyright© 2009-2013 TidyMom.Net
 More coffee cake recipes you might enjoy
 Craving more? Sign up for the TidyMom newsletter to stay on top of what's new right to your inbox! And stay in touch on Facebook, Twitter, Google+ and Pinterest for all of the latest updates

You May Also Like...