Chocolate Salted Caramel Cupcakes
I love the idea of making Valentines Day about sharing the love with more than just your significant other.  It's the perfect opportunity to bake up a batch of  something pink, red and chocolate for  friends, family, neighbors, or coworkers.  After all, who can refuse a little sugary love sent their way?
For Christmas I received  Martha Stewart's Cupcakes book, and my family was quick to pick out all of their favorites they'd like to make……….but we all agreed the first should be the Chocolate Salted Caramel Cupcakes!
But I have to tell you………..I cheated a little.
These cupcakes are pretty involved, and I love love love Duncan Hines Moist Deluxe Dark Chocolate Fudge Cake Mix, so I used the cake mix, instead of making the cake from scratch……but I don't use the directions on the box, I modify it to make it extra yummy.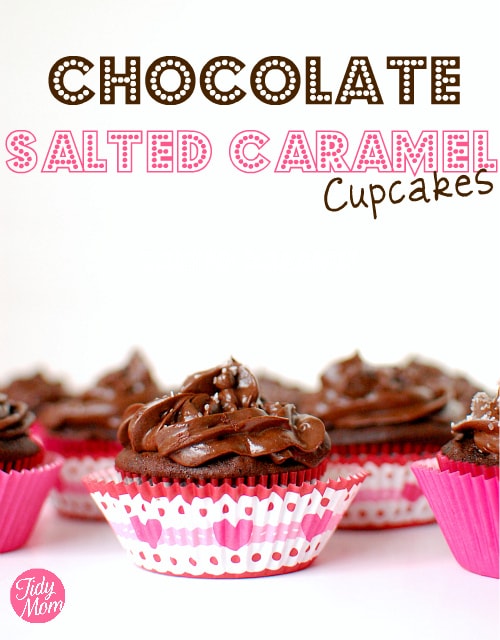 Chocolate Salted Caramel Cupcakes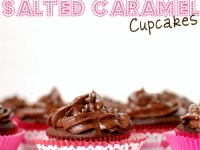 Ingredients
Chocolate Salted Caramel Cupcakes

1 Duncan Hines Moist Deluxe Dark Chocolate Fudge Cake Mix
3 Large Eggs
1/2 cup melted butter (butter not margarine)
1 cup water
Salted Caramel Filling (recipe below)
Dark Chocolate Frosting (recipe below)

Salted Caramel Filling

2 1/2 cups sugar
2/3 cup water
1 tablespoon light corn syrup
3/4 cup heavy cream
2 1/2 teaspoons sea salt, preferably fleur de sel (I used about 1tsp Kosher Salt)

Dark Chocolate Frosting

1/4 cup plus 2 tablespoons Dutch-process cocoa powder
1/4 cup plus 2 tablespoons boiling water
1 1/2 cups unsalted butter, room temp
1/2 cup confectioners' sugar, sifted
Pinch of salt
1 pound semi-sweet chocolate, melted and cooled
Instructions
Chocolate Salted Caramel Cupcakes

Preheat oven to 350
Mix on low until blended, then mix on high for 2 mins.
Pour into paper lined cupcake pans. Bake for 20 min.
Cool completely.
For the filling(recipe below), use a paring knife to cut a cone-shaped piece (around 3/4 inch deep) from the center of each cupcake. Spoon 3-4 teaspoons warm filling into each hollowed out cupcake. Sprinkle a pinch of sea salt over the filling (I used Kosher salt).
Fill a pastry bag fitted with a medium star tip (I used a 1M) with frosting. Pipe Dark Chocolate frosting (recipe below)on each cupcake and garnish with a pinch of sea salt (again, I used Kosher Salt). Store at room temperature in airtight container, do not refrigerate. (I put mine in the cool basement).

Salted Caramel Filling

Heat sugar with the water and corn syrup in a heavy saucepan over high, swirling occasionally until syrup is clear. Stop stirring and attach a candy thermometer to side of pan.
Cook until syrup comes to a boil, washing down sides of pan with a wet pastry brush as needed.
Boil, gently swirling pan occasionally until mixture is caramelized and just reaches 360F
Remove from heat, and slowly and CAUTIOUSLY pour in cream. The mixture will spatter. Stir with a wooden spoon until smooth. Stir in sea salt.
Use immediately. If the caramel begins to harden, reheat gently until it is pourable again.
**NOTE: you will NEED a candy thermometer for this step

Dark Chocolate Frosting

Combine the cocoa and boiling water, stirring until the cocoa has dissolved. With an electric mixer on medium high speed, beat butter, confectioners' sugar and salt until pale and fluffy.
Reduce speed to low. Add melted and cooled chocolate, beating until combined and scraping down sides of bowl as needed. Beat in the cocoa mixture.
If not using immediately, frosting can be refrigerated up to 5 days or frozen up to 1 month, in an airtight container. Before using, bring to room temperature, and beat on low speed until smooth again.
http://tidymom.net/2011/chocolate-salted-caramel-cupcakes/
Copyright© 2009-2013 TidyMom.Net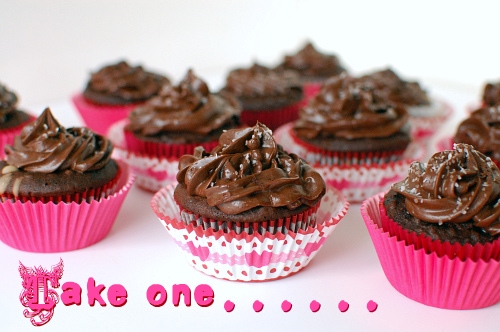 Like I mentioned before, these cupcakes are pretty time consuming, but well worth the effort!  I didn't feel cheated at all by using my cake shortcut!  A batch of these cupcakes is a fabulous way to share some love don't you think?
Other Valentines Day Treats you may enjoy:
Chocolate & Strawberry Cupcakes
Valentine Conversation Heart Chocolate Bark
Valentines Day FREE Printables
I'm linking up with these parties.......please visit them!