Recipes
Candy Bar Cheesecake Recipe {how to}
I have never been one to turn down a cheesecake !
The creamy smooth filling …… crunchy cookie crust…….usually drizzled with rich chocolate or caramel!
I'm usually a dense, rich, and creamy 'New York Style' cheesecake kind of girl………but I'm not afraid to plant my face in a light and fluffy cheesecake either! It just doesn't get much better than cheesecake!
But make one? That scared me! I never had the right pan and the words 'water bath method' made me nervous.
But last fall I decided it was time to put my big girl panties on and try a cheesecake recipe.
I found a rich and creamy cheesecake that you team up with your favorite candy bars, for a decadent dessert that will please any cheesecake lover!
So here we go……..grab your aprons! It was so easy and fun I can't wait to make more!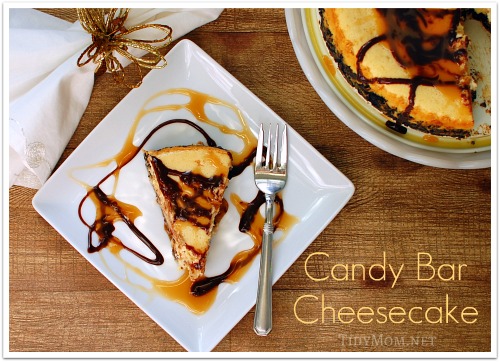 Candy Bar Cheesecake Recipe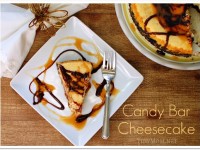 Ingredients
1-1/2 cups crushed chocolate wafer cookies (about 25 cookies)
1/3 cup sugar
1/3 cup butter, melted
2 packages (8 oz each) cream cheese, softened
1 can (14 oz) sweetened condensed milk (not evaporated)
3 eggs
2 teaspoons vanilla
20 Twix bars (fun-size) candy (or your favorite candy bar), unwrapped, cut into quarters (about 2 cups)
Instructions
Heat oven to 300°F. Spray 9-inch spring-form pan with cooking spray. To minimize cracking, place shallow pan half full of hot water on lower oven rack.
In medium bowl, mix cookie crumbs, sugar and butter. Press into bottom of springform pan.
Open candy bars and cut each one into 3-4 pieces, set aside.
In large bowl, beat cream cheese and sweetened condensed milk with electric mixer until smooth. Beat in eggs, one at a time, just until blended. Stir in vanilla and candy bars. Pour over crust.
Bake 40 to 50 minutes or until edge of cheesecake is set at least 2 inches from edge of pan but center of cheesecake still jiggles slightly when moved. Run small metal spatula around edge of pan to loosen cheesecake. Turn oven off; open door at least 4 inches. Let cheesecake remain in oven 30 minutes. Cool in pan on cooling rack 30 minutes. Refrigerate at least 6 hours or overnight.
Just before serving, run small metal spatula around edge of pan; carefully remove side of pan. Drizzle with Chocolate Syrup and Caramel Syrup or topping. Cover and refrigerate any remaining cheesecake.
http://tidymom.net/2011/candy-bar-cheesecake-recipe/
Copyright© 2009-2013 TidyMom.Net
Enjoy!!
This cheesecake wasn't nearly as difficult as I expected and was like a bit of heaven on a plate!  I'm already searching for my next cheesecake recipe to try!
Do you like cheesecake? I'd love to hear your favorite….. tell me about it in the comments or, better yet….feel free to post a recipe and picture on the TidyMom Facebook page!
I'm linking up with these parties.......please visit them!
 "Get Grillin' with Family Fresh Cooking and Cookin' Canuck, sponsored by Ile de France Cheese, Rösle, Emile Henry, Rouxbe and ManPans."

You May Also Like...