Red White & Blue Cupcakes!
Some people like to celebrate the 4th of July with barbecues and fireworks….I say,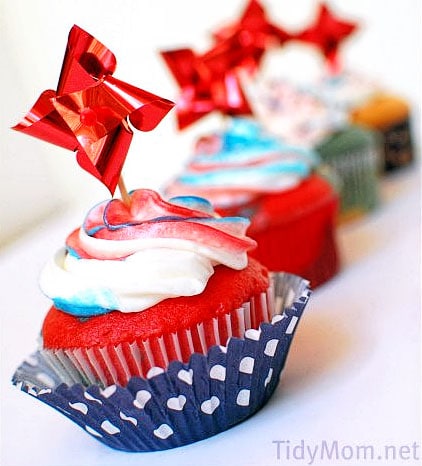 "Let's celebrate with cupcakes!!"
If you are looking for an impressive treat for your 4th of July celebration, look no further. These Patriotic Cupcakes are too cute, a box cake mix makes it easy and they are sure to be a hit with the kids. Disclaimer – yes, I've heard all the "evil" about food coloring in food…..if this bother's you, please just close this post.
I've seen these cupcakes around the web for a while, like here and here and I've been looking forward to trying them myself! I will to say that I was thrilled with the results! They turned out even cuter than I had hoped for.
Divide your white cake mix into 3 bowls.
Add red gel coloring to one, and blue to another.
I highly recommend using the gel-paste food coloring. The color is concentrated, so it does not require a lot to achieve the hue you're going for. The liquid food coloring from the grocery store will "water down" your batter.
Spoon a little of each color into your cupcake liners, filling about 1/2 full.
Bake at 350° for 20 mins. and let cool.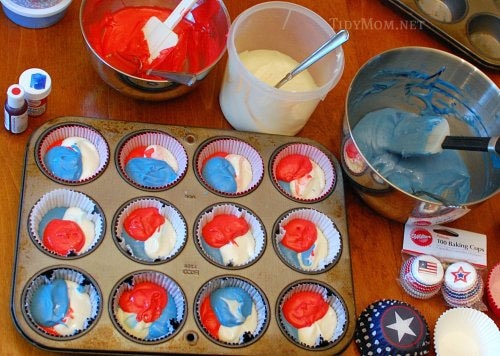 Next I made a batch of Glory's Frosting
Ingredients
½ cup butter, at room temperature
8 oz. cream cheese, at room temperature
1 teaspoon vanilla extract
4 cups powdered sugar
1 to 4 Tablespoons heavy whipping cream
Instructions
*Place butter in a large mixing bowl and blend slightly. Add cream cheese and blend until combined, about 30 seconds.
Add vanilla and sugar and blend on low until combined. Increase to medium speed and beat until it begins to get fluffy. (*I used clear vanilla to keep my frosting nice and white)
Slowly add the cream a little at a time until desired consistency is met. (Don't add too much if you want the frosting to stay in place when piped on cupcakes.)
I added some bright white gel coloring at this point to make my frosting nice and white.
Beat until fluffy, about 1 minute.
Pipe onto cupcakes!
http://tidymom.net/2010/red-white-blue-cupcakes/
Copyright© 2009-2013 TidyMom.Net
To make my icing multi colored, I tried something new this time.
I bought the Wilton Holiday Gels
in red and blue and lined the inside of my pastry/decorating bag with 2 stripes of each.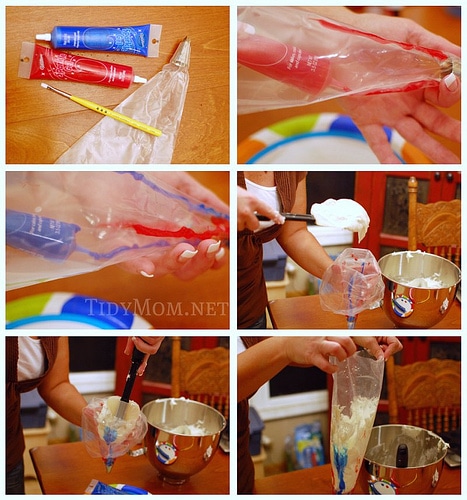 I then filled the bag with my white frosting and piped my cupcakes using my Wilton 1M tip.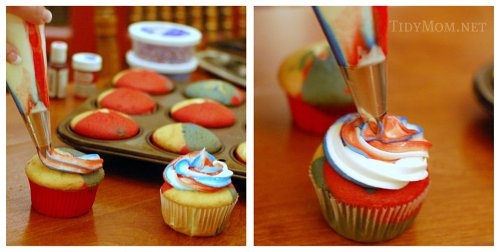 I did add some fun patriotic sprinkles to some, that I found in the Dollar Spot at Target a while back, and topped all of them with these little red pin-wheel toppers I picked up at WalMart.
See how fun they look when you bite in!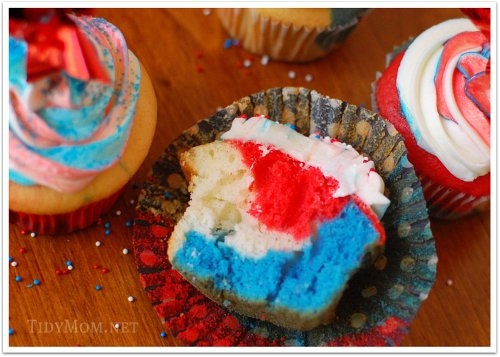 While we celebrate with yummy food, I cannot help but think about the life of freedom we have today that is due to all of the people who gave (and are still giving) the ultimate sacrifice in order to protect our country. I appreciate their dedication and sacrifices from the bottom of my heart. It is because of them and their families that we can fly our flags high and be thankful that we live in the U.S.A.