Holiday
Grandpa's {Special} Pumpkin Pie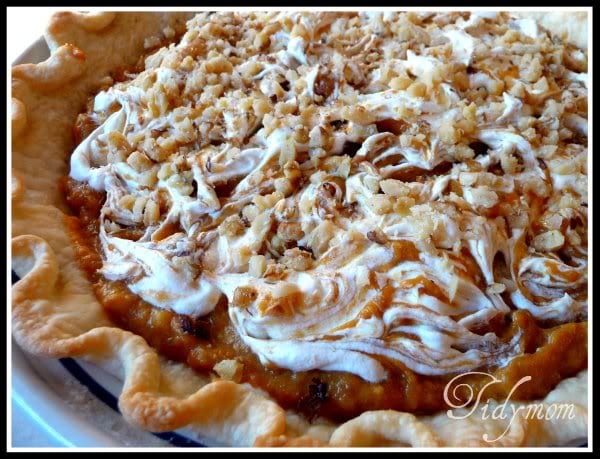 On my mom's side of the family, my Grandpa was the cook! One of the first few years I was married, he shared his secret Pumpkin Pie recipe with me. The two of of us worked on it and tweaked it a bit – the original recipe called for solid pumpkin and you made it into pie filling – but we adapted it, so it can be made with the store bought canned Pumpkin Pie Mix/Filling.
This is not like traditional pumpkin pie, it's layered with Cool Whip, so it is light and fluffy and is kept and served cold.
The recipe makes 2 pies. Every year I make them and take them to my husbands side of the family. There have been years I've made 4 pies, everyone likes it THAT much!! For years there were members on that side of the family that would beg me for the recipe, and I wouldn't give it to them! LOL So don't you feel lucky?! I knew if I gave my recipe out, then they would be making it too, and it would no longer be "the coveted pie at Thanksgiving"
**EDITED to add Pictures!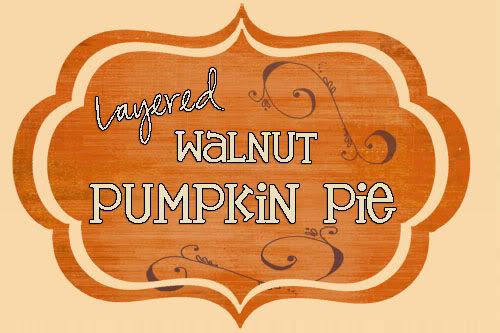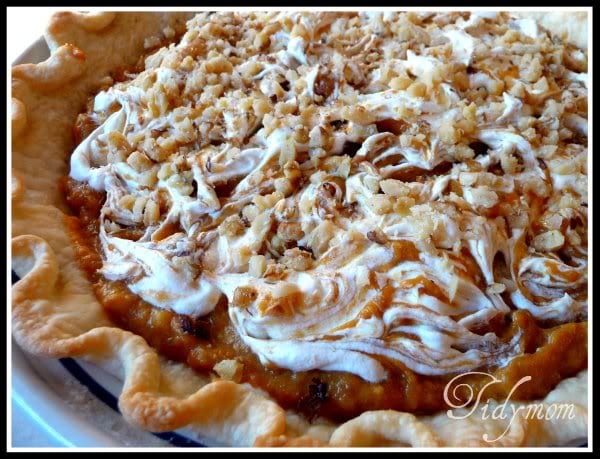 Layered Walnut Pumpkin Pie is light and fluffy, served cold and a perfect pie for Thanksgiving dessert
Ingredients
1 Cup Walnuts
2 Pie Shells
1 envelope Unflavored Gelatin
1/4 Cup cold Water
1 30 oz Can Pumpkin Pie mix (NOT solid pumpkin)
2 T Sugar
1 small can Evaporated Milk
3 Eggs *(you will use 2 yolks, and 3 whites)
1/2 tsp Vanilla
1 container of Cool Whip
Instructions
Chop walnuts fine.
Bake pie shells and cool.(I use the Pillsbury Refrigerator Pie Crust)

Filling

Soften gelatin in water in sauce pan.
Stir in Pumpkin Pie Mix, 2 egg yolks and milk.
Heat until boiling.
Stir constantly.
Reduce to low heat stirring constantly for another 5 mins.
Remove from heat, add vanilla and cool and chill until thick. (I usually do up to this point the night before, and refrigerate the filling and egg whites overnight- but I would think a few hours would be fine if you want to do it the same day)
Beat 3 egg whites to soft peaks adding 2 Tablespoons of sugar one at a time until stiff.
Fold into pumpkin mix.
Fold in 3/4 of your walnuts.

Layer

1/2 of your pumpkin filling into the 2 pie crusts
1/2 of Cool Whip on top of filling in each crust and spread with spatula
Remaining 1/2 of pumpkin filling in each crust
spread with spatula.
Dollop several spoonfuls of remaining Cool Whip on top of each pie, then take a knife and swirl them slightly into the filling.
Sprinkle with remaining Walnuts. Chill until ready to serve.
http://tidymom.net/2008/grandpas-special-pumpkin-pie/
Copyright© 2009-2013 TidyMom.Net
Enjoy!
Be sure to see this post to see how we take them to my sister-in-laws house!

I posted this over at The Inspired Room's Friday Holiday Linky Fun – be sure to go over there and see more great Holiday Ideas!
Stop by Blessed With Grace for more Tempt My Tummy Tuesday.
Stop by I am Blissfully Domestic to join the fun!
I've added this post to Holiday Food Fest – Fall Desserts (November 2009)

You May Also Like...