Saving Money with Dryer Sheets
So far, I've shared my thoughts about the Arm & Hammer Essentials Fabric Softener Sheets as well as a tip for keeping your linens "just from the laundry" fresh.
Today I wanted to share one of my favorite money saving tips!  Did you know that if you cut your dryer sheets in half, they will still do the same job as a full sheet?  I've been doing this for years.  I keep a pair of scissors in the laundry room.  Sometimes I will sit down and cup up the whole box when I open it, other times I will just cut a small stack at a time.   It's just a great little tip to  cut costs in your household budget.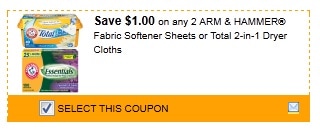 If you'd like to try it for yourself, print and save $1 on any 2 Arm & Hammer Fabric Softener sheets or dryer cloths plus $11.50 worth of additional savings in the savings center!

Disclosure: This is a sponsored post for Church & Dwight Co., Inc. the maker of Arm & Hammer branded products, who is compensating me to try different products. But is not paying me for a positive review. The opinions are 120% my own. Save $1.00 on and 2 Arm & Hammer Essentials Fabric Softener Sheets. And be sure to head over to The Switch & Save Challenge for the chance to win $25,000