Pumpkin Whoopie Pies with Marshmallow Filling
Are you totally obsessed with pumpkin like I am?! I don't know what it is about this tasty gourd……but as soon as there is a chill in the air I start to CRAVE pumpkin!
Last year I shared Pumpkin Spice Lattes we like to make at home, Vanilla Pumpkin Cupcakes (HUGE favorite among family and friends), my Grandpa's Layered Walnut Pumpkin Pie, Pumpkin Cream Cheese,  Pumpkin Cheesecake Brownies, Pumpkin Pancakes and Chocolate Pumpkin Muffins.
This year coming up with some new pumpkin recipes to try was easy….there are TONS of great pumpkin recipes all over blogville!
Is that pumpkin overload for you? lol
Well, earlier this month I picked up the Betty Crocker Fall Baking magazine….the one with the one and only Bakerella on the cover!  After an hour of drooling over every recipe in the book, the girls and I all agreed the first thing we were going to make was the Pumpkin Whoopie Pies.
We had never had Whoopie Pies before, but we just knew we needed to try them.  And Betty Crocker makes them so easy with this great recipe!
Not all that pretty………but they sure are delicious!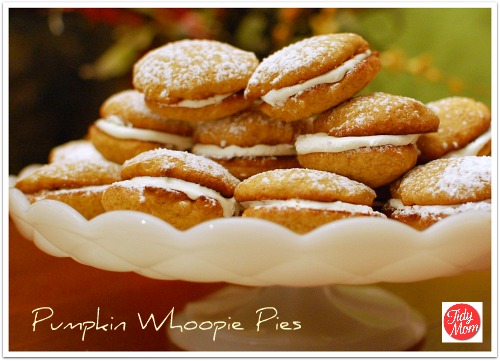 Pumpkin Whoopie Pies with Marshmallow Filling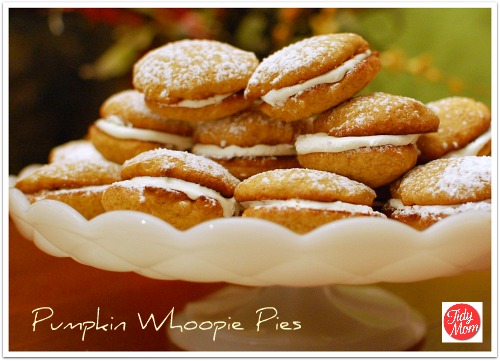 Ingredients
Cookies

1 pouch (1 lb 1.5 oz) Betty Crocker® sugar cookie mix
1 tablespoon Gold Medal® all-purpose flour
1/2 cup canned pumpkin (not pumpkin pie mix)
1/3 cup butter or margarine, softened
2 teaspoons ground cinnamon
1 egg

Filling

2/3 cup marshmallow creme (from 7-oz jar)
1/3 cup butter or margarine, softened
2/3 cup C&H powdered sugar
Instructions
Heat oven to 375°F. In large bowl, stir together cookie mix and flour. Add remaining cookie ingredients; stir until stiff dough forms.
Onto ungreased cookie sheets, drop dough by 36 rounded teaspoonfuls 2 inches apart. Lightly press tops with floured fingertips to flatten slightly.
Bake 8 to 10 minutes or until set. Cool 2 minutes; remove from cookie sheets to cooling racks. Cool completely, about 15 minutes.
In medium bowl, beat filling ingredients with electric mixer until light and fluffy. For each whoopie pie, spread about 2 teaspoons of the filling on bottom of 1 cooled cookie. Top with second cookie, bottom side down; gently press together. Store tightly covered in refrigerator. Sprinkle with additional powdered sugar just before serving.
https://tidymom.net/pumpkin-whoopie-pies-with-marshmallow-filling/
Copyright© 2009-2013 TidyMom.Net


Have you made anything with pumpkin yet this fall?

I'm linking up with these parties.......please visit them!