Pink Champagne Buttercream Birthday Day Cake
This post may contain Amazon or other affiliate links. As an Amazon associate, I earn from qualifying purchases.
This cake is not only perfect for a birthday, but would be fabulous for a wedding or New Year Party. The Pink Champagne Cake with Strawberry Mousse filling and topped with Pink Champagne Buttercream is totally worth the effort, time and clean up!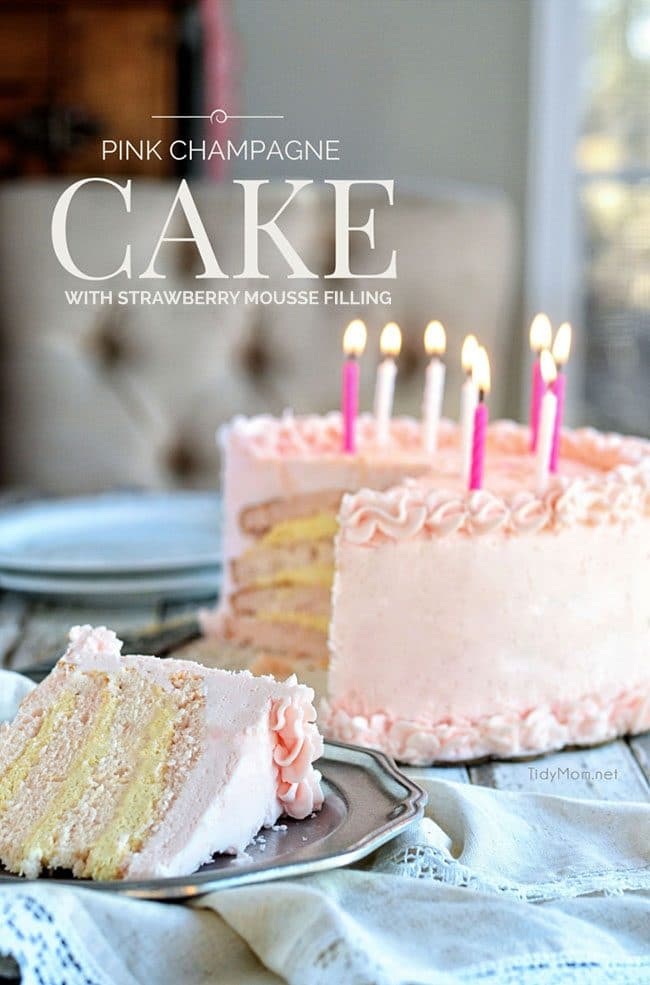 If you follow me on Instagram or Facebook, you may have heard I had a big birthday recently. I turned the big 5-0. I'm still not quite sure how I feel about it, but there is one thing I do know….life is good!
My family kept me busy for the better part of 5 days celebrating, that included a surprise party that totally blew me away. They spent 6+ weeks planning and keeping secrets from me, which was not any easy task. You see, I'm one that's hard to get something past me. They invited all of our friends and family, but also got on my computer and contacted some of my online friends that they don't know 😉 The girls decorated a club house, had food catered from O'Charlies (because I LOVE their Pecan Chicken Tender Salad), they learned how to use iMovie and spent countless hours making a video of photos from my life, and had a delicious Chocolate Raspberry Torte cake made from a former school teacher they both had who makes the most fabulous cakes! (chocolate and raspberry is one of my favorite flavor combos)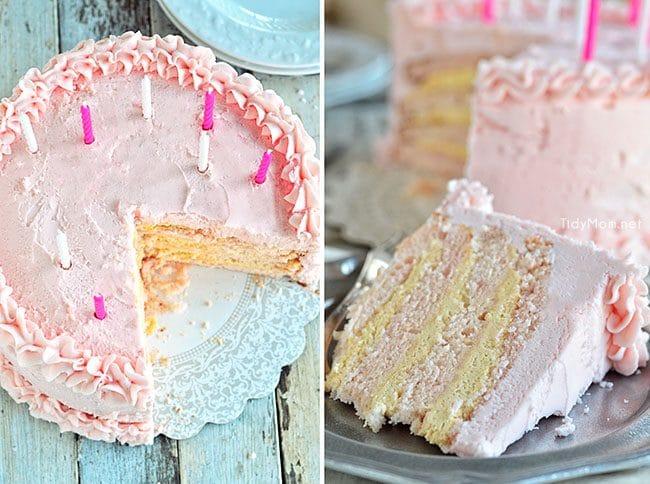 Since the surprise party was actually the day after my birthday, they had to treat my birthday like it was the real celebration, so I wouldn't get suspicious. That's where the cake dreams are made of comes in to play, a Pink Champagne Cake with Strawberry Mousse Filling and Pink Champagne Buttercream. I know right? I bet you are drooling aren't you?!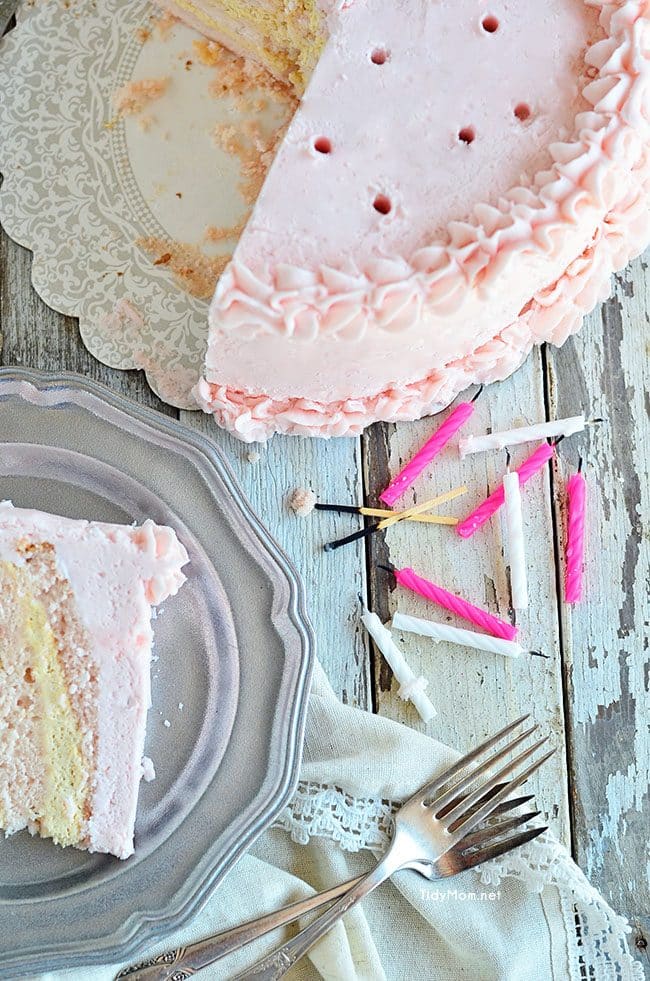 Allison, our 18 year old, is my "mini me", and she loves to bake. Allison wanted to make me a birthday cake, and not just 'a cake' but she wanted to make a cake that she knew I would love. While I do like chocolate…..I'm a vanilla girl all the way! And Allison, well she doesn't let much intimidate her. So when she found a recipe for a Pink Champagne Cake, she knew this was the cake to celebrate a 50th birthday and would be a cake that her mom would love!
Never mind that the blog post said
"I'm just going to put it out there that this is not an easy cake to make. The recipe has a lot of steps, some of which are a little tricky, but if you enjoy the process of putting together a special cake and seeing it come to life, then you'll have fun with this" ~ Sharon of lilikoijoy.com
If you know Allison, you know once she puts her mind to something, she doesn't stop until she gets what she wants…….and she was determined to make me this cake! 😉 The only change she made to the recipe was, she made a Pink Champagne Buttercream instead of the tricky Swiss Meringue Buttercream the original recipe uses.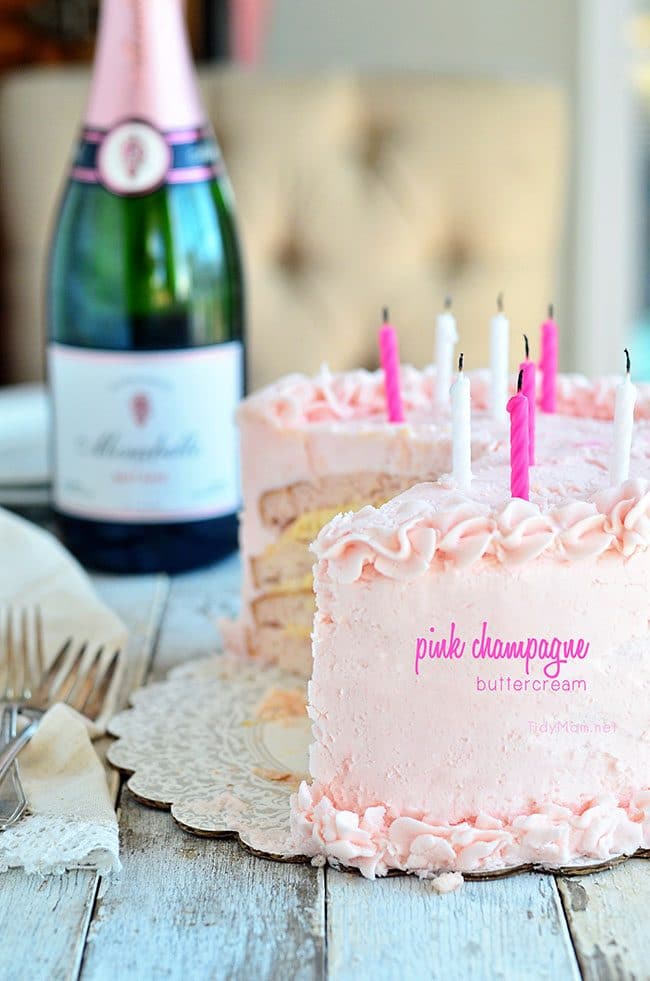 I'm going to be honest here and tell you…..I'm kind of glad she did not make this cake for my surprise party, like she wanted. I didn't have to share my cake with many people, so I was able to eat as much as I wanted! I may have snuck into the kitchen in the middle of the night a time or two with fork in hand 😉
You guys! This cake!!! This cake was AMAZING! The cake was light and moist with a touch of champagne flavor with a strawberry mousse filling between the layers and the champagne buttercream, was, well…..the icing on the cake!! Not only did the cake look elegant, but if elegant had a taste, it would be this cake!
The strawberry mousse is perfect and keeps the cake from being too rich if it was simply buttercream between all the layers.
On my birthday the cake was pulled out the refrigerator and served chilled, which I loved. I usually prefer cold cake, but we decided to leave it out on the counter and when I had a slice for breakfast the next morning, it was even better, if that's possible.
TIP: How to keep cut cake fresh
After the cake was cut, we tried a little trick I recently learned from Diane, to keep my cake fresh. You simply place a few pieces of bread over the exposed (cut) cake and hold them in place with a few toothpicks. The bread will get hard and stale, but the cut sides of the cake will stay fresh!! Genius!! after 2 days I had to use new bread because the stale bread started to fall apart and wasn't keeping the cake covered as well.
The frosting will keep the rest of the cake fresh – so we just left the cake on the counter uncovered (it was cool in our house- but you could definitely keep in the refrigerator), with the bread slices and it stayed fresh for a week. *the only reason this cake was around for a week was because we had the other cake from the party, "50" cookies from Cheryl, cookies from a bakery, and other delicious treats that were brought to the party! —I'm telling you, I ate my weight in cake and other desserts in the last week.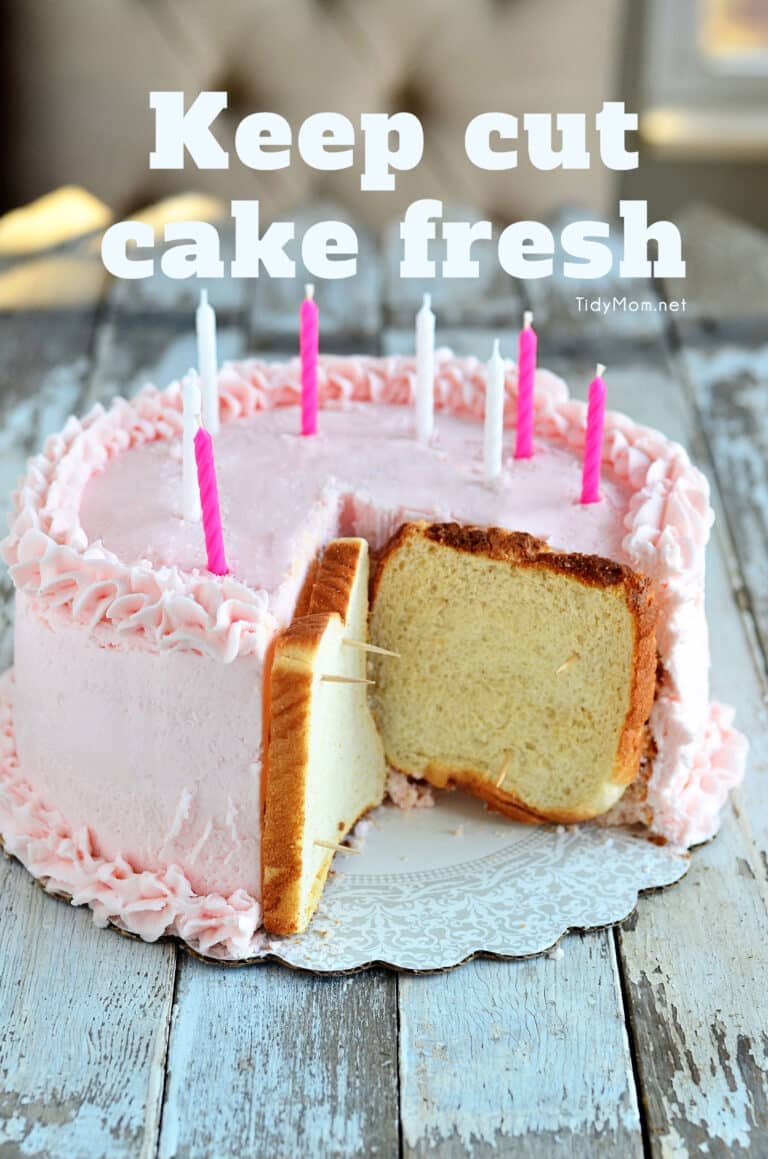 Ok, so let's talk about the Pink Champagne Buttercream
The champagne is reduced by heating it. This concentrates the flavor of the champagne, so you can add more flavor without affecting the consistency of the buttercream. Boiling also burns off some of the alcohol content, but not all of it. It's a small amount of alcohol in the big picture, I would have no problem letting children eat it. But then again, that would mean you have to share the cake, so that's an option you might want weigh 😉
Want more great recipes like this? Follow my TidyMom Easy Recipes Pinterest Board
Follow Cheryl Sousan | Tidymom.net's board TidyMom.net easy recipes on Pinterest.
[recipe]
click for the Pink Champagne Cake with Strawberry Mousse Filling recipe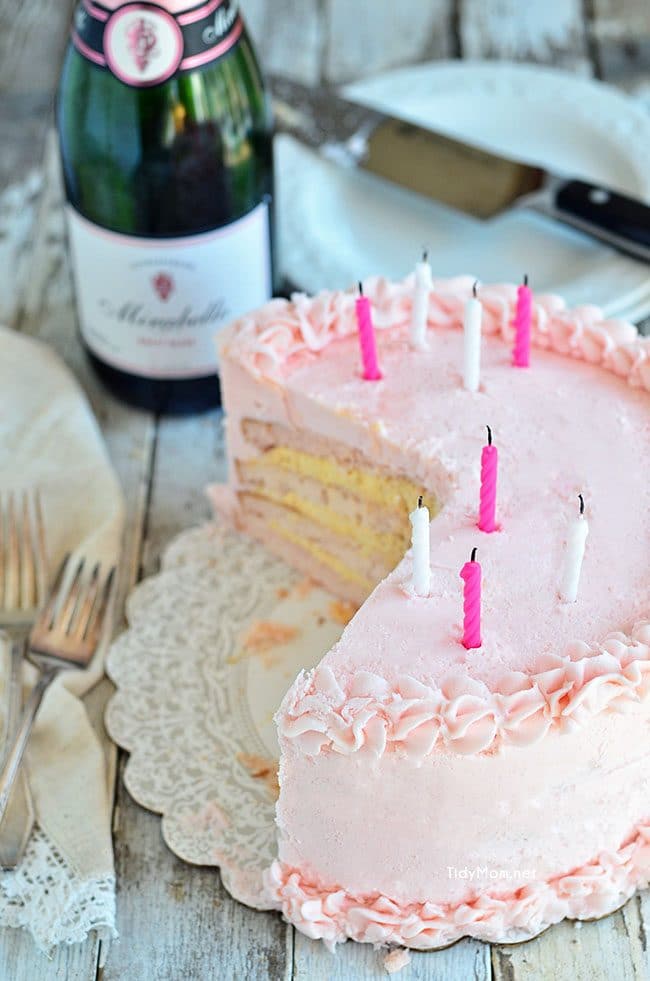 My wish when I blew out my candles: that I get the most incredible man and our two daughters to love for the rest of my life.
I thank God every day for giving me the thing I've wanted the most in my life… a beautiful marriage, and wonderful healthy children. Life isn't always perfect, and I would never expect it to be. But it's the perfect life for us! #LifeisGood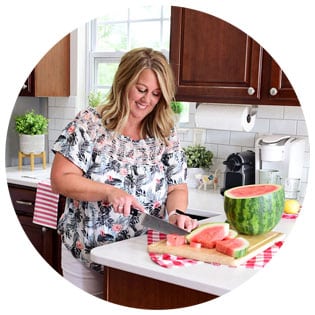 Hi there, I'm Cheryl!
As a wife, mom, and caffeine enthusiast, my journey has taken me from bustling mornings with my family to sharing delicious recipes, home care tips, and heartfelt decorating insights with wonderful readers like you. My love for baking, photography, and tidiness shines through every post I craft. Dive into my world and discover the art of homemaking, one tidy moment at a time. Read more...
Tidymom is a participant in the amazon services llc associates program, an affiliate advertising program designed to provide a means for sites to earn advertising fees by advertising and linking to Amazon.com.
Please respect my work, recipes and photographs. If you do use a recipe in your own writing, please give proper credit and link back to the original post.