Peanut Butter and Banana Muffins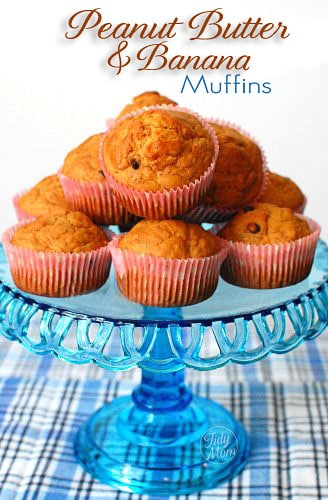 I love the aroma of sweets baking in my oven. It always means something wonderful is on it's way to our table.
Aromas have such a powerful trigger of emotions and memories…..I remember as a child walking into my grandma's house and always smelling something delicious ….it would have my mouth watering instantly . Today those same aromas remind me of happy times with family and loved ones.
Sweet breads and muffins are usually a sure way to trigger a memory…. butter just melting in my mouth, the flavor reaching every taste bud filling me with happiness.
When my girls were little my mom would make them muffins every time they spent the night….whoever got up first got to help and lick the bowl!
Today, they're too old to spend the night with grandma any more, but they still enjoy muffins for breakfast, and the memories they bring!!
First one up…….still gets to lick the bowl help!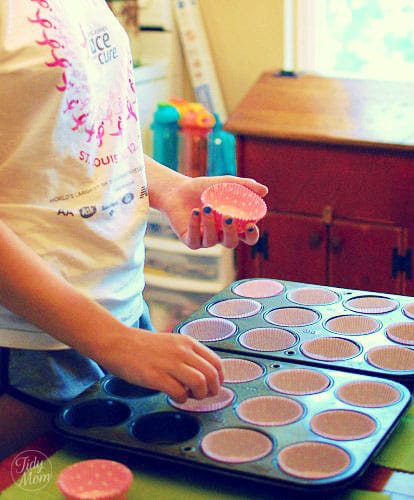 Peanut Butter and Banana Muffins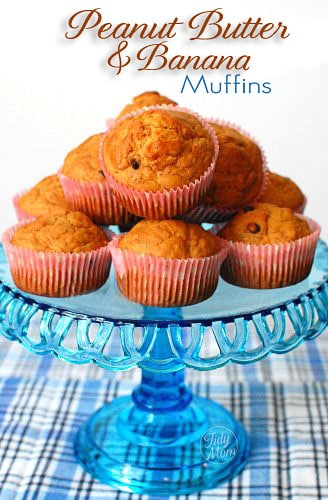 A moist banana muffin with a hint of peanut butter.
Ingredients
2-1/3 cups all-purpose flour
1-1/2 tsp. baking powder
1 tsp. baking soda
1/4 tsp. salt
1/3 cup butter
1/4 cup Creamy Peanut Butter
1/2 cup sugar
2 eggs
1 cup milk
2 ripe bananas, mashed
Instructions
Preheat oven to 400°. Grease two 12-cup muffin pans or line with paper cup cake liners; set aside.
Combine flour, baking powder, baking soda and salt in medium bowl; set aside.
Beat butter with peanut butter in large bowl with electric mixer until smooth. Add sugar and beat until light and fluffy, about 3 minutes. Beat in eggs. Alternately beat in flour mixture and milk combined with bananas with mixer on low speed until blended. Evenly spoon batter into prepared pans to make 18 muffins, then carefully fill empty cups with water.
Bake 20 minutes or until toothpick inserted in centers comes out clean. Cool 10 minutes on wire rack; remove from pans and cool completely.
https://tidymom.net/peanut-butter-banana-muffins/
Copyright© 2009-2013 TidyMom.Net
This classic combo makes a great after school snack or even breakfast on the run.
What aromas trigger memories for you?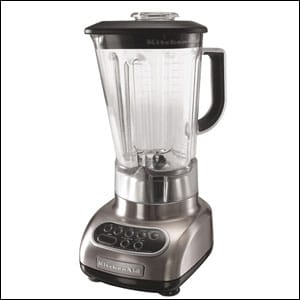 There's still time to enter to win a KitchenAid 5-speed Blender (ARV $180) open thru Dec 5, 2011
I'm linking up with these parties.......please visit them!
Made by You Monday, Mouthwatering Monday, Get Your Craft on , Weekend Wrap Up Party, Pity Party