Easy Spicy Orange Chicken Recipe
This easy Spicy Orange Chicken recipe is full of the amazing flavor you love, without restaurant-style calories!
click to see more of my recipe videos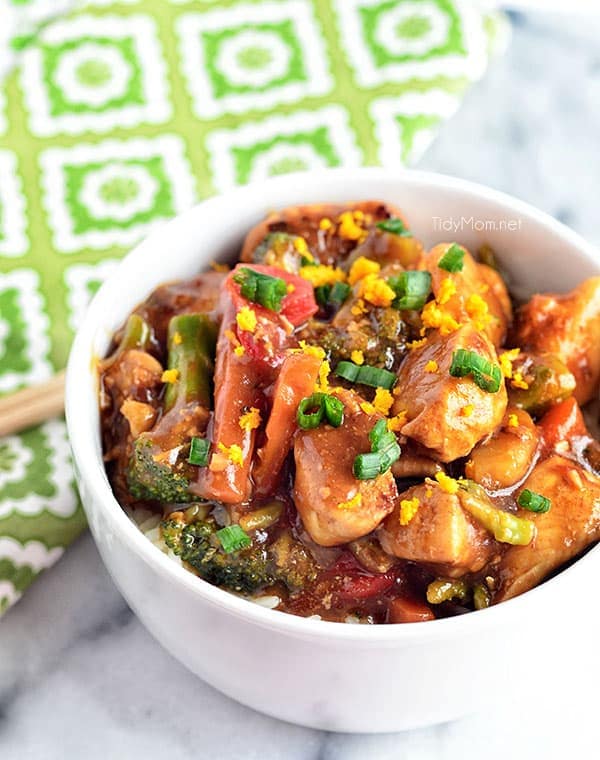 Chinese dishes are a favorite when we get take-out.  I am so excited to share this lightened-up Chinese food classic…… Spicy Orange Chicken.  We have made it four times in the last six weeks, tweaking it a little each time.  I didn't want to share the recipe with you all, until we had it "just right" and I'm happy to say…..we nailed it this time.
It started with the award winning recipe at Whole Foods.   The first time we made it, I followed the recipe and found it to be way to spicy for our taste and I had a little trouble getting the sauce to thicken.  Round two, I cut the Sriracha in half, much better!  still has a lot of kick, but my tongue did not feel as if it were pierced by tiny hot needles 😉  Now that we had the level of kick under control we felt like it still needed something else.
It finally hit me the other day……it needs some stir-fry vegetable for a little crunch!  That was it!  I cooked the sauce a bit differently and everything came together perfectly!!
This Spicy Orange Chicken recipe packs all of the amazing sweet and savory orange flavor that you can find in your favorite restaurant.  You'll never miss the crispy fried chicken or the calories and fat that typically come with this dish.  We love the sauted chicken smothered in a delightful orange sauce! Served with white rice (I'm on a lavender rice kick!) and stir-fry vegetables. 
Cut up your your chicken breasts into bite-sized pieces and season with salt and pepper and place in a large zip top bag.  Then whisk up all of the ingredients for the sauce, pour 1/3 cup into the bag with the chicken.  Place in the refrigerator to marinate, at least one hour.  I usually do this early in the day, so it's all ready to go and I can have dinner on the table in 15-20 minutes!
Homemade Orange Chicken is a Family Favorite Recipe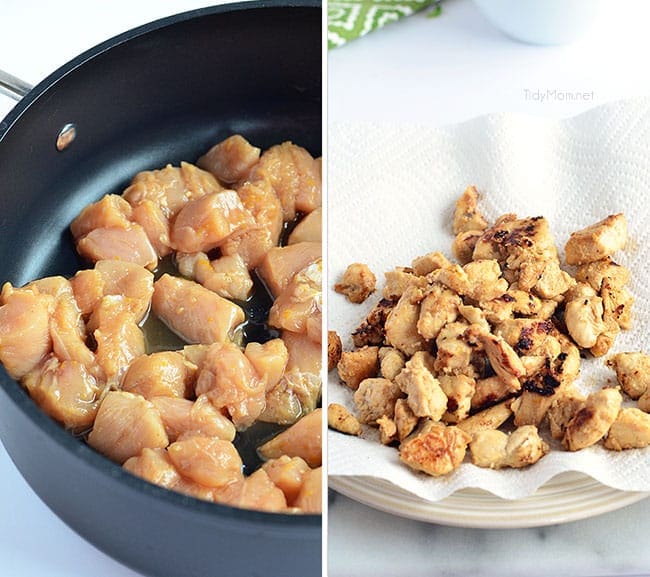 After your chicken has marinated at least an hour, remove chicken from bag and discard the marinate.  Saute the chicken in a little olive oil until it's nice and browned.  Then, remove chicken from skillet and place on a plate lined with a paper towel.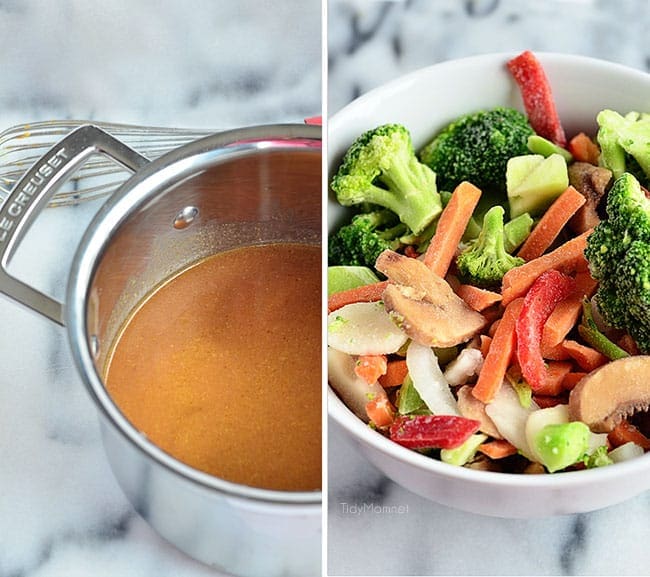 Add a little more oil to your skillet and stir fry vegetables until crisp.  While stir-fry cooks, add cornstarch to orange sauce and whisk well and boil to thicken.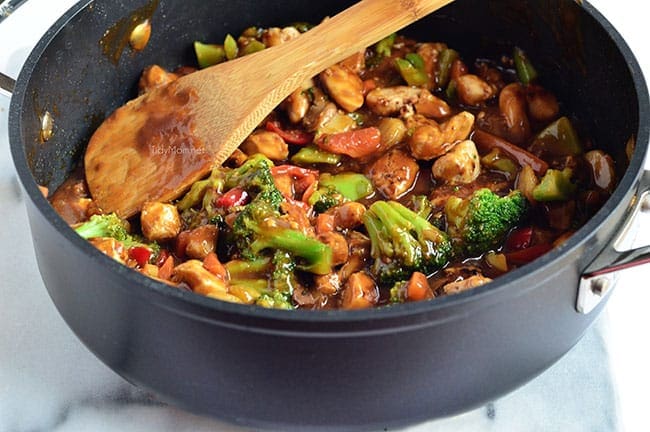 Once vegetables are crisp, add chicken and thickened sauce back to pan and stir to combine.
Serve over rice, sprinkled with green onions and orange zest and enjoy!!
This Spicy Orange Chicken has SO much flavor, we have not missed the fried version on bit!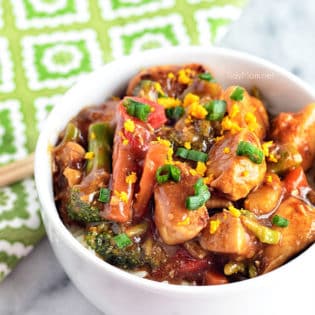 Easy Spicy Orange Chicken Recipe
This easy Spicy Orange Chicken recipe is full of the amazing flavor you love, without restaurant-style calories!
Ingredients:
1 1/2 pound boneless, skinless chicken breasts, cut into bites
salt and pepper, to taste
1 1/4 cup orange juice
1/4 cup soy sauce
3 teaspoons ground ginger
3 teaspoons minced garlic
3 tablespoons olive oil, divided
1 tablespoons sriracha
1 1/2 tablespoon rice vinegar
2 teaspoons brown sugar
1 tablespoon honey
zest of one orange (save a little for garnish if desired)
2 tablespoon cornstarch
14 ounce bag frozen stir-fry vegetables
white rice for serving
sliced green onions for garnish (optional)
Directions:
Season chicken pieces with salt and pepper and place in a gallon size zip top bag and set aside. In small sauce pan, combine orange juice, soy sauce, ginger, garlic, 1 tablespoon oil, sriracha, vinegar, brown sugar, honey and orange zest. Whisk mixture well, then measure out 1/3 cup of the mixture and pour it over the chicken, seal bag and marinate* in refrigerator at least one hour.
Remove chicken from marinade; discard marinade. Heat large skillet or wok over medium-high heat. Add 1 tablespoon oil. Add chicken and saute 5 to 6 minutes, stirring occasionally, until the chicken is golden brown and has lost its pink color.
Remove chicken from pan and place it on a plate lined with a paper towel. Add another tablespoon of oil into the hot skillet.
Add stir-fry veggies and cook over medium high heat until crisp tender, about 10 minutes.
While your veggies cook whisk corn starch into sauce, then bring to a boil. Once it boils it should start to thicken, boil another 1-2 minutes stirring constantly.
Once veggies are crisp, add thickened sauce and chicken into the pan. Stir the mixture to combine.
Serve over rice sprinkled with green onions.
*Often I cup up chicken and prepare sauce early in the day and let chicken marinate most of the day - this way I can have dinner on the table in 15-20 minutes.
*I have been in hurry and skipped the marinating, although I do prefer this dish when it has time to marinate at least an hour.
Making this recipe? Share it with us on Instagram using the hashtag #TidyMom so we can see what you're creating in the kitchen!
Want more great recipes like this? Follow my TidyMom Easy Recipes Pinterest Board
Like this Orange Chicken Recipe?  PIN IT!
What's your favorite Chinese dish?