How to Etch a Glass Vase with Chevron Stripes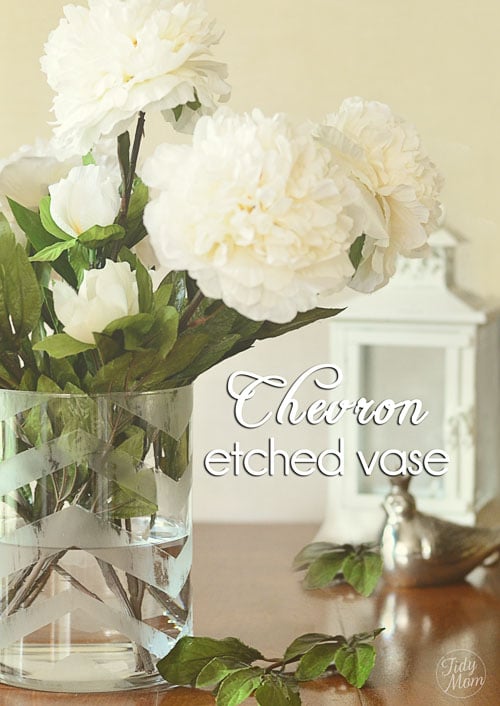 Something is in the air this summer.  It seems everyone we know is getting married.  So with all the weddings and showers, I've been trying to come up with a few unique gift ideas.
Have you ever etched glass at home, with etching cream? A few years ago I made an etched "Enjoy" trifle bowl, and this time I thought I could try something fun with a flower vase.   It's a great DIY that will turn a generic glass vases into something that ends up looking elegant and chic.  
I decided to see if I could make chevron stripes on my round glass vase.  My OCD had me a little nervous about getting everything lined up just right.  But you know what? I basically eyeballed most of it, and it turn out just as I hoped!
Here's what you will need to Etch a glass vase with Chevron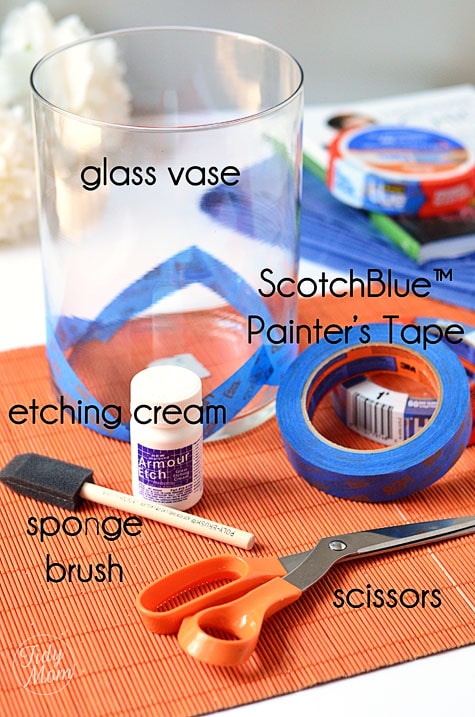 Glass vase, washed and dried.  I picked this one up at Home Goods.
scissors
rubber or latex glove (not shown)
Pin It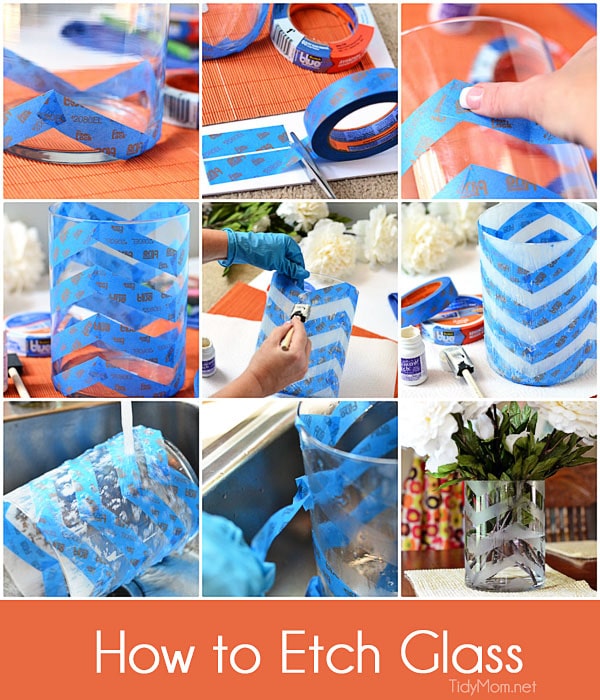 I really did a lot of eyeballing with this project, and it all worked out.  Here's what I did.
starting at the bottom of the vase I cut 6 pieces of ScotchBlue™ Painter's Tape about 4.5″-5″ long and made 3 upside down very wide "V"
be sure to cut the tape with scissors so you have a clean end to work with.
work your way up the vase, again trying to eyeball as you go (just be patient, this part took the longest, trying to line everything up)
Using the sponge brush, coat the exposed glass with a thin to medium layer of etching cream ( large areas can be tricky) be sure to wear a glove on the hand that you are handling the vase with, you don't want to get the etching cream on your skin.
Leave the etching cream to sit on the glass for at least ten minutes.
With a gloved hand, carry the vase to a sink, to rinse to remove etching cream (do NOT do this in a ceramic sink)
remove tape and dry to reveal your beautifully etched chevron striped vase!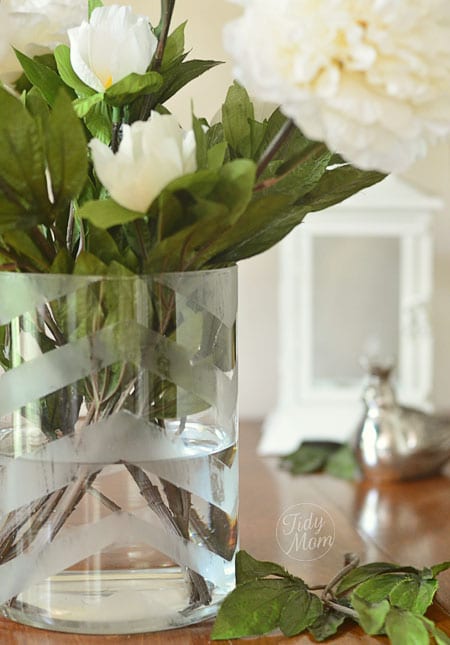 This glass vase is a great DIY gift idea not only for weddings and showers, but Valentine's Day, Mother's Day, Christmas, birthdays…or just because!
Have you made any gifts lately?
Craving more? Sign up for the TidyMom newsletter to stay on top of what's new right to your inbox! And stay in touch on Facebook, Twitter, Google+ and Pinterest for all of the latest updates


This post is a collaboration with ScotchBlue™ Painter's Tape , whose dedication to recognizing and rewarding creativity led to this post.  Get started and visit ScotchBlue Ribbons on Facebook to learn how to win some cool prizes.

Tidymom is a participant in the amazon services llc associates program, an affiliate advertising program designed to provide a means for sites to earn advertising fees by advertising and linking to Amazon.com.
Please respect my work, recipes and photographs. If you do use a recipe in your own writing, please give proper credit and link back to the original post.