How to Decorate Around a Television #Techoration
It's hard to believe we've been in this house a year already!  If you remember, we hadn't moved in 16 years…….it was so fun to finally have a new home to decorate!!!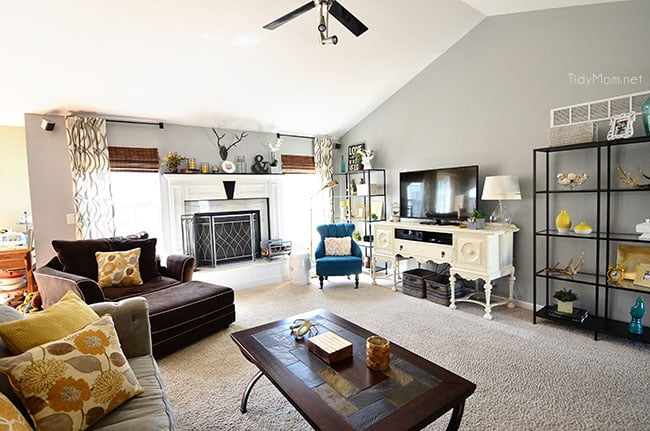 The family room is the center of our home.  It's the first room you see when you walk in the front door, and where we spend family time and entertaining guests.  So, of course it was the first room I wanted to tackle, but I didn't want to break the bank doing it.  The wall with the TV, which is also the biggest wall , was going to be the focal point of the room.
Finding the Right Piece of Furniture for the Television
Having a larger family room, meant we could finally have a larger TV, which meant we needed a new piece of furniture to hold the TV(and to fit our new style).  I started off by hitting up all the local furniture stores looking at TV cabinets and stands.  I wasn't sure what I wanted, but was hoping something would scream "TAKE ME HOME" .
During our makeover planning, we knew we wanted the TV on the large wall because it was viewable from the kitchen table – yes we watch TV many nights (ok most nights) while eating dinner, but we DO all sit down as a family and enjoy dinner together at the table. The television is mostly background (often the news or a ball game).  But the point is, it needed to be on that wall.  Since I had a large wall to work with, I could put pretty much any kind of TV cabinet I wanted in the space.   At first, I thought I wanted  a big wall unit to fill the wall. 
But then I remembered how there was a large dark wood wall unit with bookcases on that wall when we looked at the house and how the family room felt so much bigger when we moved in and that unit was gone.  So I was pretty certain I did not want a big massive unit that was going to take over our space. Another note,  hiding the TV was not something I cared about, I knew it would be exposed most of the time any way, so why not make it part of our decor.  Our TECHORATION, if you will 😉
I found TV stands that were too small, and massive (albeit gorgeous) cabinets that were too big and carried a pretty hefty price tag as well. After an exhausting two days of searching, I stopped in at one of my favorite shops.  You know, the kind of place where you open the doors and you think "I could move in here!" and the staff and owners are SO friendly always greeting me as soon as I come in, with a big smile and hello! (no pushy sales people carrying clipboards and brochures 😉 )  …….and that is where I found IT!  The piece that called "TAKE ME HOME!"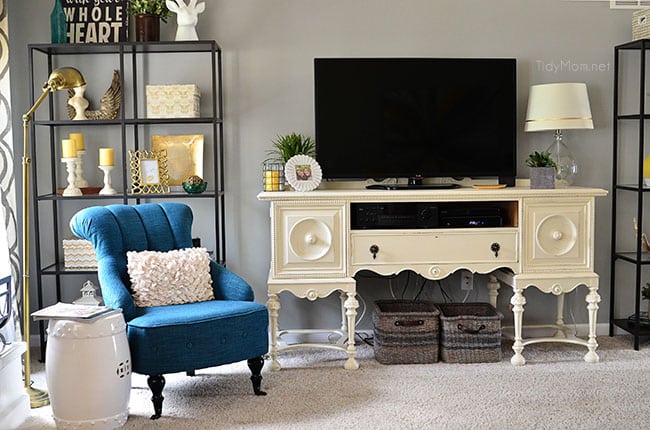 She was sitting in the back of the store, they had just brought her out and was EXACTLY what I wanted. An old sideboard, full of curves, character and style.  She was big, but not overpowering and she was painted a dreamy creamy white.  And the best part………..the price tag was WAY less than anything else I had seen.  Leaving room in our budget for a bigger TV!! sweet!!
Once we got her home and all set up, I still had room to fill the wall with bookcases.  I played off the black in the TV and went with black metal and glass bookcases from Ikea.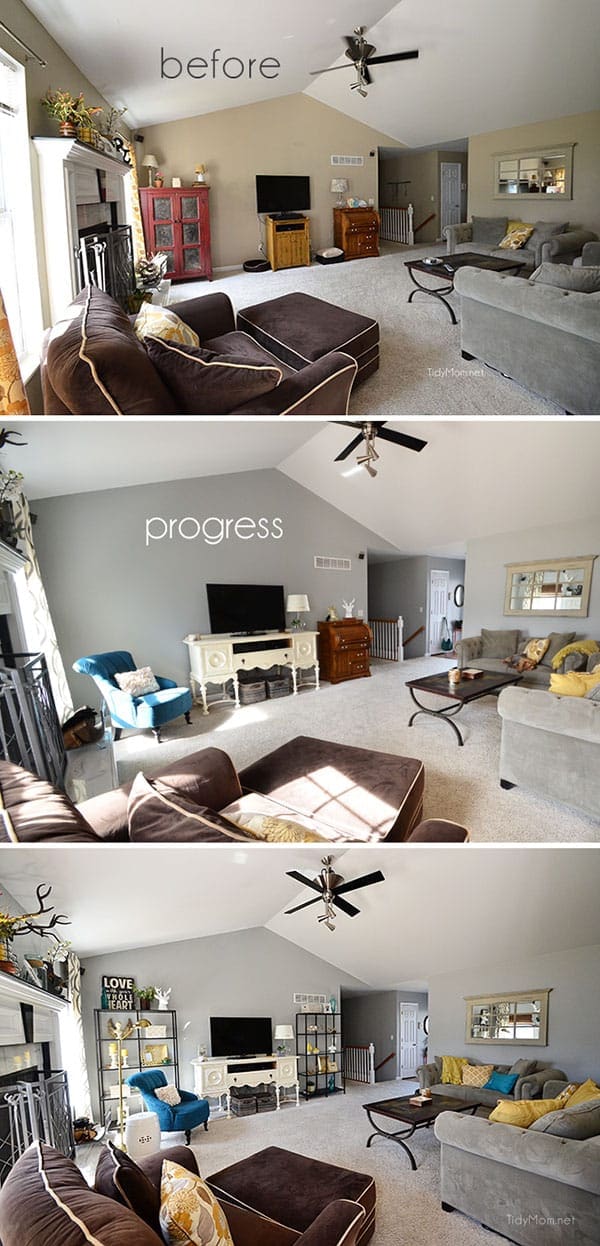 Decorating Techorating
I then filled the bookcases with some of our favorite things, mostly things we already had around the house (yes Steve was super excited when I asked if I could use his deer sheds lol) So by going with a refurbished buffet and bookcases from Ikea I was able to fill the wall and have enough money in the budget for a larger "smart" TV which we love! The white buffet gives my space bulk and character with out being heavy.  By removing one drawer, we can store the cable box and receiver, movies behind the 2 doors, photo albums in the drawer.  Baskets below not only help hide cords, but give us more storage for things like games and controllers. The metal and glass bookcases allow me to personalize the space without making it look to bulky, like solid wood bookcases would have. At our old house, the tv was the first thing you noticed in the room….. I love how at our new house, the TV just blends in…….I don't even need anything on the wall.
THAT is Techoration! What "techorating" tips do you love?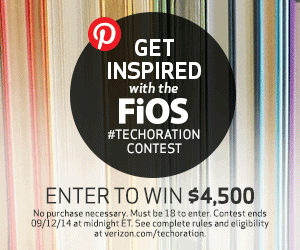 Your chance to WIN!  Check out the #Techoration inspiration hub by Verizon FiOS® here, where you can find more techorating inspiration, get moving tips & tricks, and enter the Upgrade Your Move contest. Just fill out the entry form and pin your dream #Techoration set-up for a chance to win a $4,500 Visa® prepaid gift card! (And I get to help pick who wins!)
Follow Verizon FiOS's board Get Inspired with Techoration! on Pinterest.


 Craving more? Sign up for the TidyMom newsletter to stay on top of what's new right to your inbox! And stay in touch on Facebook, Twitter, Google+ and Pinterest for all of the latest updates

Disclosure:  I have a working relationship with Verizon FiOS®  as part of their #Techoration campaign.  As always, all views and opinions are my own.
Tidymom is a participant in the amazon services llc associates program, an affiliate advertising program designed to provide a means for sites to earn advertising fees by advertising and linking to Amazon.com.
Please respect my work, recipes and photographs. If you do use a recipe in your own writing, please give proper credit and link back to the original post.