Homemade Cheese Crackers
With only 6 easy ingredients you can have flaky delicious homemade cheese crackers in under an hour.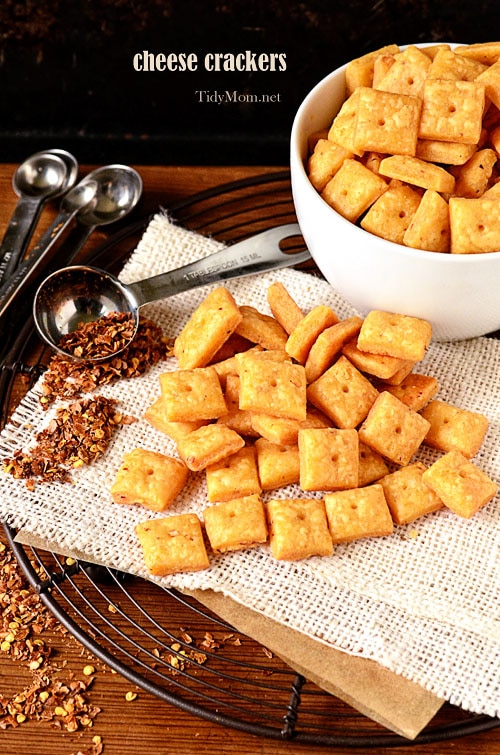 I'm not a big fan of potato chips. I'm not sure why I just rarely eat them, but I do love snack crackers….. cheese crackers to be specific. I can polish off a bag of flavor blasted Goldfish in no time, if I'm not careful, and Cheez-It , I think I love every flavor! Have you seen that they now have Provolone Cheez -It?! I'm on the hunt for those!
A few weeks ago I ran across a recipe to make Homemade Cheese Crackers! I don't know if I've been living in a cave or what, because since I spotted that recipe, I've noticed recipes for Homemade Cheese Crackers all over the place!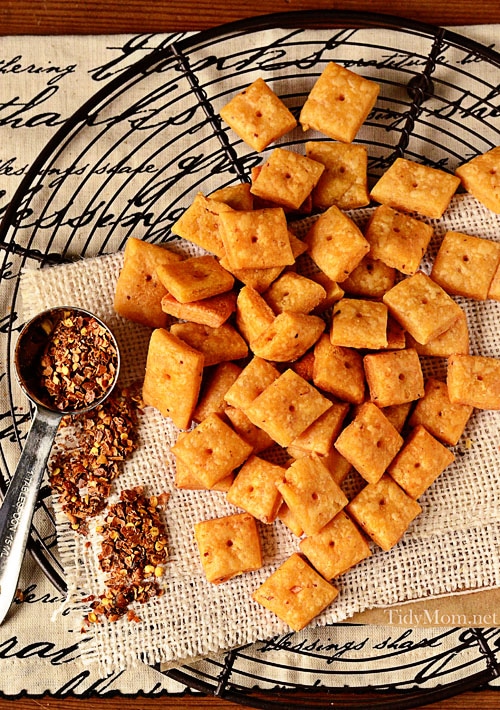 Not surprising though, because they are SO easy to make, and my mind is not spinning with all the varieties I can make! So you may be seeing these little gems around here a few more times.
This particular recipe has more of a shortbread type texture than a crispy cracker. At first bite, it was odd, because it's not what I was expecting. So I tried another and I was deeply in love with the flavor, sharp cheddar kissed with a touch of red pepper for a bit of a kick. I was sold!
They were fantastic and with just 6 simple ingredients they took care of my cheese cracker addiction, and I knew what was in them, so I didn't have to feel so guilty eating them.
These Homemade Cheese Crackers would be great to serve at a party, a travel snack or just to snack on any time.
This post may contain affiliate links. Please read my disclosure policy here.
They don't need salt on top, but I'd like to try the next batch with just a little salt on top, just to see what that does. If you don't like spicy, cut down on the red pepper flakes, or you could leave them out completely- but I loved the added flavor it brought to the table.
Let's Make Homemade Cheese Crackers
If you love cheese crackers you HAVE to try this recipe for Homemade Cheese Crackers
All you need is :


Simply place all the ingredients in food processor and pulse until the dough turns to a dough.
Using your hands, form dough into a ball, press then roll out to 1/8-inch thick on a floured surface. Try to roll into a rectangle, the best you can – it doesn't have to be perfect.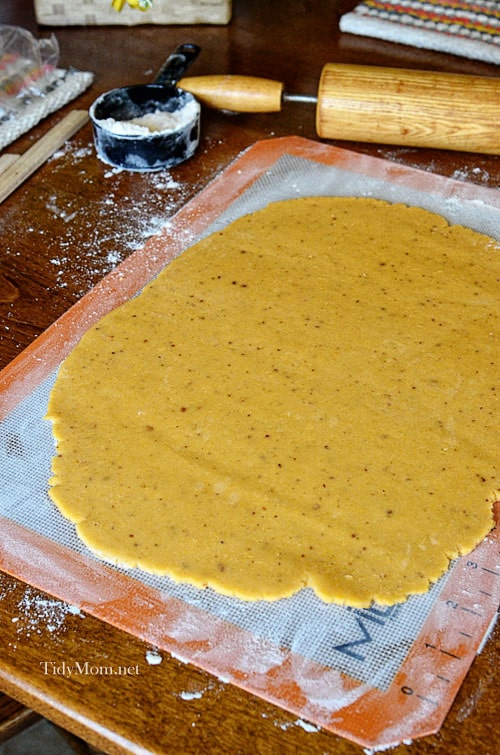 Use a pizza cutter (pastry cutter or knife would work too OR use a ravioli cutter for ridged edges, ) to cut dough into one-inch squares. Don't worry if they aren't perfect, mine weren't even though I had measurements on my silicone mat.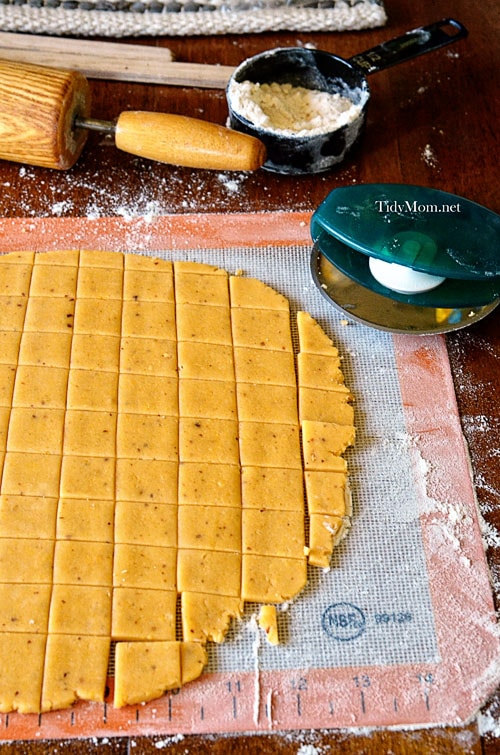 Use a wooden skewer to poke a hole in the center of each square.
Place crackers on a greased baking sheet (I lined mine with my silicone mat). Transferring the crackers to the baking sheet goes quicker if you use a spatula. You can place them pretty close on the pan, they puff up but don't spread out.
Bake at 350° for about 15 minutes. Store in airtight container for up to 2-3 days…..if they keep that long!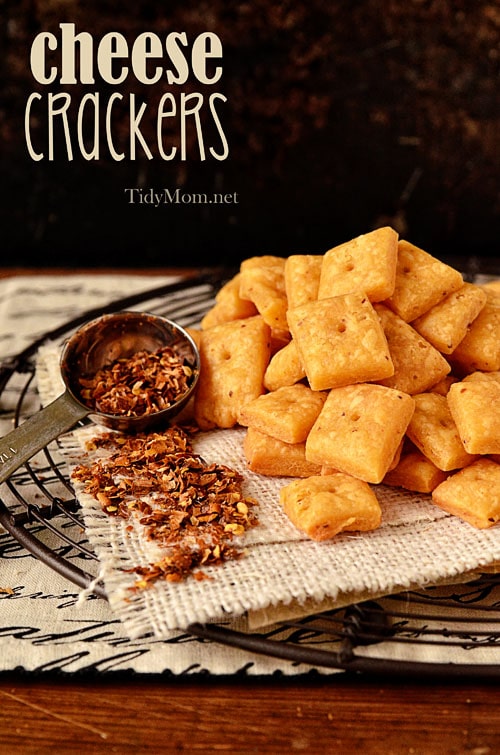 Who needs Cheez-It when you can make your own!!
I can't wait to play with more cheese flavors and spices! I bet they would be fantastic with tomato soup AND…..you can even purchase a
mini goldfish cutter
to make your own Goldfish crackers! How fun would that be?!
What flavor of cheese crackers would you like to try?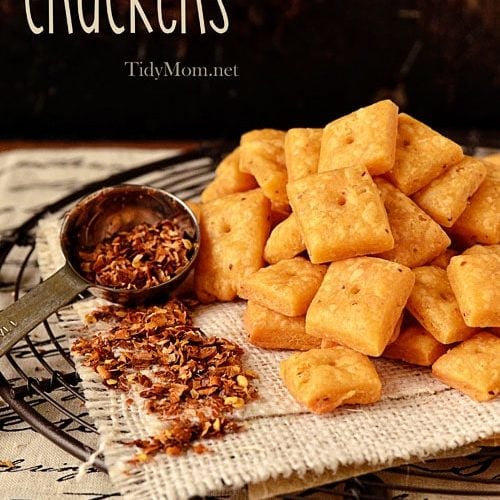 Homemade Cheese Crackers
Yield: 70 pieces
Prep Time: 20 minutes
Cook Time: 15 minutes
Total Time: 35 minutes
With only 6 easy ingredients you can have flaky delicious homemade cheese crackers in under an hour.
Ingredients
6 ounces Sharp Cheddar Cheese, shredded
1/4 cup butter, softened and cut into pieces
3/4 cup flour (plus a little more for dusting)
1/2 teaspoon salt
1/2 teaspoon crushed red pepper flakes (use less if you want less spice)
1 tablespoon milk
Instructions
Preheat oven to 350° Grease baking sheet, or line with parchment or a silicone mat.
Place first 5 ingredients in food processor, and pulse until it turns into coarse crumbs.
Add milk and process until dough forms.
Using your hands form dough into a ball, then flatten on floured work surface.
Roll out dough to 1/8" thick. Try to roll into a rectangle as best as you can.
Using a pizza or pastry cutter, cut dough into one-inch squares. Use the flat end of a wooden skewer to poke a hole in the center of each cracker
Using a spatula, transfer crackers to a prepared baking sheet. You can place them fairly close together, they will puff up, but not spread much.
Bake for 12-15 minutes, until edges start to brown. Do not overcook. Let them cool completely on a wire rack.
Enjoy when cool. Store in airtight container for up to 3 days in a cool place.
Like this recipe for Homemade Cheese Crackers? Pin It!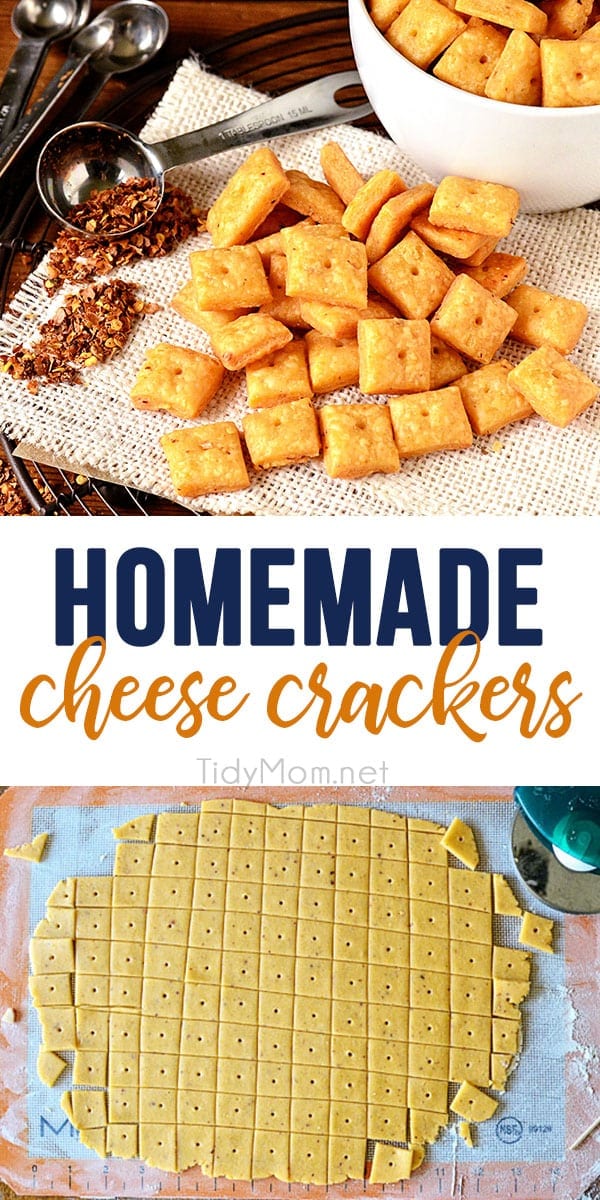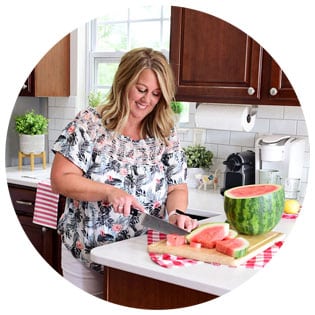 Hi there, I'm Cheryl!
As a wife, mom, and caffeine enthusiast, my journey has taken me from bustling mornings with my family to sharing delicious recipes, home care tips, and heartfelt decorating insights with wonderful readers like you. My love for baking, photography, and tidiness shines through every post I craft. Dive into my world and discover the art of homemaking, one tidy moment at a time. Read more...
Tidymom is a participant in the amazon services llc associates program, an affiliate advertising program designed to provide a means for sites to earn advertising fees by advertising and linking to Amazon.com.
Please respect my work, recipes and photographs. If you do use a recipe in your own writing, please give proper credit and link back to the original post.