Five Happy Whole Food Ingredients- Guest Post with Marla Meridith
I'm so excited to share a special guest with you today!! I want to welcome Marla Meridith, of Family Fresh Cooking to TidyMom!! Be prepared to be blown away by Marla's philosophy and photography!! When you're finished reading her post here…..head over to her blog and be inspired!

It is wonderful to guest post here at TidyMom. Thank you Cheryl for having me stop by to share some goodies with your readers. I know a lot of you, but let me introduce myself to those of you I haven't met. My name is Marla and I am the creator of the blog Family Fresh Cooking. I am a healthy recipe developer who is passionate about everything food. I love concepting recipes, cooking, styling, and photographing food. My kids and husband are my recipe testers. We are an active family, I keep everyone feeling fit and strong by serving up whole foods with healthy fats and virtually no sugars. Great taste is everything and we never deprive ourselves, as food is one of life's greatest pleasures.
Certain ingredients are rock star foods and that is all there is to it. They taste awesome and the bonus is they pack in a whole bunch of nutrients. Everything we eat should taste great right? Here is a sampling of 5 of our favorite ingredients and how we like to use them. As you will see a lot of the ingredients overlap in my recipes because I can't get enough of them.

Coconut
Oh have I been smitten by coconut in everything these days. From coconut milk to coconut flour, unrefined coconut oil and the unsweetened flakes. I use it in recipes all the time. In some recipes I use all of those coconutty ingredients at once. A while back coconut had a bad reputation as being an oil that was not good for us. Studies today say that as long as we use the unrefined products, coconut has huge health benefits. Now let's eat some coconut! I love to use it in sweets and savories.
Blueberry Pomegranate Coconut Muffins
Chicken with Coconut-Lime Peanut Sauce
Berries
Berries thrill me. These little bite sized fruits offer up loads of nutrition, they are pretty and they burst with juicy flavor. I cannot pick my favorite from raspberries to blueberries, blackberries, strawberries, cranberries…..I use them any which way I can. Of course berries are great out of hand. I also bake them into quick breads, muffins, cakes and cookies. Use them in yogurt parfaits. Make tasty salads and sauces with them too.
Raspberry Cream Cheese Pan-Crepes
Raspberry Goat Cheese Salad with Vinaigrette
Very Blueberry Cake – Gluten Free
Oats
Old fashioned rolled oats, steel cut, oat bran, Irish….they are all great to me. Oats are powerhouses of fiber and energy, they can be enjoyed in so many ways. From a steamy bowl of oatmeal to baked inside a meatloaf instead of breadcrumbs. Oats are a versatile, inexpensive ingredient that are a great source of high energy carbs even for folks who are gluten free. Lately I have been using oat flour in most of my baking. It adds a wonderful texture and more flavor than traditional flour.
Baked Coconut Crusted Chicken Nuggets
Baked Coconut Oatmeal with Pepper Nut Topping
Sweet Potatoes
All year round I keep bright orange sweet potatoes on the counter and cans of the purée in the pantry. Not only are they filled with vitamins and minerals but they are packed with flavor. They are great roasted, baked into french fries, tossed in salads and even in sweet dessert crisps.
Sweet Potato Crisp
Sweet Potatoes with Blue Cheese and Bacon
Sweet Potato Chickpea Soup
Peanut Butter
We love nuts and I am so happy there are no allergies to them here. Jars and jars of all kinds of nut butter are enjoyed here each month. Nuts satisfy, taste great and sustain energy for long periods of time. They are packed with healthy fats. I always buy all natural nut butters with no additives other than a pinch of sea salt. Crunchy or not, it's all good.
Telluride Trail Bars
Breakfast Cookies – Oatmeal Apple Gluten Free
Feel free to contact me if you would like product suggestions, comments or to say "hi." I can also be found on Twitter, Facebook, StumbleUpon and at the local coffee shop. Find more of my recipes and healthy lifestyle tips on my blog Family Fresh Cooking.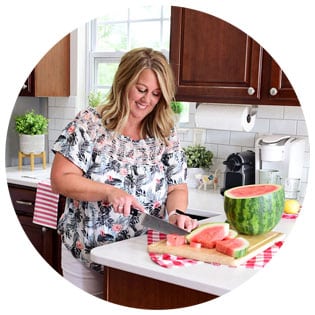 Hi there, I'm Cheryl!
As a wife, mom, and caffeine enthusiast, my journey has taken me from bustling mornings with my family to sharing delicious recipes, home care tips, and heartfelt decorating insights with wonderful readers like you. My love for baking, photography, and tidiness shines through every post I craft. Dive into my world and discover the art of homemaking, one tidy moment at a time. Read more...
Tidymom is a participant in the amazon services llc associates program, an affiliate advertising program designed to provide a means for sites to earn advertising fees by advertising and linking to Amazon.com.
Please respect my work, recipes and photographs. If you do use a recipe in your own writing, please give proper credit and link back to the original post.