Photography Tip: Finding the Light
I've got an extra special guest here today, one of my favorite ladies in Blogland. She an incredible photographer, amazing mom and sweet sweet friend.
Angie Arthur of The Arthur Clan and co-founder of I Heart Faces. Angie is a huge inspiration to me and she's here today to share some photography tips we can all use.
When your finished reading here, pop over to her blog to learn even more!……without further ado……amid loud cheers from all her fans….heeeers Angie!
Utilizing Open Shade Effective in Your Photography
When I first became interested in improving my photography, one of the best tips someone passed on to me was to begin utilizing open shade.
Of course at that moment I was really thinking "What exactly is open shade and why would that be better than beautiful sunlight?"
Contrary to my beginner thoughts of "It's sunny outside…this is awesome!!", bright sun is not always the most ideal situation to take beautiful portraits in. And, on the other end of the spectrum, shading under a tree is not always a prime spot to shoot in either due to the spotty lighting you will be working with. While we can't always avoid these circumstances (for instance, at my children's soccer games I almost always have to deal with bright sun) I do try to find open shade whenever it is possible to control my shooting situation at all.
So, what is open shade anyway? Basically any spot you can find that has a nice even distribution of light for you to shoot in is open shade. Around my home depending on what time of the day it is, my best open shade is found in front of my garage door, along one side of our home and on our front porch that is covered.
For this tutorial, I will be using my neighbors garage area…mainly because it is much, much prettier than mine. 😉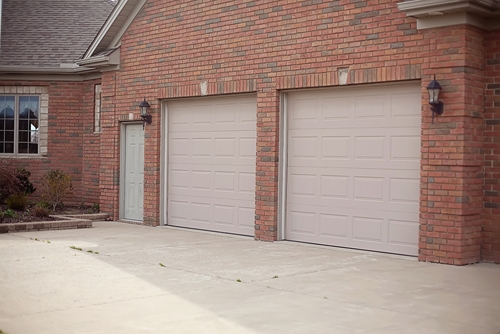 You can see in the photo, that in front of this garage there is definitely an area that has bright sunlight and then an area that has open shade.
I grabbed my daughter, Weslea (who was outside playing on a very windy day in her junky play clothes) and asked her to model for me for a few moments.
Bright Sunlight
We began in Area A which was filled with bright sunlight.
In the next two images you can easily see the technical issues that usually occur when you try to shoot in bright sunlight.
Squinting: This is the #1 reason why I recommend that beginner photographers not shoot in bright sunlight. You most likely are going to end up with squinting subject who has watery eyes and does not enjoy the session much at all.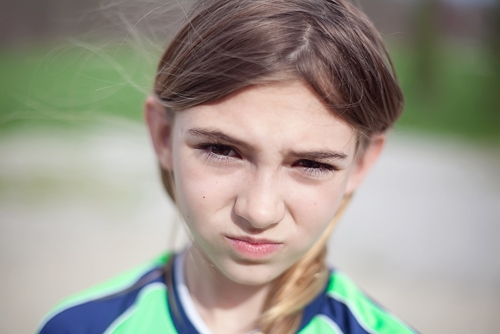 Raccoon Eyes & Shadows: In the next photo you can see how Weslea ended up with "raccoon eyes" (very dark, unattractive spots under her eyes) and shadowing. You can even see eyelash shadows on her face!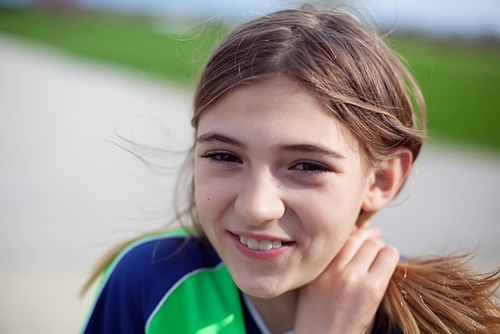 Open Shade
While neither of these photos are "horrible", they definitely are not the most attractive portrait I could have taken at that moment. I was able to remedy the situation by…
1) Having my daughter take two steps into the open shade (Area B)
2) And then asking her turn back towards the light (that she had just been standing in)
From those two simple instructions that I gave her I was able to capture a photo that was much more visually pleasing and that had beautiful, even lighting across her face. Best of all, she was able to have a natural (non-squinting!) expression in the image as well. A win for both of us!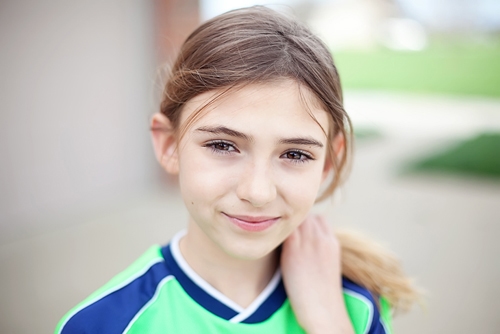 Try it out for yourself today. I guarantee that open shade will become your best friend as you continue to grow in your photography journey!
To learn even more about utilizing open shade effectively, be sure to visit this follow-up post on my blog:
Finding The Light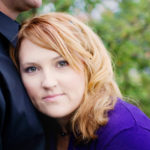 Angie Arthur blogs at
The Arthur Clan
and is the owner of
Angie Arthur Photography
. She is also the co-founder of
I Heart Faces
, a popular photography sharing community which features weekly photo challenges where all levels of photographers are welcome to join in the fun!
———————————————–
TidyMom.net has been nominated as one of Babbles top 50 Craft Blogs, I would love a thumbs up!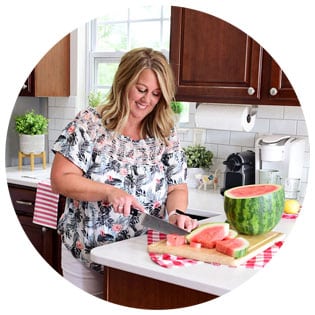 Hi there, I'm Cheryl!
As a wife, mom, and caffeine enthusiast, my journey has taken me from bustling mornings with my family to sharing delicious recipes, home care tips, and heartfelt decorating insights with wonderful readers like you. My love for baking, photography, and tidiness shines through every post I craft. Dive into my world and discover the art of homemaking, one tidy moment at a time. Read more...
Tidymom is a participant in the amazon services llc associates program, an affiliate advertising program designed to provide a means for sites to earn advertising fees by advertising and linking to Amazon.com.
Please respect my work, recipes and photographs. If you do use a recipe in your own writing, please give proper credit and link back to the original post.