EASY Pasta with Bacon & Eggs
My mom watches the Today Show, I don't. But the other day she called me to tell me about a great easy recipe she saw on the show that she thought we would like! You can see the video clip here of Lidia Bastianich chef and author of "Lidia Cooks From the Heart of Italy."
We love Carbanara, but I don't make it very often (actually it's been years since I made it.) This recipe is very similar to Carbanara but VERY simple!
I mean REALLY simple and Delicious!!
Lidia says
"in times past in poor regions like Molise, when meat was scarce, eggs were an available and affordable source of protein; a dish of pasta dressed with eggs combined the nutrients of two staple foods for a meal that was naturally nutritious and sustaining."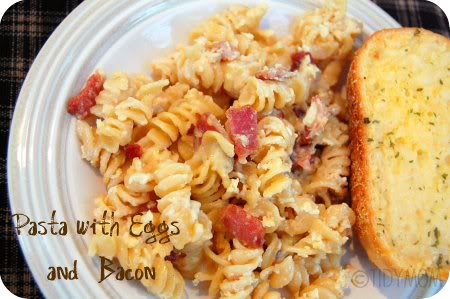 I made a few changes according to what I could get my hands on – I'll put what I used in RED
Cavatelli with Eggs and Bacon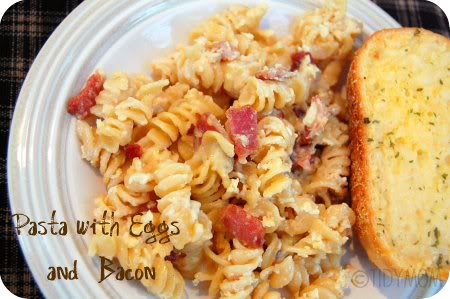 Ingredients
1/4 tsp salt
2 Tsp extra-virgin olive oil
2 Tsp butter
8 oz thick-cut bacon, cut in 1/2? pieces (I used Italian bacon, Pancetta)
5 large eggs
1 pound dried cavatelli pasta (I used corkscrew pasta)
2 cups shredded Fontina Cheese (I used Provalone)
Instructions
Fill a large pot with salted water for pasta and heat to a boil.
Pour the olive oil into the skillet, on medium-high heat. Add butter, let it melt, then scatter in the bacon pieces. Cook the bacon, stirring and tossing the pieces, for 5 minutes or so, until they're crisp and caramelized. (If the bacon rendered lots of fat, you can pour off half the fat in the pan.)
Beat the eggs and 1/4 teaspoon salt in a bowl until well blended.
When the water is at a rolling boil, add the pasta, stir, and return the water to a boil. Cook the pasta 4 to 5 minutes, until al dente. Lift them from the pot, drain briefly and spill them into the skillet, adding some of the pasta water (maybe 1/2 cup or more) as well. (she tells you to add some in the video, but not how much, I didn't add enough and our pasta was a little dry, so I would add at least 1/2 -1 cup)
Over medium heat, toss the pasta with the bacon pieces, coating the pasta with the oil, butter and bacon fat, too. Pour the beaten eggs all over the pasta, stirring and tumbling them together; keep scraping the coagulating egg from the sides and bottom of the pan, and incorporate it in with the wet eggs. Cook for a minute or two, just until all the egg is lightly cooked and custardy and evenly scrambled into the pasta. (watch the video, this is much more simple than it sounds)
Turn off the heat, scatter the shredded cheese over the eggs and pasta, and toss thoroughly to blend in the cheese as it melts.
Serve immediately.
https://tidymom.net/easy-pasta-with-bacon-eggs/
Copyright© 2009-2013 TidyMom.Net
"Like this recipe? Add it to your personal recipe box to make later or add the ingredients to your online shopping list to make it this week. Just click the Save Recipe button to get started."
We will definitely be making this again!