Cinnamon Honey Butter- Gifts in a Jar
Food gifts are always a favorite of mine. These Cinnamon Honey Butter jars make a pretty presentation when you add a little bling to the jars, and pair with homemade bread, pound cake, biscuit mix or even bagels!
I've made several batches already, and we won't mention how much my family has devoured!
Warning……..you may want to double or triple the recipe because everyone is going to want some!
Be sure to sign up for my email… to get new recipes and ideas in your inbox!
Homemade gifts in jars are fun to make and give!
This post may contain affiliate links. Please read my disclosure policy here.
How to Gift Cinnamon Honey Butter in Jars
The sweet and creamy honey butter is unbelievable on just about anything and makes a darling gift in a jar! (printable cinnamon honey butter recipe at the end of this post)
Jar Supplies You Will Needed:
Cinnamon Honey Butter (recipe below)
fabric (I used unbleached muslin)
1″ circle paper punch (optional)
tiny hole punch (mine is 1/16″)
Let's Make Honey Butter Gift Jars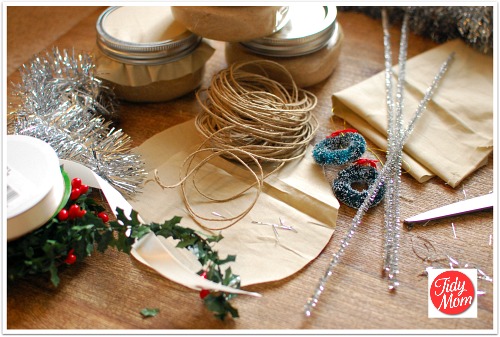 First, you want to cut three pieces of fabric in 5-inch circles
After you have made the honey butter (recipe below) and filled the clean jars, remove the rim from the jar lid and place fabric on the inner lid piece of filled mason jar then screw outer lid back on over fabric (sell below).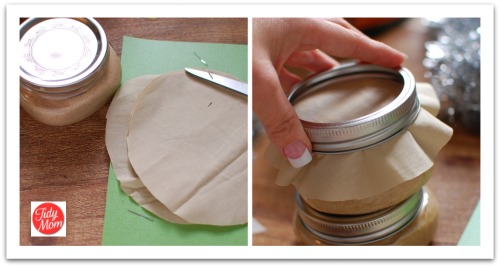 Next, using cardstock and your computer, print tags (or you can handwrite them for a more personal touch. I used the font "Cheryl Hand", size 15, center alignment and I laid it all out using the template in Word for 1.6" circle labels. Then printed on my cardstock.
Cut out the cardstock tags with a 1-inch punch (or you could cut out by hand).
Then use a tiny hole punch (I used a 1/16th) to punch a hole on the tags to thread twine through.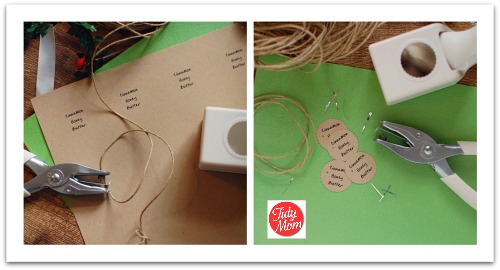 Cut a long piece of twine for each jar and wrap it around each lid several times and tie in a knot.
Next, cut a piece of tinsel twine long enough to go around each lid with enough extra to twist togehter for each jar. Wrap each piece around lid and twist ends together.
Add a small piece of "holly" ribbon to twine on each jar and thread tags on to twine and tie.
And you're done!!
Homemade food-related gifts, like this Cinnamon Honey Butter, are inexpensive to make, fun to create, and a joy to receive.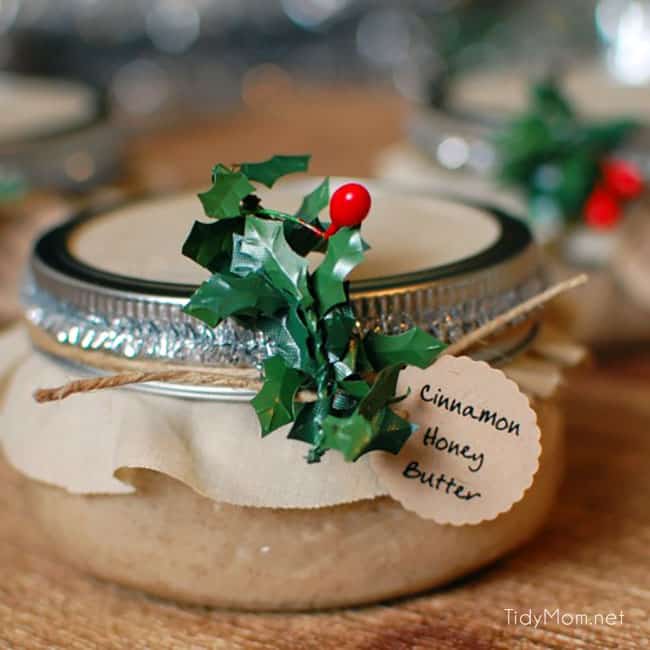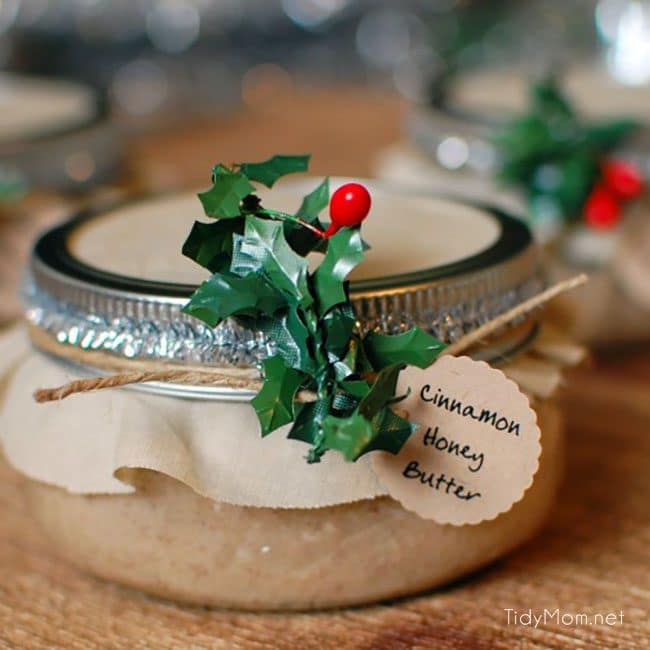 Don't forget to make enough to have a jar for yourself!
Add a loaf of homemade bread, pound cake, and DIY Stenciled Holiday Towel and you have a fantastic gift from the heart that took less than an hour to make from start to finish!
LIKE THIS CINNAMON HONEY BUTTER GIFT? PIN IT!



Are you making any food gifts for the holidays?
More great food gift ideas to make and give
Christmas Tree Peppermint Bark
Peanut Butter and Chocolate Fudge
I created a fun little group on facebook and I'd love for you to join in! It's a place where you can share YOUR favorite recipes, home tips, creative ideas and ask questions and see what's new with TidyMom! If you'd like to check it out, you can request to join HERE. Be sure to follow me on Instagram and tag #tidymom so I can see all the wonderful TidyMom recipes YOU make and tips YOU use!
Connect with TidyMom! Facebook | Twitter | Google+ | Pinterest | Instagram
Sign up to receive an email in your inbox for each new recipe: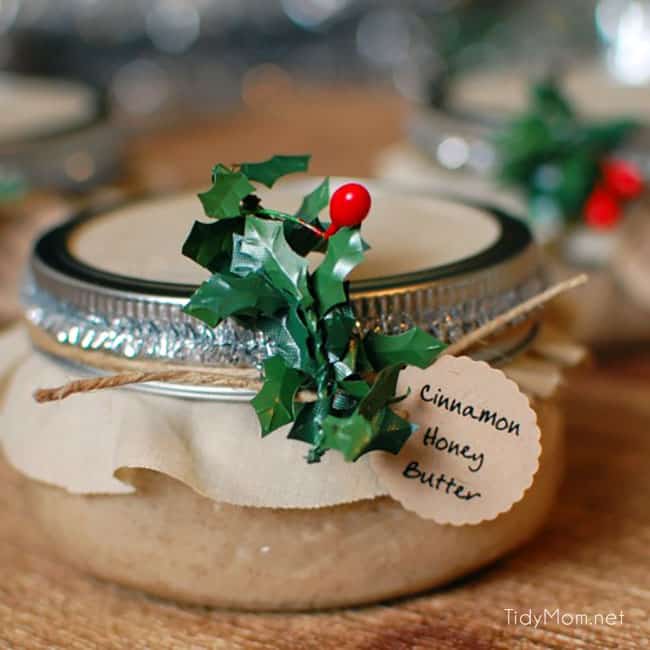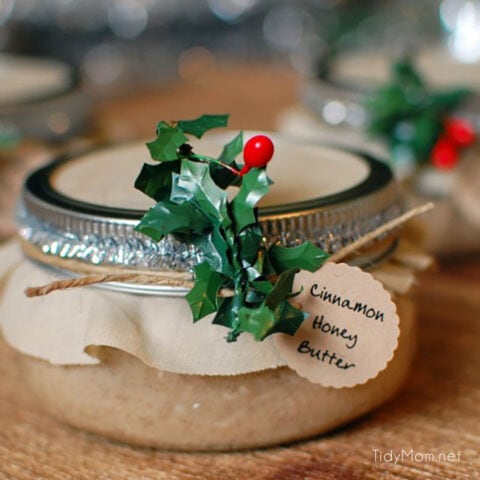 Cinnamon Honey Butter
Yield: 3 half pint jars

Additional Time: 7 minutes

Total Time: 7 minutes

These Cinnamon Honey Butter jars make a pretty presentation when you add a little bling to the jars, and pair with homemade bread,  pound cake, biscuit mix or even bagels!
Ingredients
1 cup honey
1 cup butter, softened
 1 cup powdered sugar
 2 teaspoon cinnamon
 3 half pint canning jars
Instructions
Using whisk attachment on electric mixer, add all ingredients to mixing bowl and blend until smooth and creamy (about 5-7 minutes), scraping down sides of bowl as needed.
Use a rubber spatula to pour mixture into a large pastry bag (or Ziploc® bag), cut off the tip (or one corner of bag) and squeeze into half pint jars. tip: place bag in tall glass for support, or have someone hold the bag while you spoon in the butter mixture.
Keep refrigerated. Serve room temperature.