Red White & Blue Candy Apples
This post may contain Amazon or other affiliate links. As an Amazon associate, I earn from qualifying purchases.
A layer of chewy blue raspberry candy coats a crisp, tart apple in this old-fashioned favorite, Red White & Blue Candy Apples.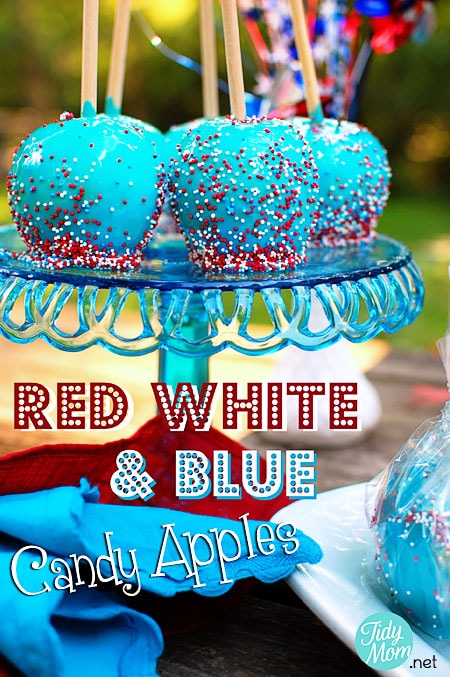 If you follow me on twitter or facebook, you probably saw all my hints and teases all weekend about "what am I making".
I don't remember how it happened really, but one day while stumbling around on the internet I ran into Blue Raspberry Candy Apple Magic Mix. The instant I saw it I knew I had to make some Red White and Blue Candy Apples for 4th of July!
I'm a big fan of caramel apples and candy apples. Most of the time I only get them in the fall when I see those cute little Happy Apples all over my grocery store. I've never made candy apples before, I thought how hard could it be!
HA!……well, let me tell you, it's NOT hard if you have the correct directions and a little information.
My first attempt was failure. I hung my head as tears rolled down my cheeks. My apples LOOKED pretty. They looked as good as I had envisioned.
Only one problem………the candy coating was ROCK hard! like a sucker! You couldn't even cut it with a knife, much less bite in with your teeth.
So I crawled in to bed defeated, I tossed and turned all night, wondering why my apples didn't turn out….was the "magic" that it turns your apple to a sucker? 🙁 couldn't be.
Day 2 I got up determined to give it another try.
After speaking to my friend Cindy, I discovered the package directions suggest heating your candy mixture to 300°, will yield candy like a sucker. She suggested I try 250°. …………..and guess what?! THAT was it!!!! I had a nice caramel/taffy consistency on my apples!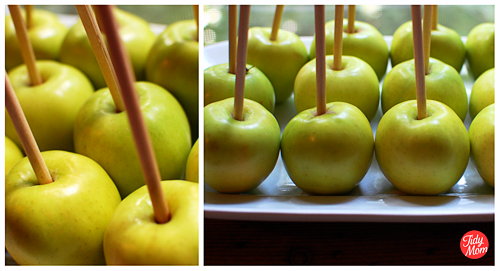 HOW TO MAKE CANDY APPLES
Supplies for Blue Candy Apples
(click items to find them online)
Apples – I used Granny Smith, but any firm tart apple will work.
Sugar & water (per instructions on bag)
wooden spoon for stirring
2 small bowls for sprinkles
Prepare your apples and kitchen/supplies:
Wash and dry apples and remove stems
Line baking sheet with waxed paper and spray heavily with non-stick spay (you will place coated apples on this)
Pour Sprinkles into one bowl. (leave one bowl empty)
DIRECTIONS
one bag of Candy Apple Magic can coat up to 100 apples – so I only used 1/2 of the package.
Combine 1/2 package of Blue Raspberry Candy Apple Mix with 2.5 pounds granulated sugar and 1 cup water in large sauce pan over medium heat stirring until sugar is dissolved
Place candy thermometer on pan (not touching bottom of pan)
Increase heat to medium high heat, do NOT stir and cook until candy thermometer reaches exactly 250° F. This took about 15 mins, but can be different according to your stove, so watch carefully. (NOTE: the package say 300° you do NOT want to cook to 300° or your candy will be too hard)
When temp reaches 250° remove pan from heat and dip apples working quickly. * BE VERY CAREFUL candy coating is very hot and will burn your skin
I sprinkled each apple right after dipping – I held the freshly dipped apple over an empty bowl while showering with sprinkles. (I had to work very quickly, as they did not want to stick well )
Place on lined & greased pan and continue with rest of the apples.
Place in refrigerator to cool.
Once your apples have cooled, you can eat and enjoy! Make sure to eat them within three days of making them, and I would recommend storing in the refrigerator. We left ours out over night in the air conditioned house and they melted quite a bit.
If you'd like to give some as gifts or party favors, cover in cellophane and tie off with a pretty ribbon or red twisty tie.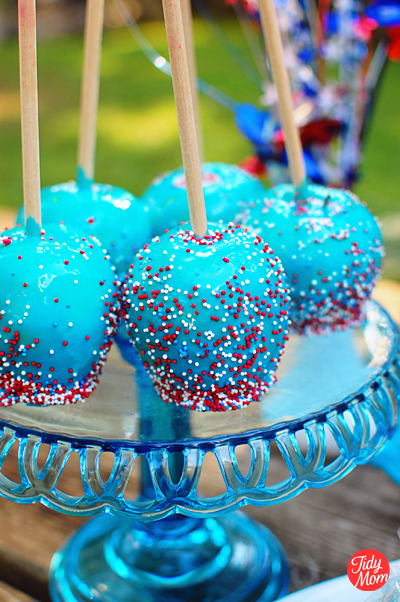 Helpful sites on Candy and Candy Apple Making
Cooking stages of candy making (wish I had found this site the first day)
How to Make Candy Apples (great how to video)
I just LOVE the way they turned out! and they were every bit as chewy and delicious as I had anticipated!! I'm glad I gave them a second chance!!
I think these would be adorable for a 4th of July celebration!!
More 4th of July recipes and crafts you may enjoy:
Fourth of July Marshmallow Pops
Fourth of July Free Printables
Fourth of July Cupcakes in a Jar
Red & Hot Boom gift and printable
Red White and Blue Star Cookies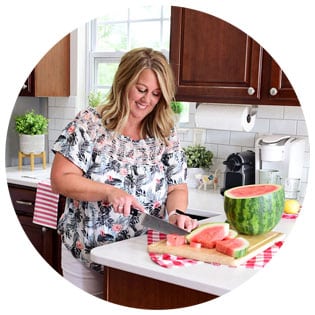 Hi there, I'm Cheryl!
As a wife, mom, and caffeine enthusiast, my journey has taken me from bustling mornings with my family to sharing delicious recipes, home care tips, and heartfelt decorating insights with wonderful readers like you. My love for baking, photography, and tidiness shines through every post I craft. Dive into my world and discover the art of homemaking, one tidy moment at a time. Read more...
Tidymom is a participant in the amazon services llc associates program, an affiliate advertising program designed to provide a means for sites to earn advertising fees by advertising and linking to Amazon.com.
Please respect my work, recipes and photographs. If you do use a recipe in your own writing, please give proper credit and link back to the original post.