Blueberry Cobbler Bars | Spark Your Summer
These Blueberry Cobble Bars are truly simple to make and leave the most wonderful smell of baked blueberries drifting through the house.
Can you believe it's already week four of Spark Your Summer?!  I'm so excited about today's guest, Gina from Kleinworth & Co.  Gina has been linking up to my weekly I'm Lovin' It linky party for a long time, and I've been a huge fan of her recipes and photography!  Earlier this year we finally had the chance to meet, and she's even more wonderful in person!  Today she is here with a delicious blueberry recipe that I can't wait to make! Make sure to head over to Kleinworth & Co. for lots of fun ideas and recipes.

Hi there TidyMom readers! It's Gina from Kleinworth & Co. & I'm so thrilled to be here today. I had the pleasure of not only meeting Cheryl at SNAP! Conference but getting some quality one on one time with her too. I can tell you- I had the best time getting to know her & she is every bit as wonderful in person as you see here in her space. I can't wait for the next time we can catch up in person.
On Kleinworth & Co. I share photography tips, easy projects & a whole lot of recipes. I have a passion for being in the kitchen & an even bigger passion for pretty food pictures. One thing I use a lot of in my recipes is blueberries. We seem to be enjoying a blueberry recipe nearly every week. So I thought it would be great to share our favorite Blueberry Cobbler Bars with you all today.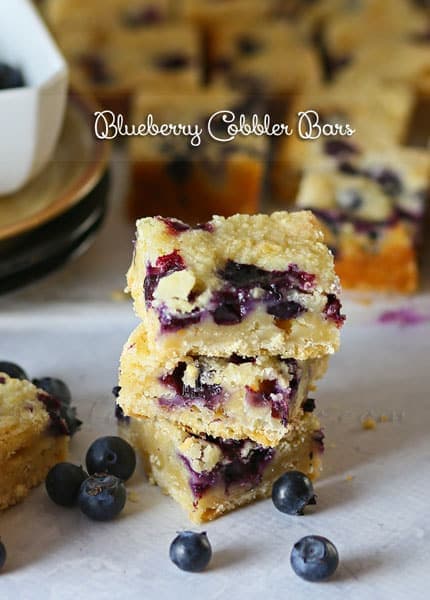 These are truly simple to make & leave the wonderful smell of baked blueberries drifting through the house. Heaven!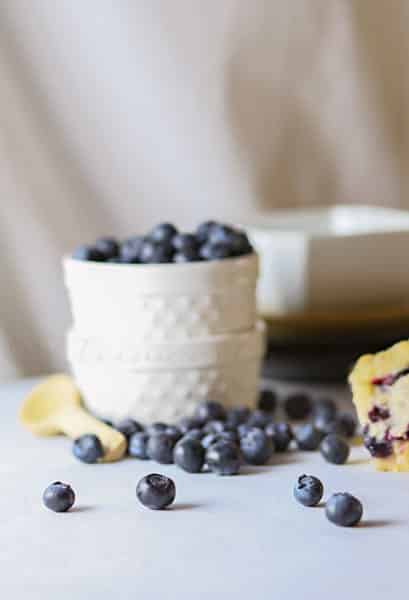 I love that these can be enjoyed as a treat or over morning coffee.
Of course, I have been known to eat chocolate chip cookies over coffee too. (any excuse)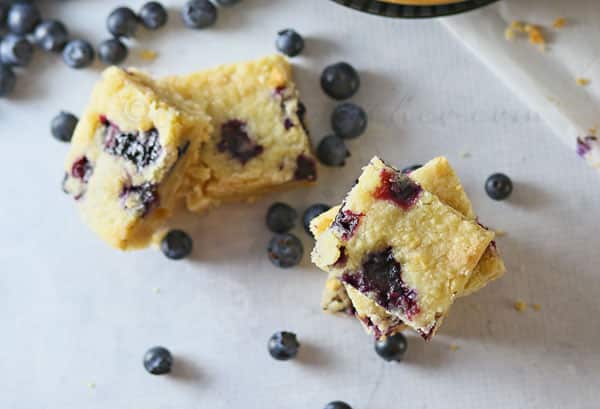 These are perfect for this time of year because I am usually packing the house with fresh produce. Summer is so great for that. This recipe works well with both fresh or frozen – so take all those summer berries, pack them away & you can enjoy this all year long.
Just look at that buttery crumble topping- so tasty.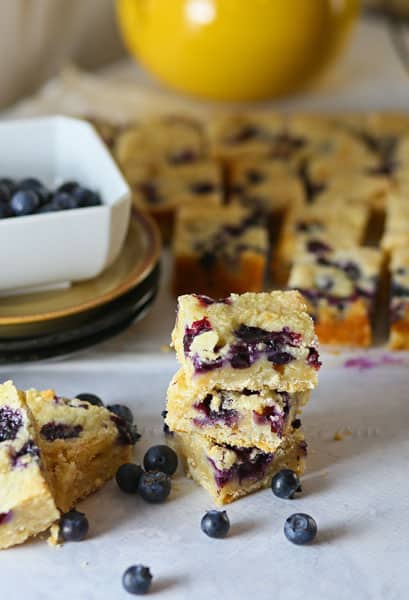 This recipe also works well with other berries. Since we are in North Idaho – our all-time favorite is to use Huckleberries. I figured they might be hard to come by in other areas – which is why I chose blueberry to share today.
Let's make Blueberry Cobbler Bars
Blueberry Cobbler Bars
These bars are truly simple to make & leave the most wonderful smell of baked blueberries drifting through the house.
Ingredients:
Crust & Topping
1 1/2 cups all-purpose flour
3/4 cup sugar
1/8 tsp salt
3/4 cup (1 1/2 sticks) butter, chilled
Filling
2 eggs
1/2 cup brown sugar
1/2 cup granulated sugar
1/2 cup sour cream
6 tablespoons all-purpose flour
pinch of salt
1/4 teaspoon butter extract
1/2 teaspoon vanilla extract
8-oz fresh blueberries, rinsed and drained
Directions:
For crust/topping:
Preheat the oven to 350 degrees.
Line a 9×9 inch baking pan with parchment & give a light spritz with cooking spray.
Combine the flour, sugar, and salt in a medium bowl.
Cut the butter into 1/2-inch cubes, and add to the flour mixture.
Using a fork for pastry cutter, cut the butter in until mixture resembles coarse crumbs.
Remove 3/4 cup of the mixture to use as the topping & set aside.
Press the remaining mixture into the bottom of prepared pan, and bake for 10-12 minutes.
Cool for 10-15 minutes.
For filling:
Whisk the eggs in another medium bowl (or just use the one you used for the crust.
Add the granulated and brown sugar, sour cream, flour, salt, butter and vanilla extracts. Whisk well.
Gently fold in the berries and pour the mixture over the crust.
Sprinkle the remaining flour mixture evenly over the filling
Bake 35-45 minutes.
Cool for 1 hour before cutting & serving.
Making this recipe? Share it with us on Instagram using the hashtag #TidyMom so we can see what you're creating in the kitchen!
Want more great recipes like this? Follow my TidyMom Easy Recipes Pinterest Board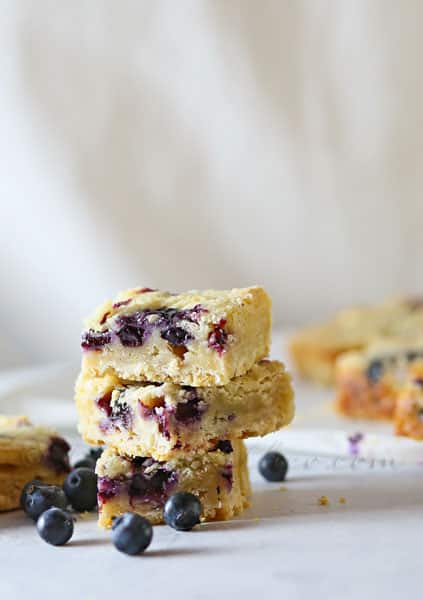 If you love these – you might want to check out some of my other blueberry recipes?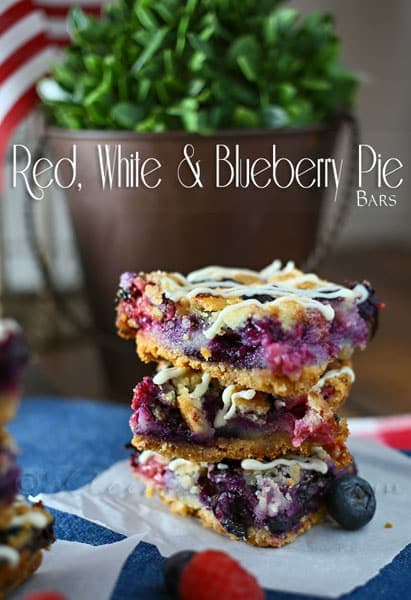 Red White & Blueberry Pie Bars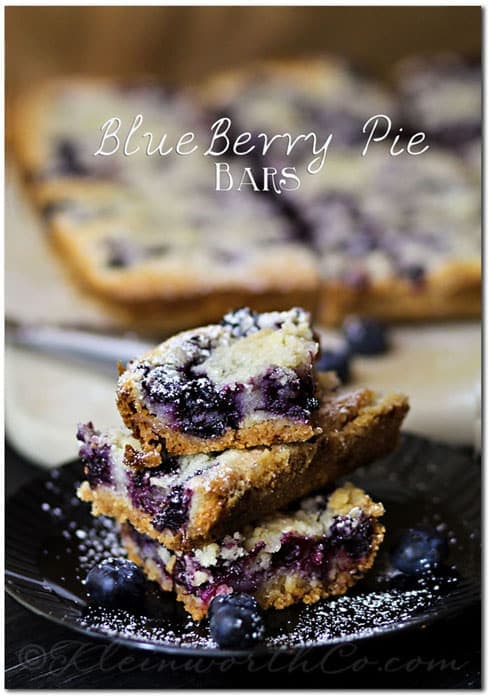 Thank you so much Cheryl for sharing your space with me today!
Thank you Tidy Mom readers for visiting with me – I have loved being here. Have a FABULOUS week!
You can connect with Gina via Blog, Twitter, Google+, Instagram & Pinterest

  Click here to learn more about the Spark Your Summer series and how you can participate!