Biscoff Crunch Ice Cream Cake
This easy Biscoff Crunch Ice Cream Cake is made with Biscoff cookies, vanilla ice cream, Biscoff Spread, and rice cereal.
Be sure to sign up for my email… to get new recipes and ideas in your inbox!
It's hard to believe that by the time you are reading this post, we will have dropped Allison off at college, making us empty nesters. Those words are REALLY hard to swallow. I can't even fathom how that is possible.
Heather went to cosmetology school after high school, and didn't move out for a while, then she came back home, then moved out again and lived just minutes away from us, until this spring when she bought her own house at 26 years old!! She is only 15 minutes away and comes over quite a bit.
Allison will be 2 HOURS away. Not only do I not want to think about her making that drive home and back on the occasional weekend…….but what am I going to do without her here? I'm one of those lucky Moms who's super close with her young adult daughters. We shop, laugh, hang out, take pictures, watch TV together……and yes occasionally fight. But I wouldn't change a thing about our relationships, so imagining one link of our special little triangle missing…… it's going to be really hard to deal with.
Ice cream kind of fixes everything right? So Allison wanted to make sure we made one last fabulous treat before she left. She was quick to remind me of a recipe I've been running thru my head for a few months now. Last week she said, "I'm not leaving until you make that Biscoff Crunch Ice Cream Cake you've been telling me about!"
I'd be lying if I didn't tell you………..I secretly thought about NOT making it 😉 after all, that would mean she wouldn't leave right?
Let's just say it was well worth the wait, and I'm so glad I had her here to help me. When you are working with ice cream, it's always nice to have an extra set of hands
Let's talk about this Biscoff Crunch Ice Cream Cake……….
If you are a fan of cookie butter cookies or spread, you are going to love this cake! (full recipe at the end of this post)
I started off by coating rice cereal in the Biscoff spread, and then put it in the freezer to set.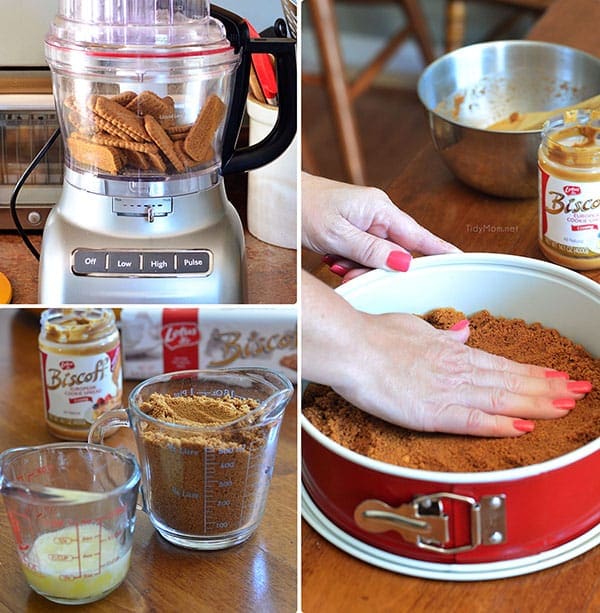 Next, I made a Biscoff cookie crust. You will need 2 packages of cookies (maybe 3 if you snack on some like we did 😉 )
Mix 2 cups of the cookie crumbs with melted butter, pat out in a springform pan and bake for about 10 minutes to set the crust. Then let it cool, and put it in the freezer to chill. (set aside the other 2 cups of crushed cookies and butter for another layer in the cake)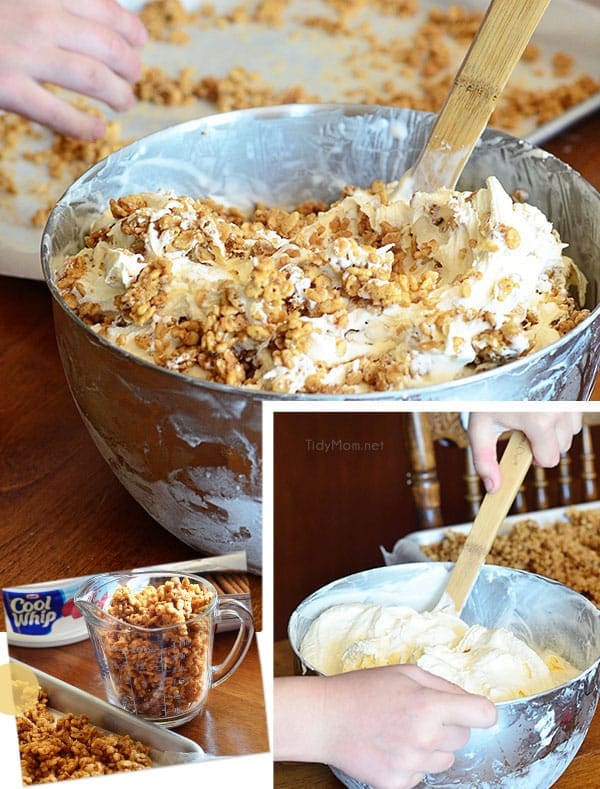 Once the crust and rice cereal are cooled and cold, I took one gallon of vanilla ice cream out the freezer and let it sit for about 10 minutes to soften. Then I put the ice cream and 8 ounces of cool whip in a very large cold bowl and mixed until creamy, making sure not to let the mixture get too soupy, (this would increase the risk of the ice cream getting icy once you re-freeze it).
I broke up the coated cereal and set about 2 cups aside, for topping the cake. Then gently stirred the rest of the Biscoff covered rice cereal into the ice cream mixture.
To assemble the Biscoff Crunch Ice Cream Cake, I just layered: 1/2 of the ice cream mixture over the cold crust, drizzled with chocolate syrup, placed remaining 2 cups of cookie crust over syrup then add remaining ice cream, and topped with reserved cereal and chocolate syrup.
I then covered the cake in plastic wrap and place back in the freezer immediately, for at least 6-8 hours, or overnight for best results.
Remove sides of a springform pan and transfer to the refrigerator about 30 minutes before serving.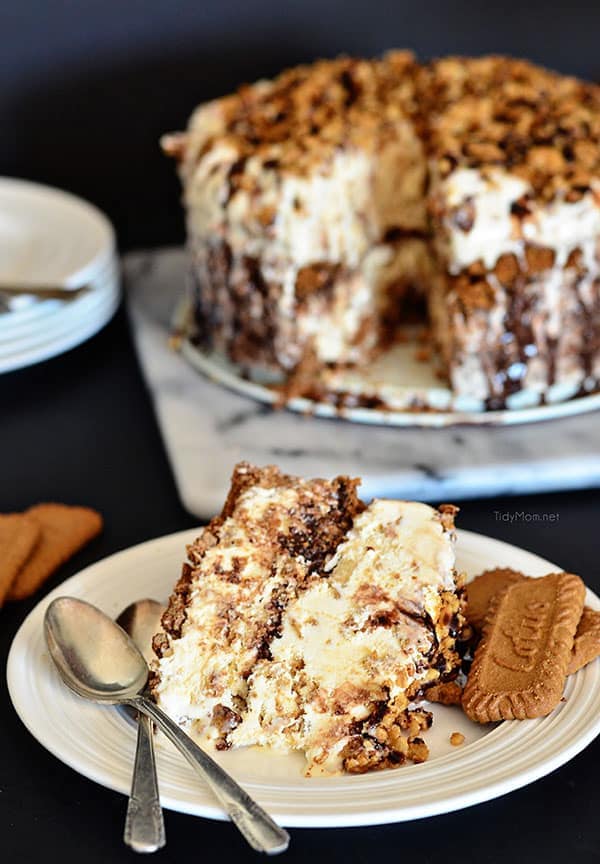 Allison and I shared the first piece! She sent a picture to her roommate who promptly told her she is going to have to come home with her if her mom made stuff like this! lol
Luckily I have a little cake left over to drown my sorrows this week.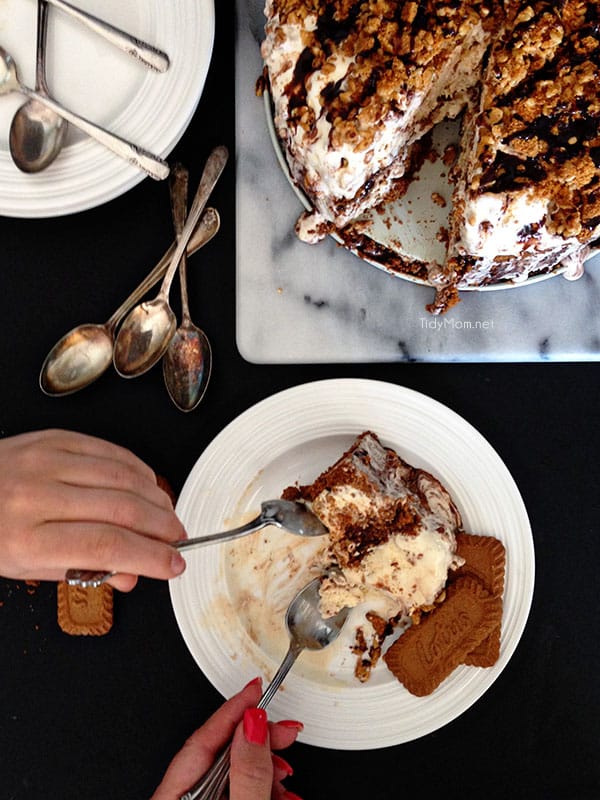 BISCOFF CRUNCH ICE CREAM CAKE RECIPE NOTES:
Look for Biscoff Spread near the peanut butter at your grocer or on Amazon here. You can find the cookies in the cookie aisle or you can find them online on Amazon as well. If you can't find Biscoff Spread and have a Trader Joe's near you, you can use their Cookie Butter.


I created a fun little group on facebook and I'd love for you to join in! It's a place where you can share YOUR favorite recipes, home tips, creative ideas and ask questions and see what's new with TidyMom! If you'd like to check it out, you can request to join HERE. Be sure to follow me on Instagram and tag #tidymom so I can see all the wonderful TidyMom recipes YOU make and tips YOU use!
Connect with TidyMom! Facebook|Twitter|Pinterest|Instagram
Sign up to receive an email in your inbox for each new recipe:
Biscoff Crunch Ice Cream Cake
Yield: 12
Prep Time: 20 minutes
Freezer Time: 6 hours
Total Time: 6 hours 20 minutes
This easy ice cream cake is made with Biscoff cookies, vanilla ice cream, Biscoff Spread, and rice cereal.
Ingredients
1 (14 ounce) jar Biscoff spread
6 cups rice cereal
2 (8.8 ounce) packages Biscoff cookies, crushed into fine crumbs
1/2 cup butter, melted
1 gallon vanilla ice cream
1 (8 ounce) Cool Whip
1/2 cup Chocolate Syrup (reserve some for topping if desired)
Instructions
Place large mixing bowl in the freezer to chill.
Using a large saucepan over low heat, combine Biscoff spread and rice cereal. Mix well until the cereal is completely coated. Remove from heat. Turn onto a baking sheet lined with waxed or parchment paper. Spread into an even layer. Let sit for 2 hours or place in freezer for about 1 hour to firm. Break into small pieces. Set aside 2 cups of cereal mix for topping.
For Crust: Preheat oven to 375 degrees. In a medium bowl combine the cookie crumbs and butter; mix until well blended. Set aside half (2 cups) of crust aside. Press remaining crust into a 9-10 inch springform pan. Bake in the preheated oven for 7 minutes. Cool, then place in freezer until chilled.
Once cereal and crust are chilled, remove ice cream from freezer to soften (about 10 minutes on the counter). Removed large bowl from freezer and fold together the ice cream and cool whip until smooth and creamy, but not soupy. Fold in all but the reserved portion of cereal mixture.
Pour half of the ice cream mixture over prepared crust. Drizzle chocolate syrup over the first layer of ice cream. Next, add remaining cookie crust and pat down. Spread the rest of the ice cream over the top of the chocolate layer and garnish with remaining cereal and chocolate syrup.
Cover with plastic wrap and place pan back in the freezer immediately, for at least 6-8 hours, or overnight for best results.

Tidymom is a participant in the amazon services llc associates program, an affiliate advertising program designed to provide a means for sites to earn advertising fees by advertising and linking to Amazon.com.
Please respect my work, recipes and photographs. If you do use a recipe in your own writing, please give proper credit and link back to the original post.