Arm & Hammer Advance White {Free Toothpaste}
I have to tell you, as much as I've been enjoying the Switch & Save Challenge, getting new products to try each month, I was really looking forward to getting the Arm & Hammer Advance White Toothpaste.  Yeah I know………it doesn't take much to excite me! haha
But I love to experiment with tooth pastes, especially whitening tooth paste.  Seems we are forever on the quest the the best, and Arm & Hammer is one I had not tired yet.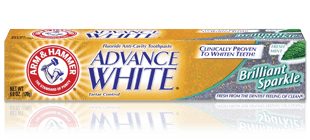 This tooth paste has baking soda and cleans between teeth and along the gum line, removing up to 5x more plaque.  All while whitening and brightening teeth with a clean fresh taste.  You FEEL the baking soda working!  It's a deep clean, like you just had your teeth cleaned at the dentist!
Since baking soda is a natural buffer, it helps maintain the mouth's natural pH level as it neutralizes food acids, even after brushing…..that means fresh breath all day!!
I'll keep you posted with my results with whitening over the next few weeks.  Care to join me?  You can get your own FREE sample of Arm & Hammer Advance White tooth paste to try. http://armhammerchallenge.com/ (you need to copy and paste that link to work, for some reason if I make it clickable, it takes you to a different page) Come on, I hate taking tests all alone!
What's the most important thing for you in choosing a toothpaste?

This is a sponsored post for Church & Dwight Co., Inc, the maker of ARM & HAMMER branded products, who is paying me to try different products. Sign up for a free sample of Advance White Brilliant Sparkle Toothpaste. And then head over to The Switch & Save Challenge to keep up with all of the bloggers and enter to win $25,000