Old Fashioned Vegetable Beef Soup Just Like Grandma Made
This Old Fashioned Vegetable Beef Soup is a flavorful hearty soup packed with various colorful vegetables, tender beef, broth, and noodles. Just like grandma used to make!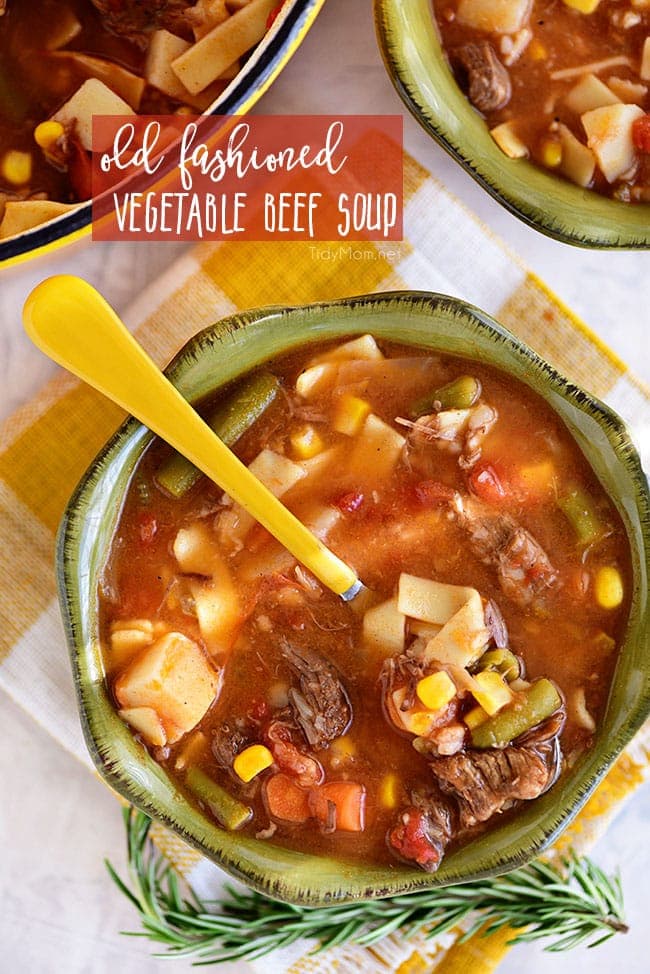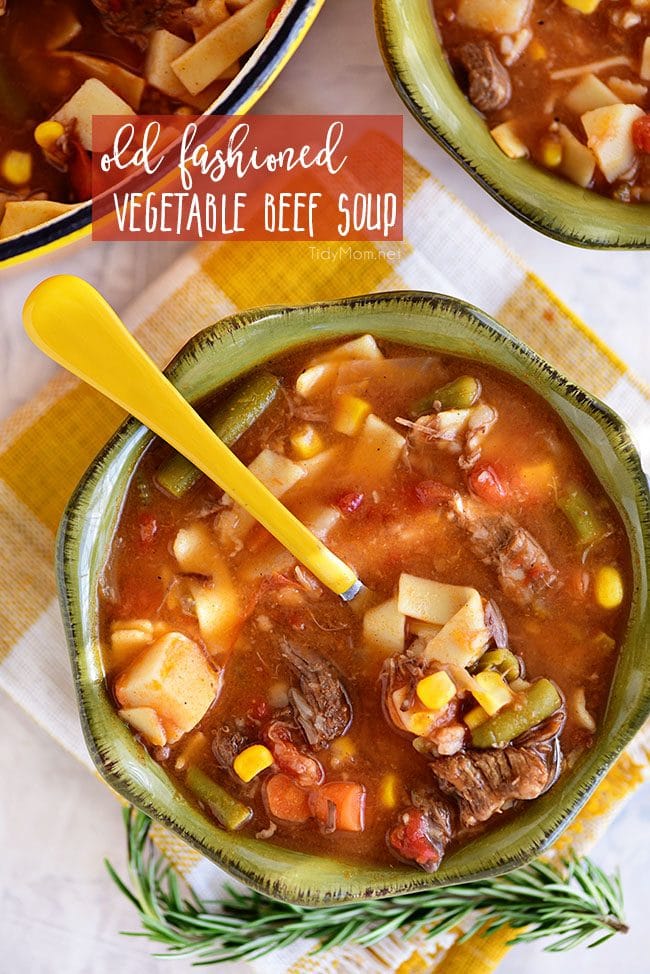 This post may contain affiliate links. Please read my disclosure policy here.
Christmas has come and gone, but the bitterly cold weather it brought with it is still hanging on here in St. Louis. We are on day 10 of below-freezing temps, with the last 2 days below zero and wind chill of -15!
We've had a fire in the fireplace almost non-stop. And if you peeked in our windows, you'd probably find me in a big cozy sweater, comfy leggings and boots making soup or eating soup! I haven't left the house in days….I don't do cold.
When it's cold, I love to keep warm baking homemade dutch-oven bread, cinnamon and sugar doughnut muffins for breakfast and lots of soup and chili!
If you're looking for comfort food with this colder weather, nothing quite cuts it like my Grandma's Vegetable Beef Soup. It's what I want when it's cold or if I'm sick. It's the meal that makes me feel like I'm at home.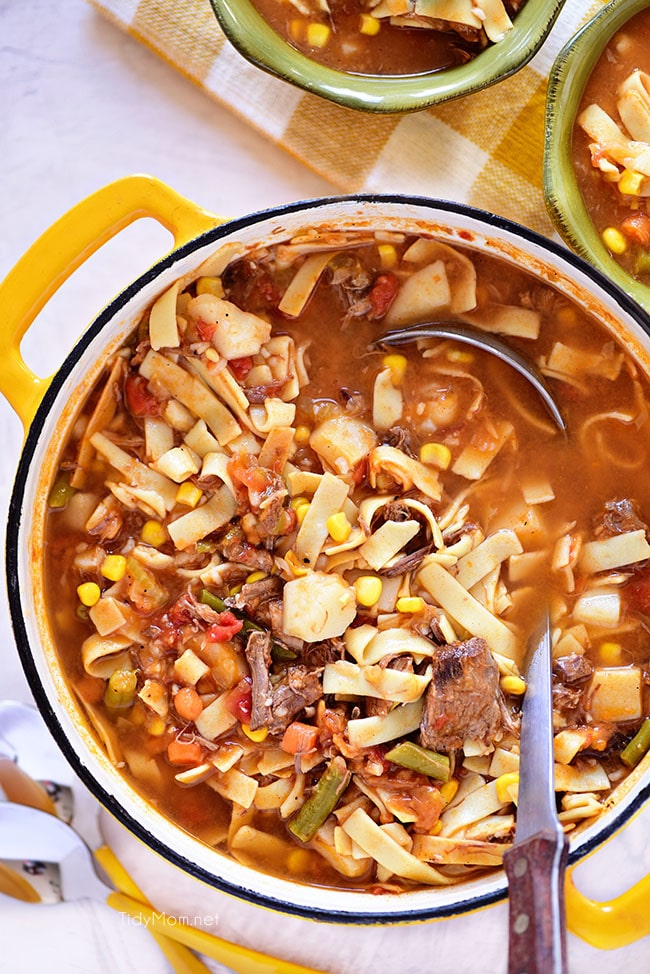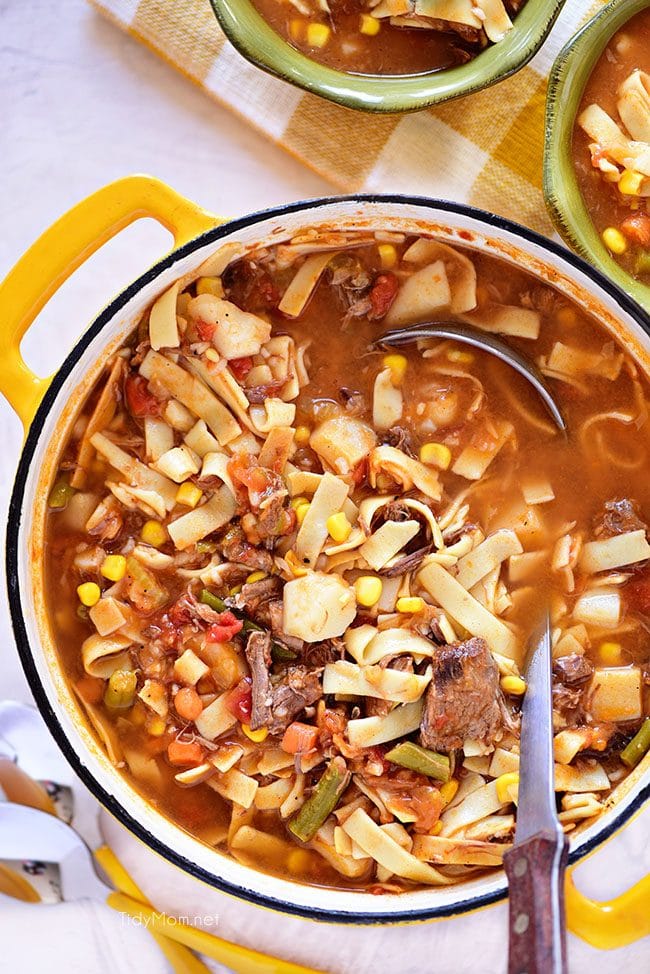 MAKING GRANDMA'S VEGETABLE BEEF SOUP
This old-fashioned vegetable soup is perfect for the weekend. It does require a bit of a time investment, but it's mostly hands-off. The longer you can let it simmer the better, but you will need to allow a least 4-5 hours minimum. Trust me, it's worth the wait and even better the next day!!
What Changes to Grandma's Soup Did I Make?
One shortcut I did take was the noodles. My grandma always made her own homemade egg noodles, but I bought old-fashioned medium egg noodles at the grocery store. No, they did not quite taste like her's but they were close enough and saved me the extra work.
Another shortcut, at my mom's suggestion, I used bagged slaw mix, instead of chopping cabbage. This again was really just out of convenience. We are not cabbage eaters, and the slaw mix just made it easier, and I did use the slaw mix in another recipe (that I hope to share soon). Feel free to chop cabbage if you'd prefer.
Another change I made was to the broth. I used V-8 juice in the broth. I mainly did this because my husband likes tomato sauce, but he doesn't like chunks of tomatoes, so I went a little light on the actual tomatoes in the recipe and made up for it by adding V-8 juice instead of water towards the end of the recipe.
I also added a small can of green beans, because I thought it sounded good, although my mom says that Grandma never put green beans in her soup.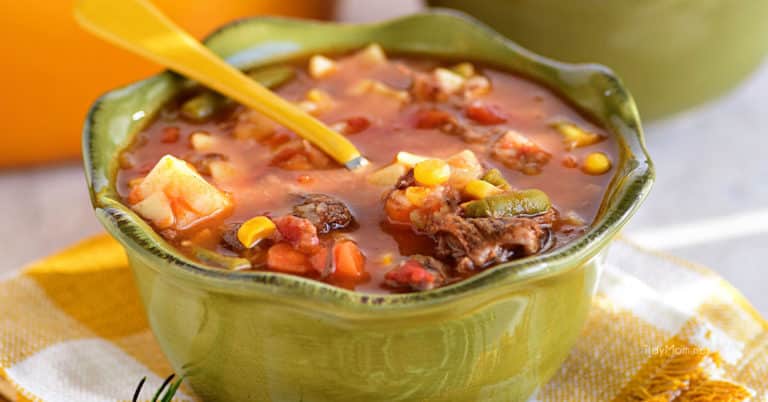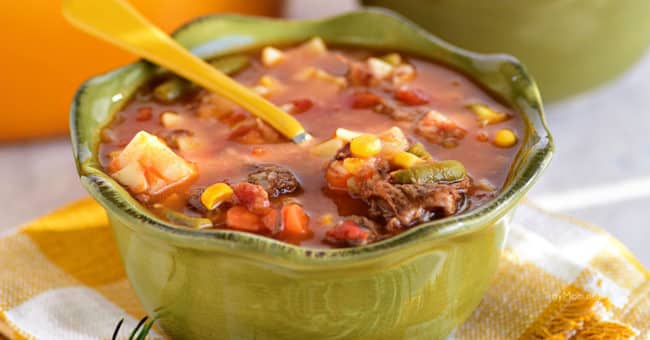 Don't Change These Things When Making Grandma's Soup:
Don't use Stew Meat. Those packages of pre-cut stew meat are actually odds and ends from other different cuts of meat. Basically, you don't know what you are getting, and it's most likely a mix of meats, making it difficult to get the same delicious experience in every bite.
The best cut of meat to use for this vegetable beef soup is chuck roast. This cut will result in meltingly tender beef that is perfect for this soup! Buy a whole roast so you can shred it like my Grandma always did!
Use a soup bone. It's hard to find a bone in chuck roast these days, so pick up a soup bone to toss in the soup so you can still get the extra flavor the bone provides. (Don't forget to remove the bone before serving)
Don't skip the white rice. I know there is not a lot of rice in this recipe, but we don't really know why Grandma added it, but my mom said, she's never made this soup without the rice.
What Tools You'll Need for Making Vegetable Beef Soup
A large dutch oven or stock pot (at least 8 quarts)
a hungry belly!
Don't you just want to curl up under this blanket, heat up some of this Homemade Vegetable Beef Soup, and binge watch Netflix? Who else has finished season 2 of The Crown?!!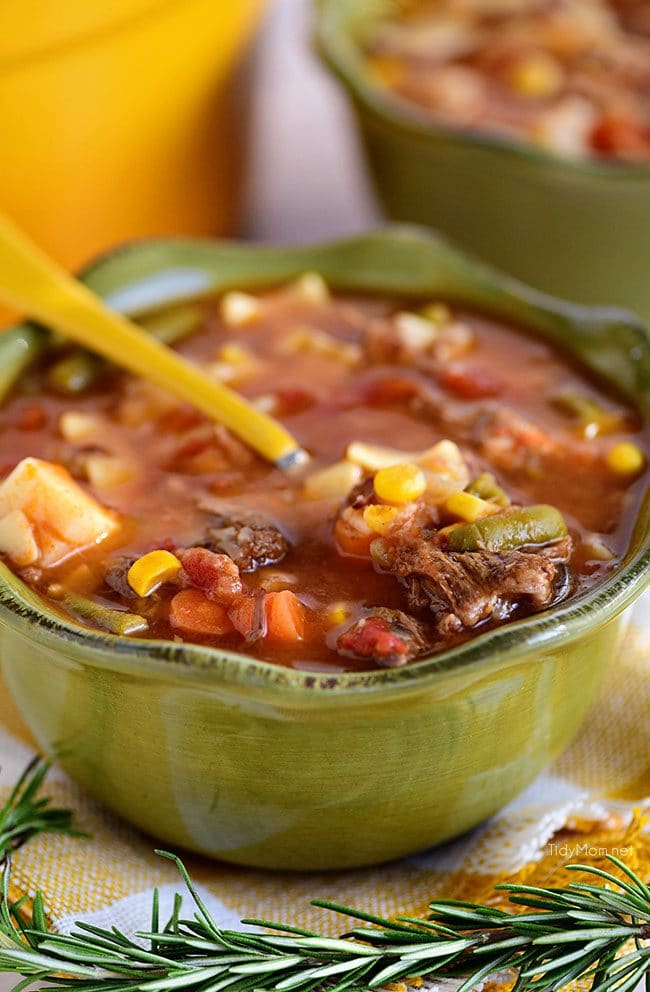 For more old-fashioned recipes you might want to try this Old Fashioned Chicken and Dumplings, an easy recipe created from scratch, Homemade Chicken Noodle Soup or Ham Salad. Old Fashioned Apple Crisp or Banana Pudding are perfect for dessert.
Below you'll find my Grandma's homemade vegetable beef soup recipe from my childhood, with just a few minor changes made. Feel free to adjust to also suit your tastes…
Your spoon is waiting….
LIKE THIS OLD FASHIONED VEGETABLE BEEF SOUP RECIPE? PIN IT!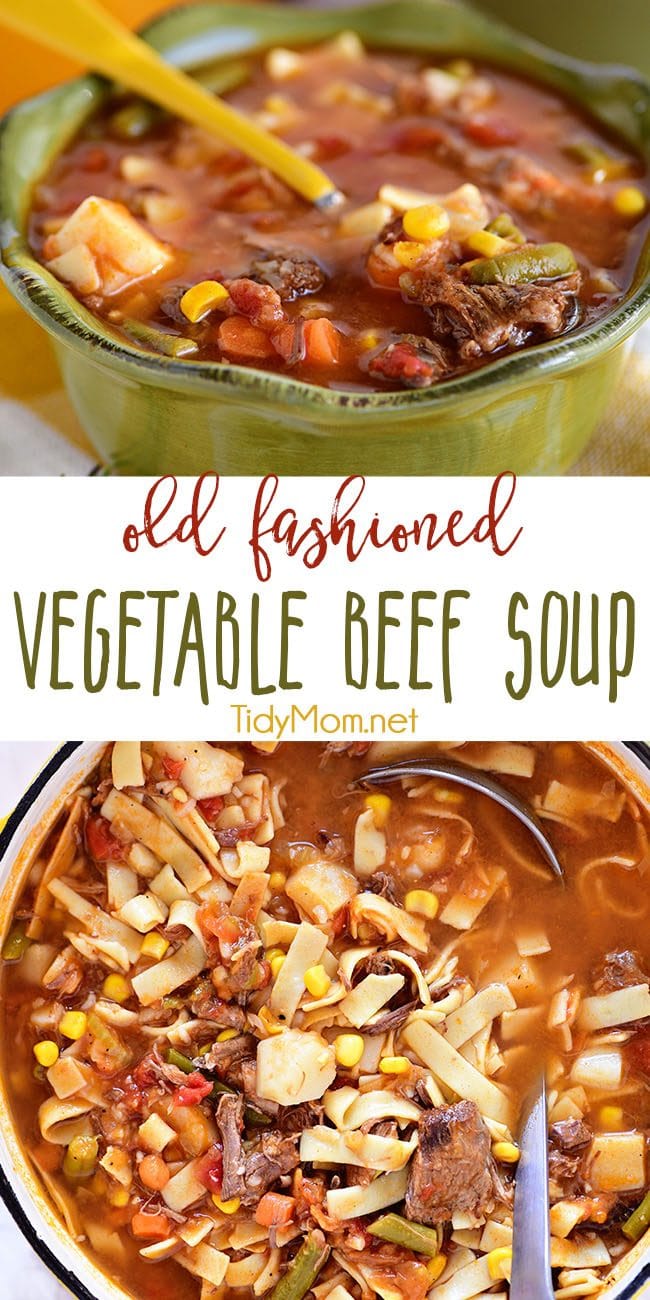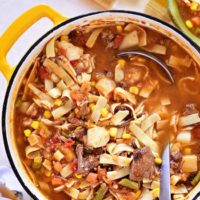 Old Fashioned Vegetable Beef Soup
This Old Fashioned Vegetable Beef Soup is a flavorful hearty soup packed with various colorful vegetables, tender beef, broth, and noodles. Just like grandma used to make!
Ingredients
2 pounds chuck roast
2 tablespoons extra virgin olive oil
1-2 teaspoons seasoned salt
1 soup bone
6 cups water
2 (15-ounce) cans of petite diced tomatoes
2 medium white potatoes
1 cup chopped carrots
1 cup frozen corn
1 cup green beans (I use canned)
1 cup slaw mix
1/2 cup white rice
1/2 cup chopped celery
1/2 onion, diced
2 teaspoons minced garlic
salt and pepper to taste
2 cups V8 juice (divided)
6 ounces Amish egg noodles
Instructions
Trim any excess fat from roast and season with seasoned salt.
Warm olive oil in a large dutch oven (or heavy bottom pot), over medium-high heat. Carefully add roast and sear meat until browned on all sides.
Once meat has finished browning, add tomatoes and 6 cups water (just enough to cover meat). Bring to a boil then adjust heat to maintain a low simmer. Cover and cook until meat is tender, about 2 hours. While meat cooks, chop vegetables.
Remove meat and shred with a fork.  Return meat to pot along with vegetables, rice, garlic, salt and pepper and one cup of V8 juice. Cover and let simmer on low for at least 1-hour stirring occasionally. Put a small scoop of soup and in a bowl to taste and see if you need more salt and pepper. Add noodles and remaining V8 juice + water (if needed- if you want more liquid) and simmer for another hour or more. Remove soup bone and discard.
Serve soup and enjoy!  It's even better then next day!
Notes
If you want to freeze this soup, freeze the soup without noodles added, then when you are ready to serve, add the noodles and simmer until noodles are cooked. This will keep the noodles from turning mushy.