Hawaiian Burger – Aloha BBQ Sliders on the Grill
with recipe video
Fire up the grill this summer for this mini Hawaiian burger recipe. Aloha BBQ Sliders are flavored with barbecue sauce and served on sweet rolls with cheese, pineapple and bacon.
Be sure to sign up for my email… to get new recipes and ideas in your inbox!
Summer officially arrives in a few weeks, and that means grilling season is upon us! My family has rarely met a burger they didn't like, but some seem to really go over better than others.
Enter……… Aloha BBQ Sliders! Since we've been busy, I've been all about easy dinners, so when I saw these Hawaiian burgers on the ReadSetEat.com website I knew I found something I could whip up in no time, with minimal mess in the kitchen and I was pretty sure my family would love.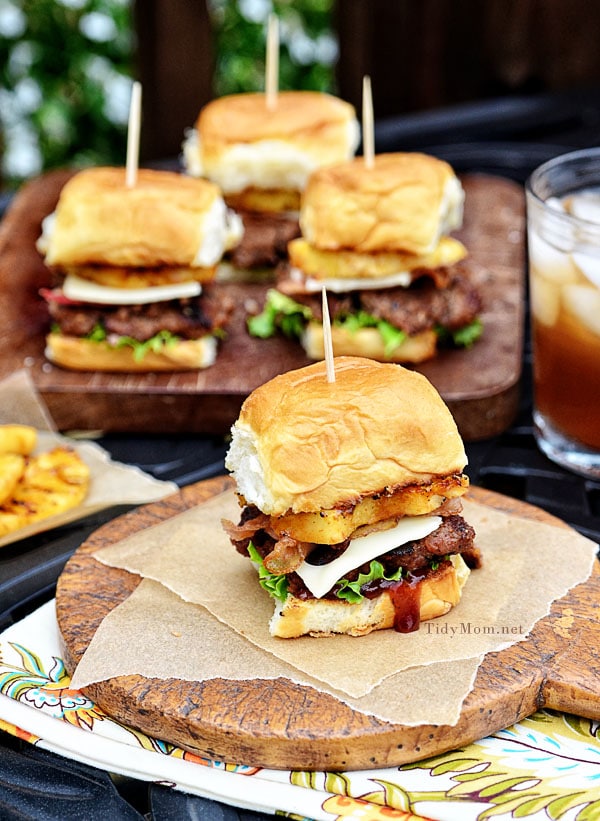 HAWAIIAN BURGER FOR SUMMER
These Hawaiian burgers just scream summer, but I know we would eat them all year long. I think it's the barbecue sauce with a touch of pineapple juice inside the burger and again on the bun.
I love a burger swimming in sauce. Or maybe it's the grilled pineapple and slice of bacon on top, you can't go wrong anytime you slap a piece of bacon on top. Am I right?
If you've never toasted your burger buns, you are in for an extra special treat! You will never eat a burger on a plain bun again, I love the crispy crunch the toasted bun adds to a burger.
LET'S GET COOKING! HAWAIIAN BURGERS ON THE GRILL

This post may contain affiliate links. Please read my disclosure policy here.
To make these mini Hawaiian burgers, simply spray your cold grill with PAM® Grilling Spray (I was out, so I just used original) so your burgers don't stick to the grill.
Add pineapple juice to some barbecue sauce (be sure to use a sweet BBQ sauce, one with Brown Sugar in the name).
Then mix ground beef with 1/3 cup of the pineapple barbecue sauce and a little Montreal Steak Seasoning (this stuff is our secret to great steaks too!) and make 12 little patties.
You can always make these Aloha Burgers full size, but be sure to use Hawaiian Hamburger Buns if you do.
Grill your burgers, buns and pineapple then assemble aloha sliders. Top each toasted bun with a little pineapple barbecue sauce, lettuce, burger, cheese, bacon and pineapple and your set!
Get in my BELLY! Trust me, you want this recipe in your burger arsenal!
CHECK OUT HOW EASLY THESE LITTLE HAWAIIAN BURGERS ARE TO MAKE! WATCH THE VIDEO!
click to see more of my recipe videos
WARNING: One bite and these little bbq burgers will have you booking the next flight to Hawaii.
These Hawaiian sliders are great for a picnic, a party, a main dish or just a snack. Be careful ….everyone will want more than one!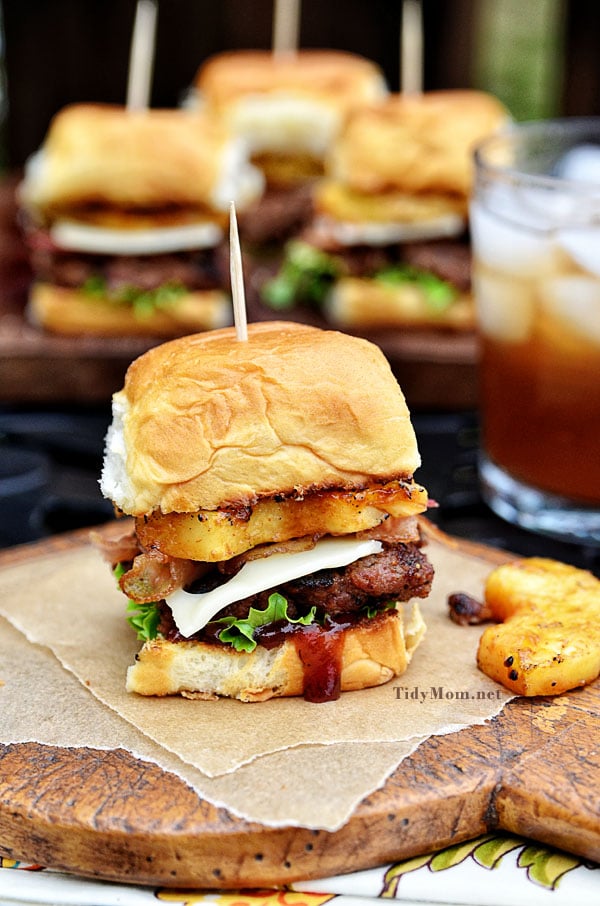 WHAT TO SERVE THESE ALOHA SLIDER HAWAIIAN BURGERS WITH
Are you a hot dog or burger person?
Serve Aloha Sliders with:
Like this Hawaiian Burger Recipe? Pin It!


This Hawaiian Burger takes the burger game to a whole other level.
Happy grilling!
I created a fun little group on facebook and I'd love for you to join in! It's a place where you can share YOUR favorite recipes, home tips, creative ideas and ask questions and see what's new with TidyMom! If you'd like to check it out, you can request to join HERE. Be sure to follow me on Instagram and tag #tidymom so I can see all the wonderful TidyMom recipes YOU make and tips YOU use!
Connect with TidyMom! Facebook | Twitter | Google+ | Pinterest | Instagram
Sign up to receive an email in your inbox for each new recipe:
Hawaiian Burger Recipe - Aloha BBQ Sliders
Mini beef burger recipe flavored with barbecue sauce and served on sweet rolls with cheese, pineapple and bacon.
Ingredients
1-1/2 pound ground chuck beef (80% lean)
2/3 cups brown sugar barbecue sauce, divided
3 tablespoons bread crumbs
3/4 teaspoon Montreal Steak Seasoning
1 pkg (12 oz) Hawaiian dinner rolls (in tray)
3 slices Swiss cheese, quartered
1 can (8 oz) pineapple slices, drained (reserve juice), cut into thirds (I used fresh)
6 slices of bacon (I used ready to eat bacon)
lettuce
Instructions
Spray cold grate of gas grill with grilling spray. Preheat grill for medium heat.
Combine barbecue sauce with 2 tablespoons pineapple juice. Meanwhile, combine 1/3 cup of barbecue sauce mixture to beef, breadcrumbs and steak seasoning in large bowl. Shape mixture into 12 small patties.
Place pineapple slices in bowl with remaining barbecue sauce mixture and set aside.
Grill patties 3 to 4 minutes on each side or until cooked through (160°F). Meanwhile, remove attached rolls from package; do NOT separate. Cut in half horizontally. Spray cut sides with grilling spray; toast on grill.
Remove pineapple slices from sauce and grill for 1-2 minutes on each side.
Separate toasted rolls and assemble sliders; Spread remaining barbecue sauce mixture on rolls, place a small piece of lettuce then patties on bottom halves of rolls; top with cheese, bacon and pineapple. Close with tops of rolls.
Enjoy!

Disclaimer: This post contains affiliate links. I have a working relationship with ConAgra Foods, though opinions expressed in this post are, as always, purely my own.