Funfetti Whoopie Pies for Halloween
Funfetti Whoppie Pies are an easy cookie-like treat thanks to a box mix and can frosting. Add seasonal sprinkles and McCormick Color from Nature food color to frosting for a fun Halloween surprise.
I love fall baking.  Of course part of it is all the warm fall flavors and dishes, like pumpkin, apple, roasted sweet potatoes, chili, stew and so much more.  But it's also the fun colorful treats, in orange, yellow, green and black, to name a few.  These funfetti whoopie pies are perfect for the fall season all the way through Halloween.  But, simply change out the sprinkles and icing color and they would work for Thanksgiving, Christmas, or any time of year.
If you aren't familiar with a whoopie pie, it's like a cupcake meets a cookie.  Whoopie pies have cupcake frosting sandwiched between two cake like cookies.  Pure bliss I tell you!  Unlike a cupcake, you get frosting in every bite.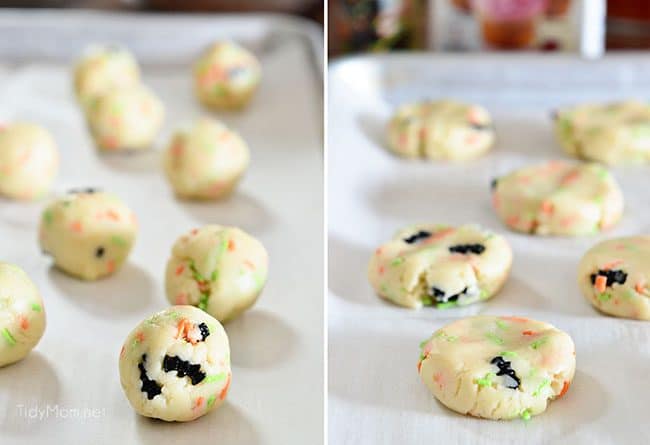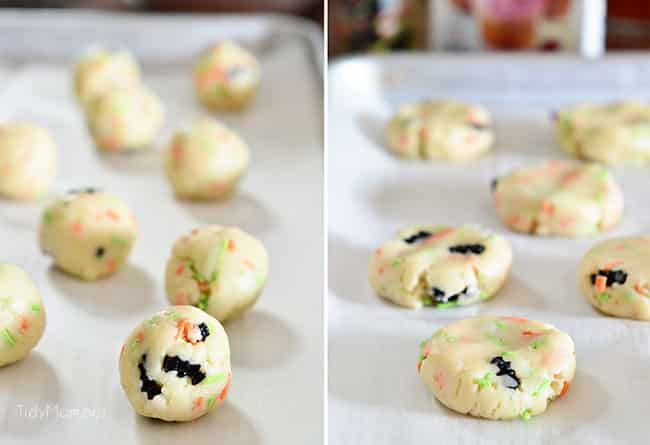 These funfetti whoopie pies are so easy, and only require a few ingredients.  You probably even have everything you need for the cake mix cookies;  a box cake mix (I use french vanilla or white), a stick of butter, an egg and some sprinkles.
Mix those ingredients with an electric mixer and roll into 1-inch balls.  Use your fingers to press each cookie dough ball down a bit to flatten out a little before baking.
While the cookies are in the oven, you can get the frosting ready.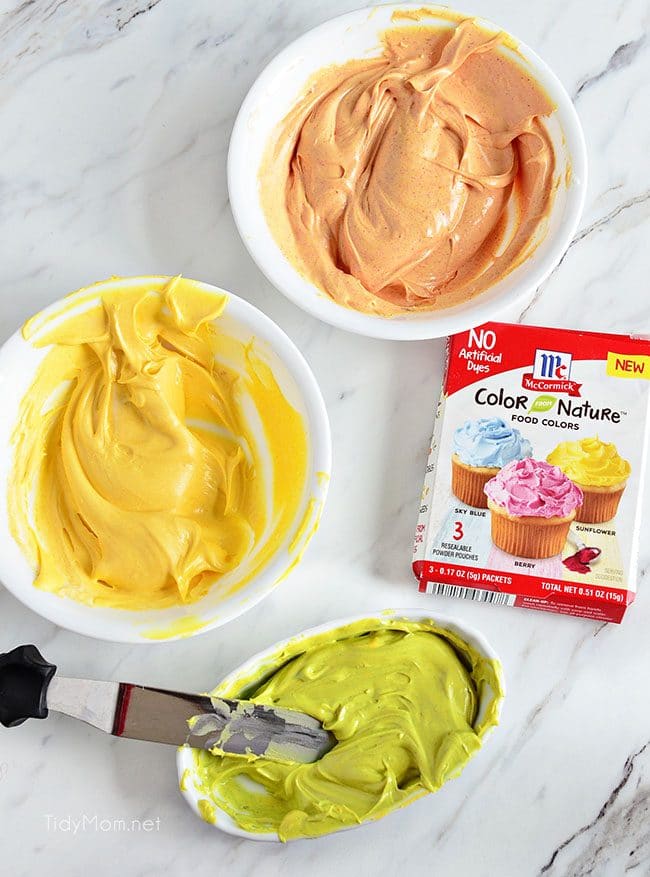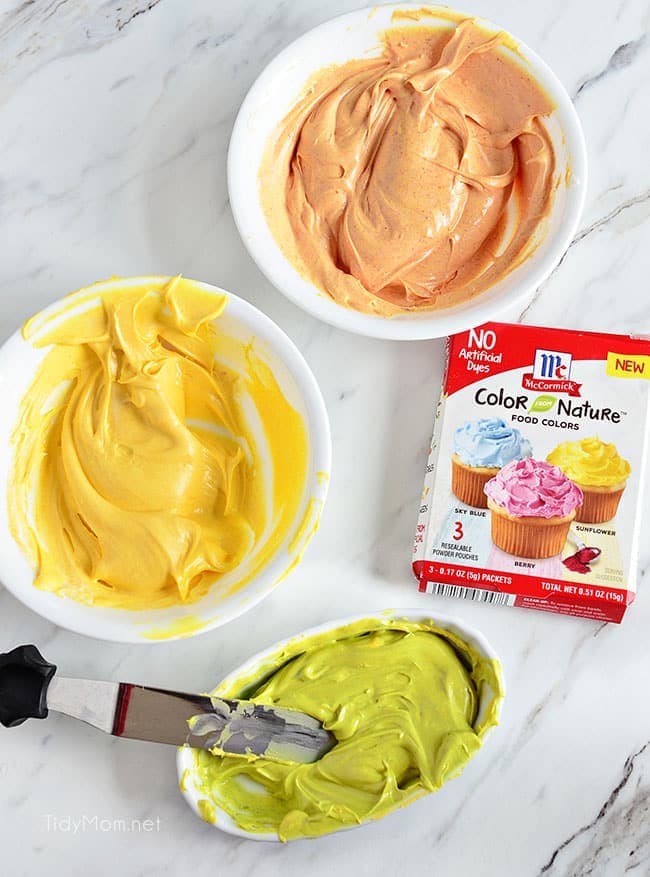 You can use can frosting, or your favorite buttercream frosting recipe. Evenly divide frosting into bowls to color.
My friends at McCormick sent me their new Color from Nature Food Colors and I knew they would be perfect for these Halloween funfetti whoopie pies. I think you are going to love this food color as much as I do! Color from Nature colors are made from real plants, seeds and vegetables. They come in an easy to dissolve powder form that won't thin your icing –I love that.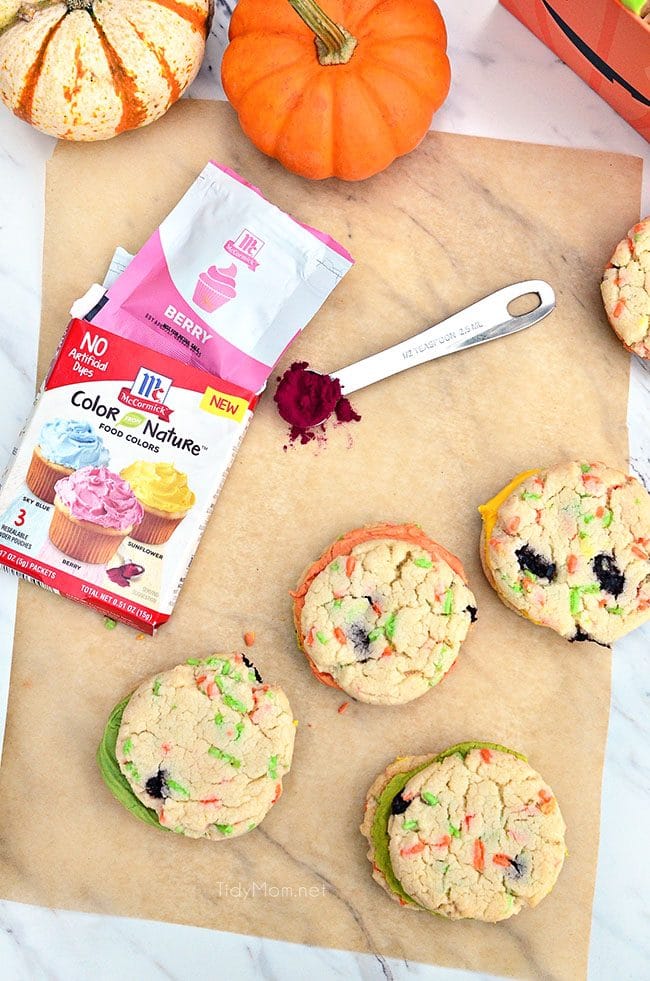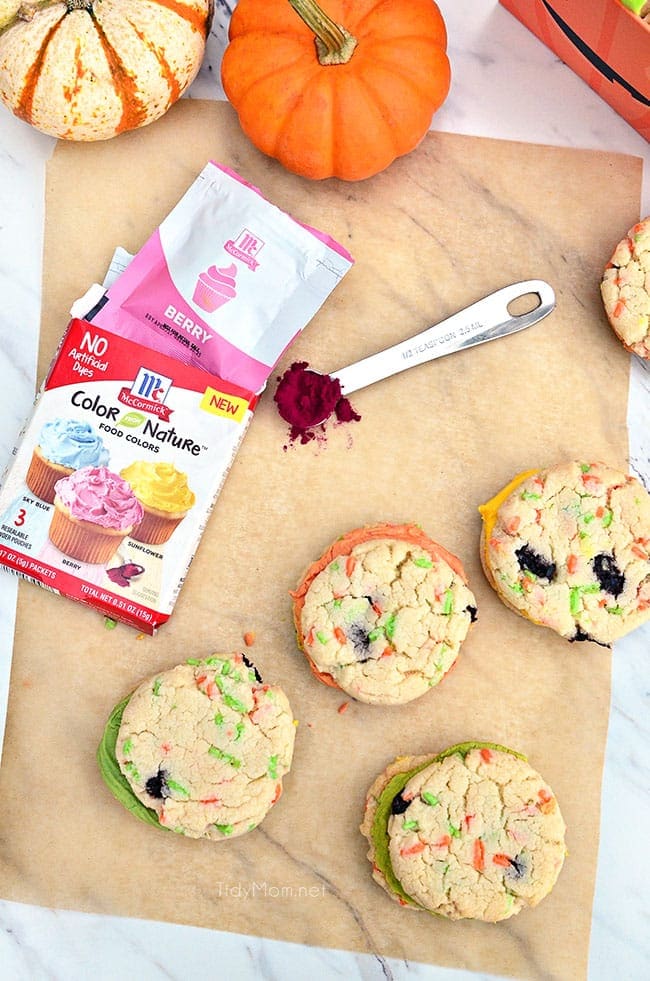 Each package contains three resealable pouches, great for multiple uses and easy measuring, making it super easy to blend and achieve a wide range of beautiful colors.
I created three colors for my whoopie pies.  The sunflower color is already provided but the orange/pumpkin is created by adding both the berry and sunflower colors together, and the green is created by adding a little of the sky blue to the sunflower. I love how vibrant they all turned out.  Perfect for sandwiching in the whoopie pies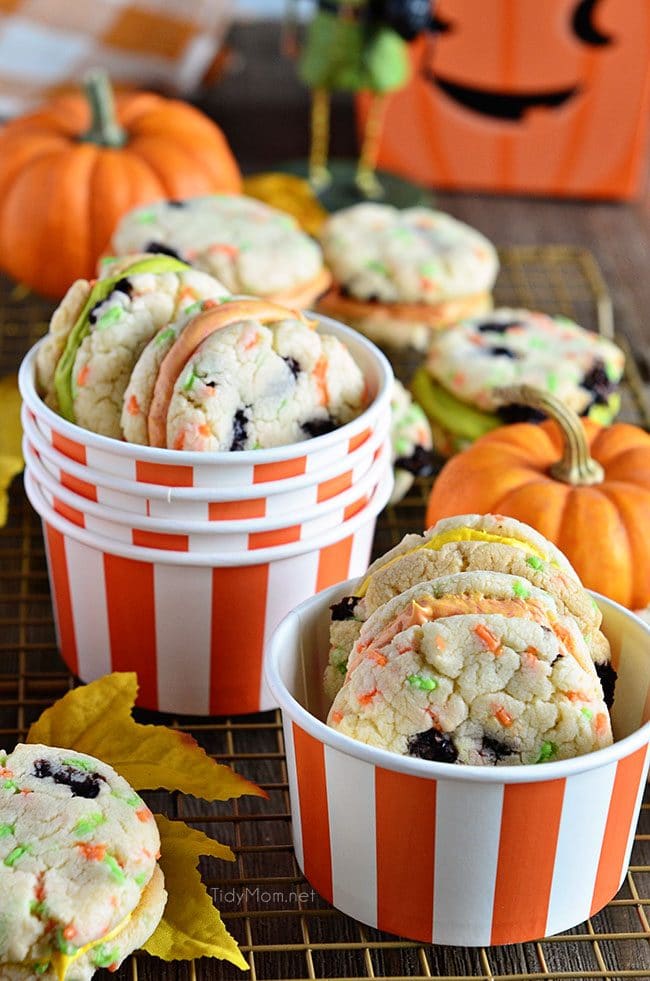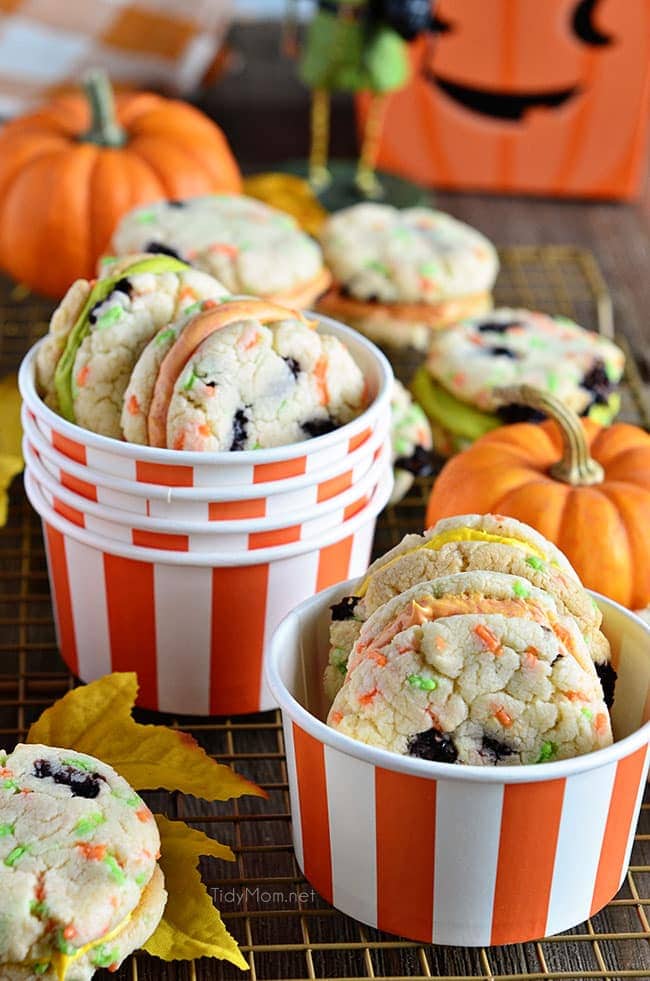 I was just thrilled with how these whoopie pies turned out.  Good thing shorts season is over and this recipe only makes about a dozen sandwiches.  😉
Want more great recipes like this? Follow my TidyMom Easy Recipes Pinterest Board
LIKE IT? PIN IT!

Disclaimer: I have been baking and cooking with McCormick in my home for 30 years.  I'm super excited to have a working partnership with them.  As always, all opinions and views are all my own. Thank you for supporting sponsors that allow me to create new content for TidyMom.