Apple Spice Muffins with Baked Beans
and a streusel topping + recipe video
Apple Spice Muffins remind me of a taste of fall and are the perfect way to start the day.  Add a streusel topping, vanilla glaze and baked beans you've got yourself one heck of a delicious muffin!!
The end of summer…. I'm always a little sad to see it go.  Lighter schedules, vacations, ball games, sunshine, and tank-tops.  But I can't lie, fall holds the biggest spot in my heart.  Routines and schedules, visits to the pumpkin patch, post-season baseball, cooler air, open windows, and sweaters!!  But most importantly……the food! Fall flavors can't be beaten.
Now that fall is knocking on our door, and the A/C and I are celebrating with the windows open a few times already, I don't dread turning on the oven as much. If you follow me on SnapChat and Instagram Stories, you may have seen me baking up these little gems.  Apple Spice Muffins with streusel topping and vanilla glaze are full of warm fall flavors, and packed with protein! I love sneaking vegetables into desserts and treats. Then, watching my family's reaction when I tell them what was in muffins they all devoured. 
I think you all know how much I love Bush's Beans, right? Well, I was on BushBeans.com recently where I saw a few cake recipes that included Baked Beans. THAT definitely peaked my interest!! I've made black bean brownies…..why not Apple Spice Muffins with baked beans? While baked beans in a muffin might seem a little odd, it totally works, I promise.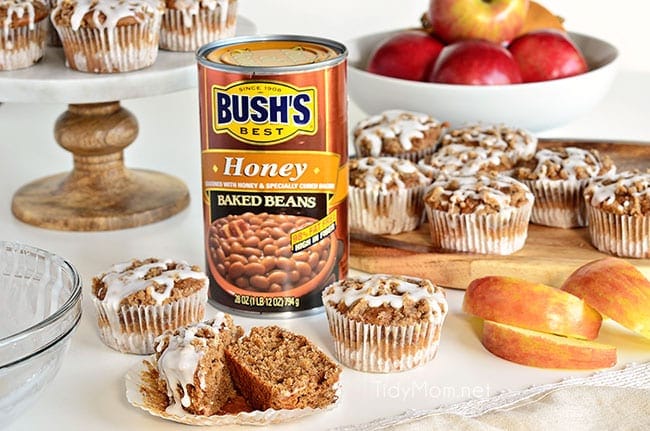 One bite of this moist, spicy muffin and the "ewww" factor will disappear quickly! Honey Baked Beans mingle perfectly with apples and spices.
How to make Apple Spice Muffins with Baked Beans
Apple Spice Muffins are a breeze to whip up.
First you need 1 can of Bush's Baked Beans with Honey, or Country Style Baked Beans (remove bacon pieces).  Process in food processor or blender until pureed.
Add 3/4 of a cup pureed beans to a boxed spice cake mix, along with 3 eggs and applesauce and the fall flavors really begin to shine. Mix by hand.
Divide batter into muffin tins and bake for about 13 minutes (full recipe below)
That's it!  They are great for breakfast or a snack.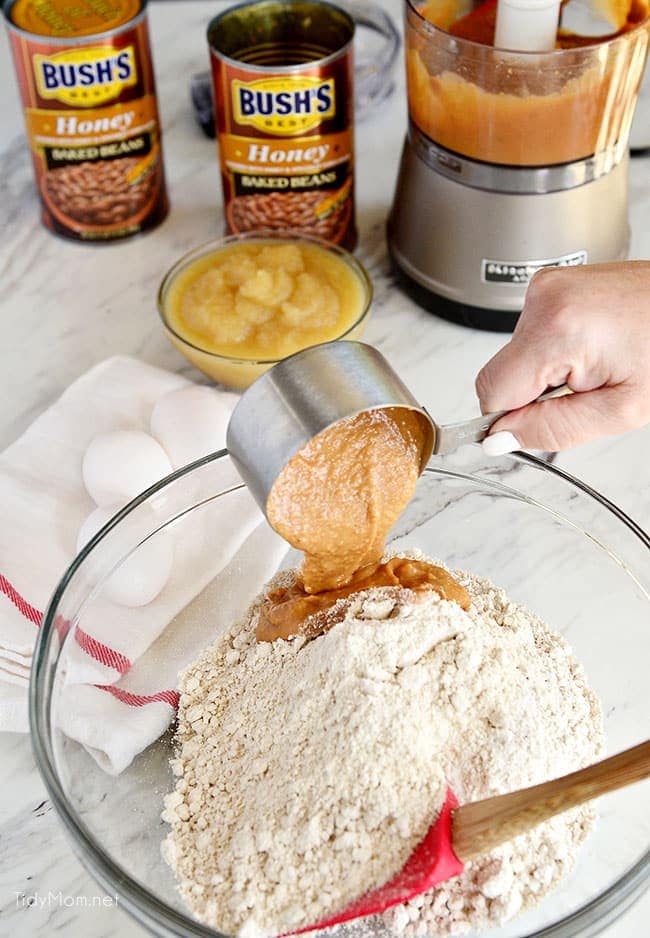 CHECK OUT HOW EASY THIS APPLE SPICE MUFFIN RECIPE IS TO MAKE! WATCH THE VIDEO
click to see more of my recipe videos
If you want to kick the muffins up a notch, add a streusel topping before baking, then drizzle with glaze after they cool.   Enjoy watching their jaws hit the floor when you tell them there are baked beans in the Apple Spice Muffins they can't stop eating. 😉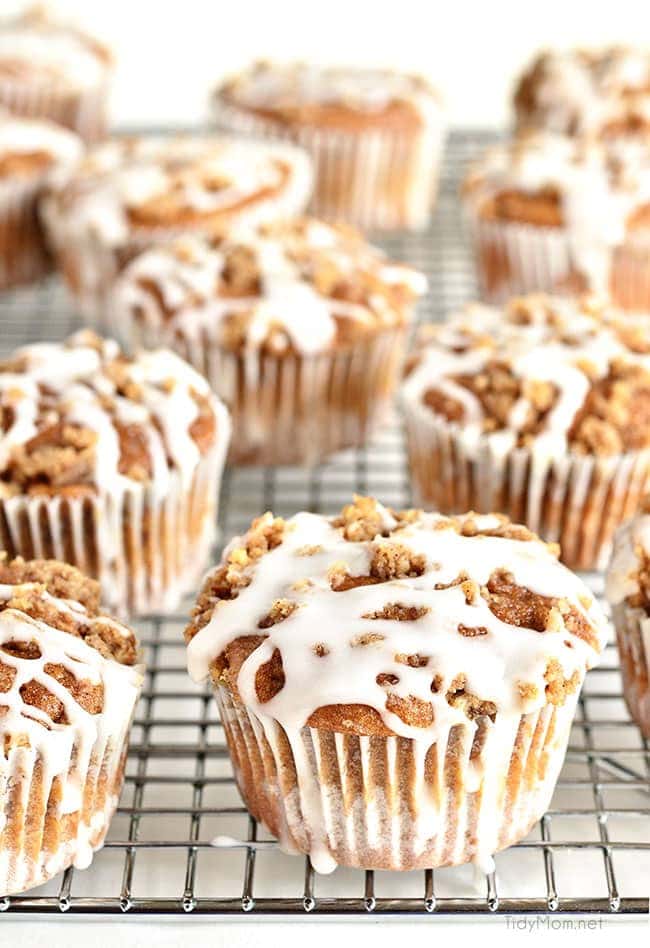 Do yourself a favor and bake some bean muffins……don't even worry about sharing them with your family 😉  I won't tell.
Want more great recipes like this? Follow my TidyMom Easy Recipes Pinterest Board
**Making this recipe?  Take a picture and share it on Instagram! Make sure to tag it #TidyMom so we can see what you're creating in the kitchen!
Want more great recipes like this? Follow my TidyMom Easy Recipes Pinterest Board
More Recipes with Beans you might enjoy:

Disclaimer:  I grew up in a house that used  Bush's Beans. I am now fortunate to have an ongoing relationship with them as a brand ambassador for the past 5+ years. This post is sponsored by Bush's Beans, but as always, all opinions are my own.  Thanks for supporting the brands that make TidyMom possible.  For more great recipes like this one, please visit their website.