Copycat Tagalongs Cookie Bar recipe
If you love this classic peanut butter patty, you are going to flip for this homemade version.
This Copycat Tagalongs Cookie Bar is perfect for any peanut butter and chocolate lover.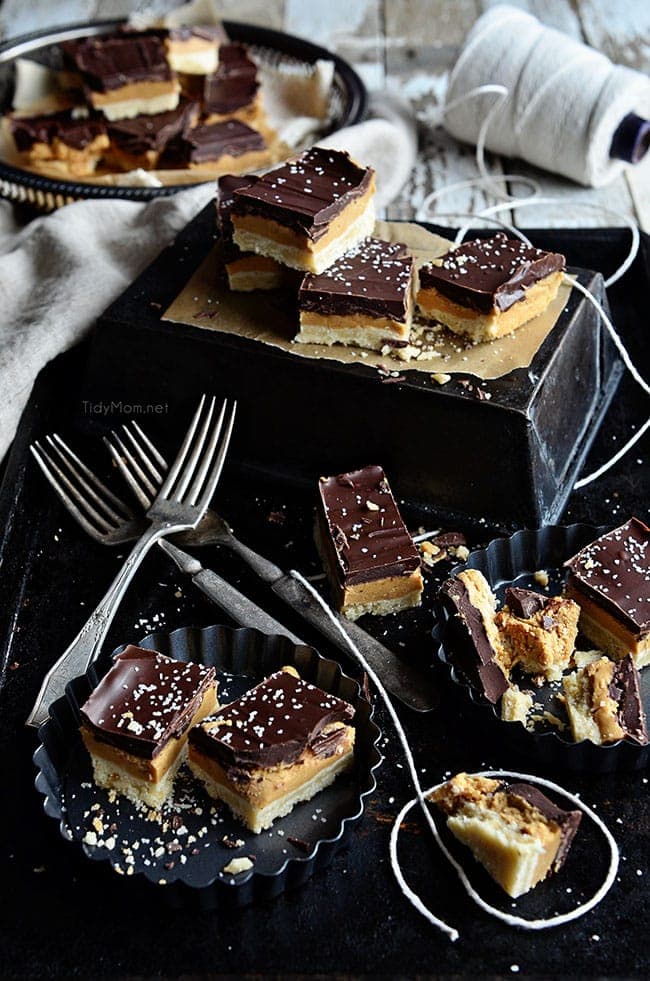 I love and hate myself for making these homemade copycat Tagalong Cookie Bars.  You see, every January when the Girl Scouts start making their rounds for cookie orders, my husband has always been one to WAY over order.  By March our freezer is usually stocked full of Thin Mints, Trefoils, Do-Si-Do's and lots and lots of Tagalongs!
Tagalongs,  peanut butter patties with a shortbread crust and thick chocolate coating, is by far the favorite cookie at our house…….so much so, we actually named one of our dogs Tagalong, or Tag for short.  Now that's love isn't it? lol  I mean who names a dog after a cookie?  Tagalong cookie lovers! that's who!!  (RIP Tag, we miss and talk about you all the time)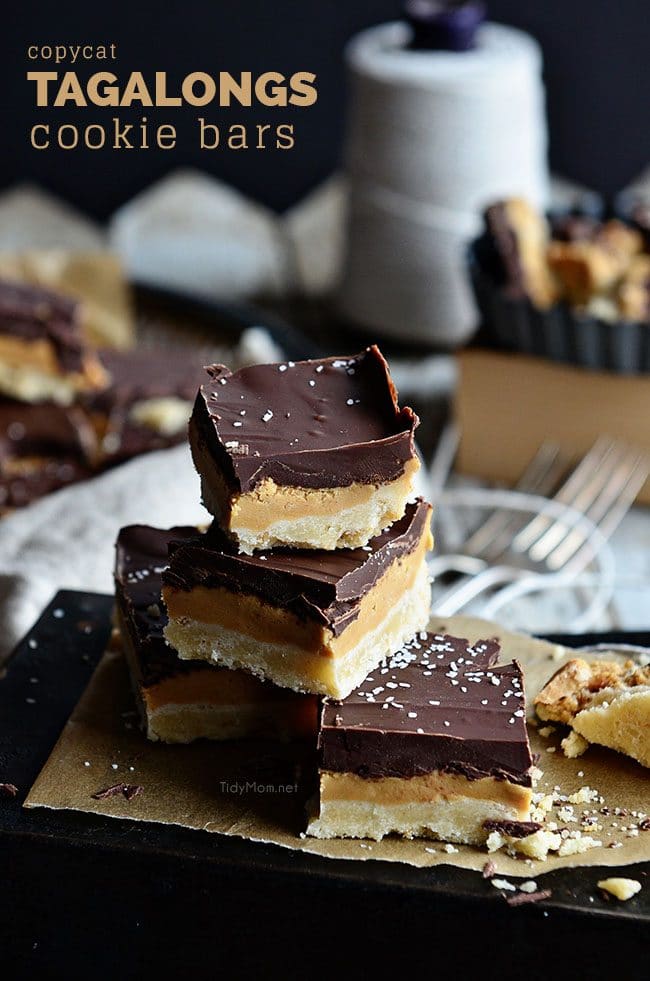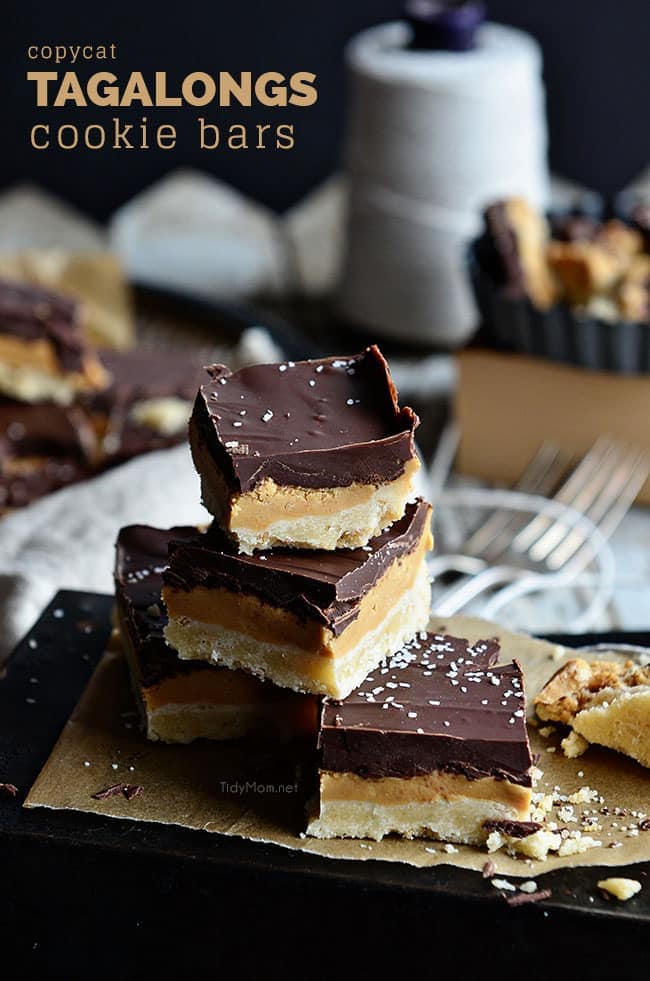 The last year or two, we managed not to stock our freezer, and just picked up a few boxes from the troops selling them in front of gas station and Wal-Mart.  So what's a girl to do when she her family wants their favorite cookie and there aren't any in the house?…….Well, this desperate girl made her own!  That's the kind of Mom I am, you know…..I did it all for my family 😉  (that's my story and I'm sticking to it)
Say goodbye to your self control!  Don't let their innocence fool you. These copycat tagalong cookie bars should come with a warning label. Something like… warning: you may eat the entire pan.
Making our favorite cookie into a bar cookie makes these SO easy.   They are almost no bake. Meaning you only bake the shortbread crust layer for about 12 minutes…..the other two layers are just hand mixed and poured over top.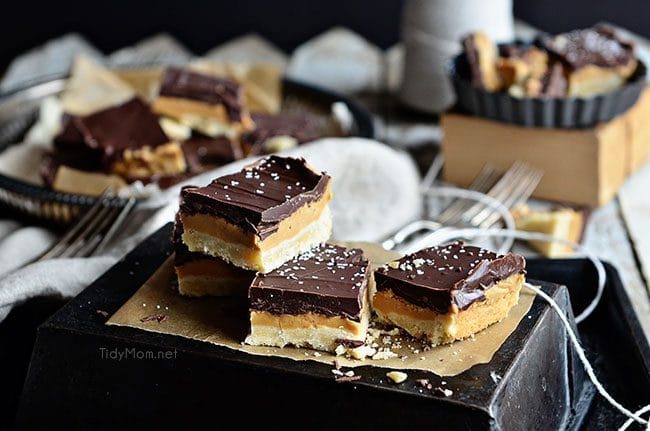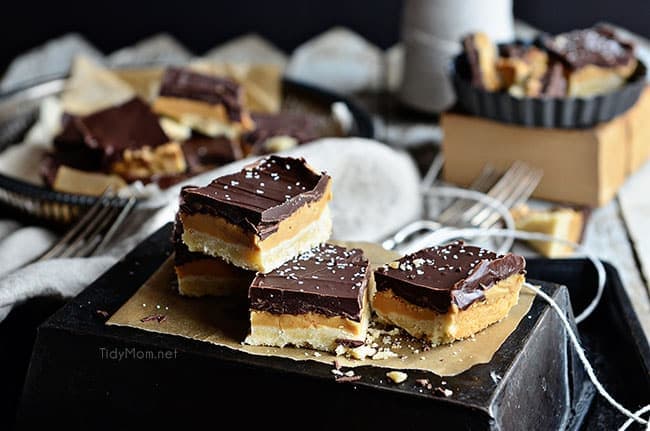 These cookie bars are full of texture and everything you want in a good bar recipe.
The soft buttery shortbread is perfect! not too dry, but perfectly soft and tender.  (secretly……..it's my favorite layer)  It's pressed into a square baking pan and baked.
The creamy peanut butter layer is fluffy thanks to the powdered sugar mixed into the peanut butter along with a little vanilla and spread over the shortbread.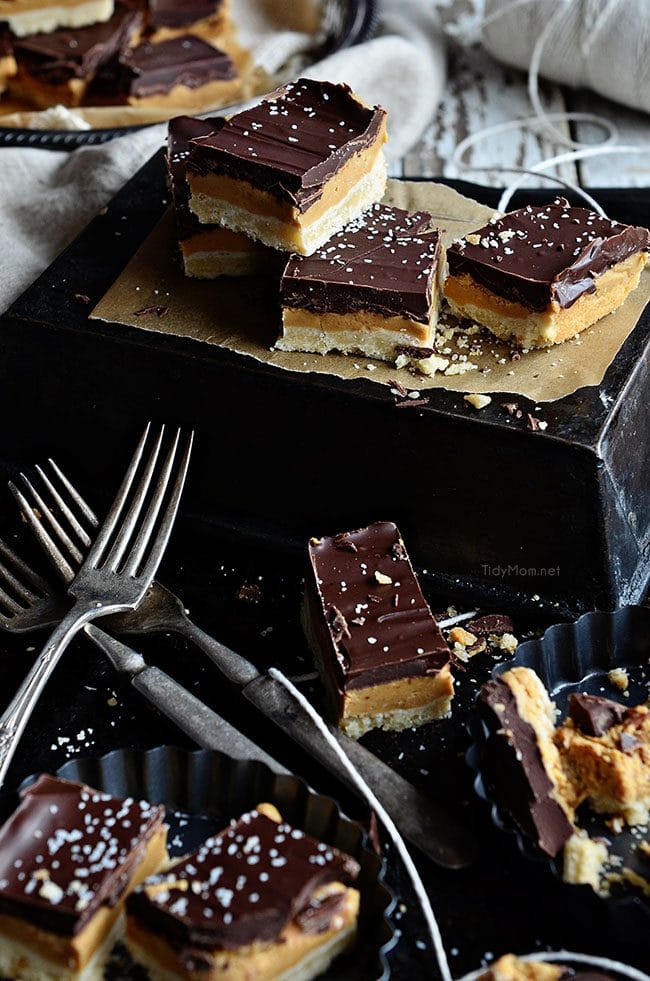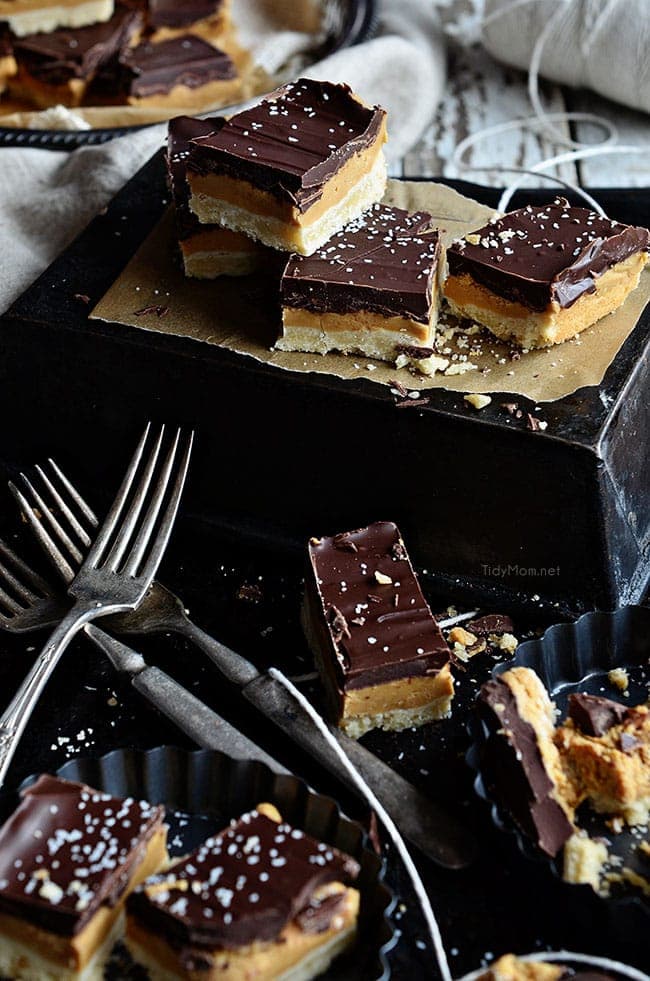 And finally, the chocolate layer ties it all together.  Tagalongs have milk chocolate coating, but I prefer semi-sweet, so you can use either. I added just a little shortening to help it spread easier and prevent cracking when I cut the bars. Then I sprinkled the copycat tagalongs  with just a little sea salt to really pull out the chocolate flavor!
If you love this classic cookie as much as we do, I'll bet you're going to flip for these homemade copycat tagalongs!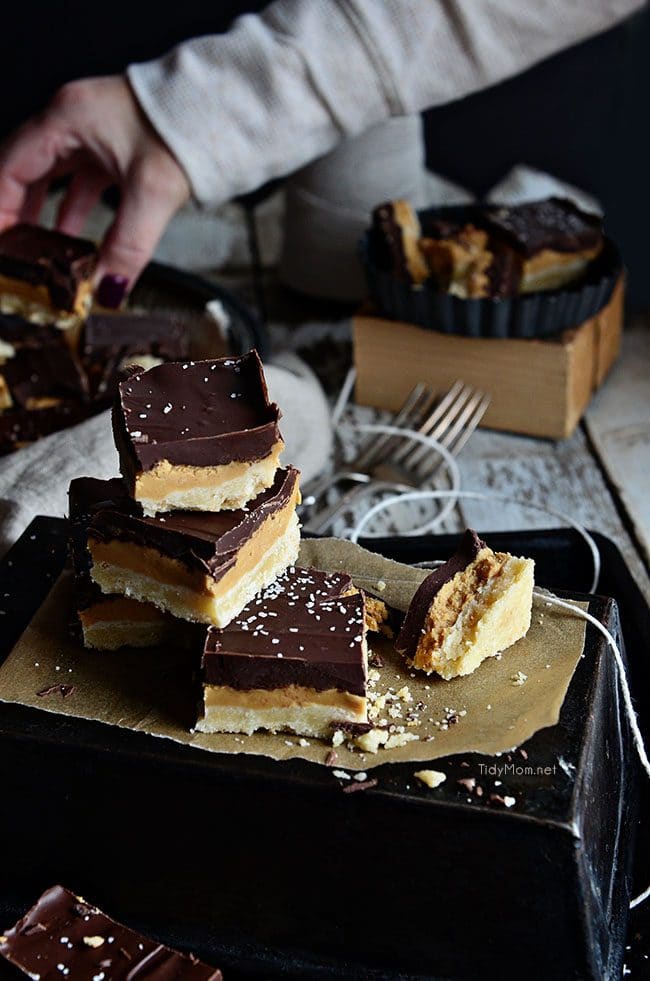 If you are on a diet, I'm sorry.  Please do yourself a favor and step away from the computer. The soft buttery shortbread topped with creamy peanut butter covered in chocolate is hypnotizing.
If being obsessed with Tagalong cookies is wrong, then we don't want to be right 😉
What's your favorite Girl Scout Cookie?
Want more great recipes like this? Follow my TidyMom Easy Recipes Pinterest Board