Cinnamon & Sugar Quick Bread
a simple quick bread recipe with a thick cinnamon crust and swirl inside.
Sweet, and incredibly moist quick bread recipe. This cinnamon bread will bring warmth even to your coldest of days.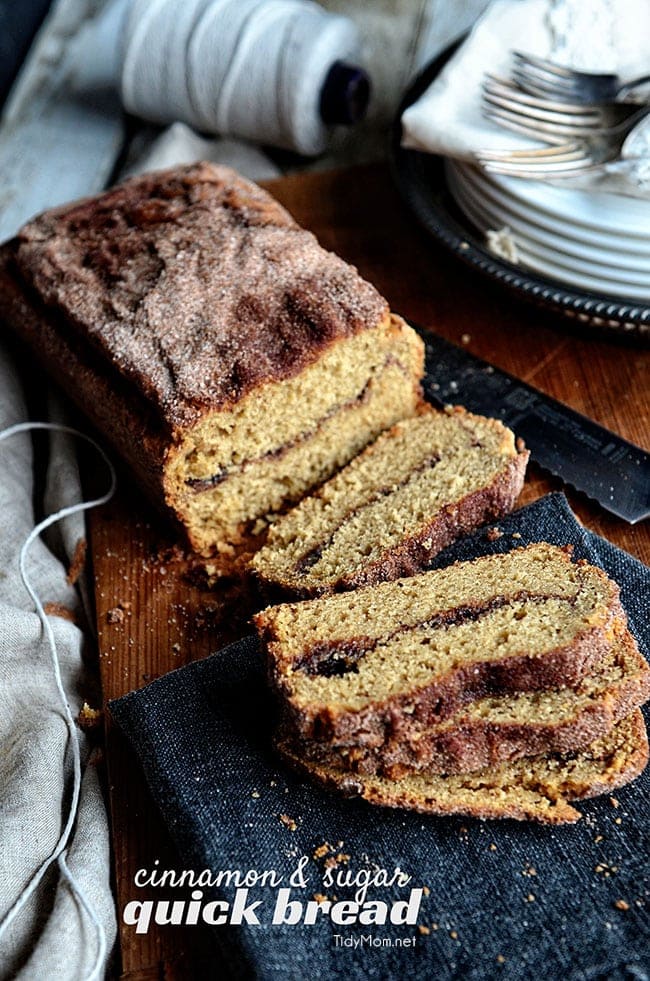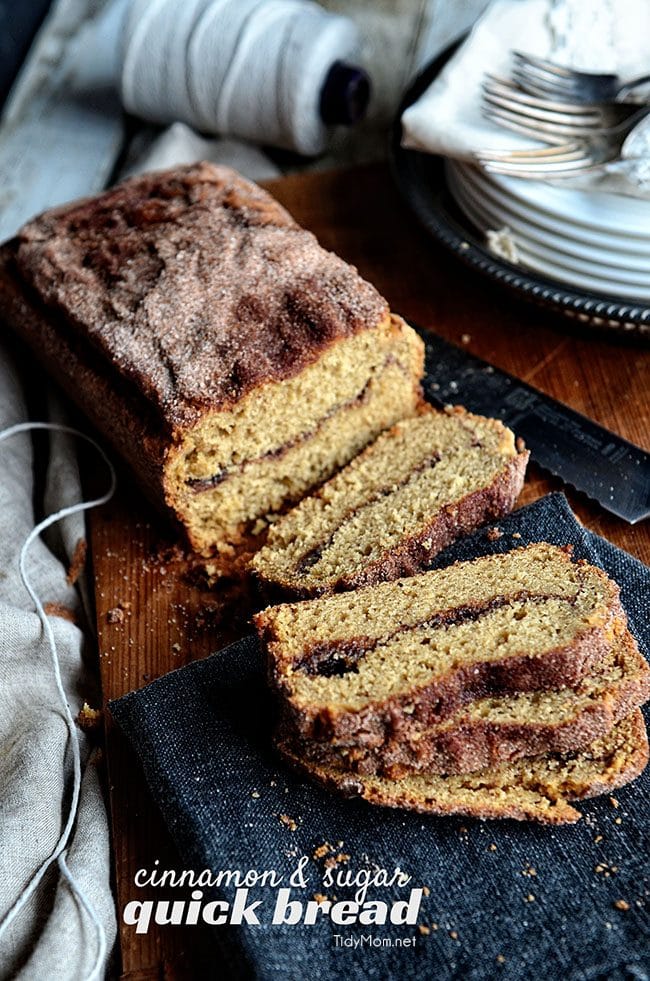 I'm not quite sure why every February I'm so shocked by the cold weather.  As I write this post it's currently 8 degrees F with a wind chill of -10 degrees.  So we've been keeping warm with the oven going non-stop and fires in our fireplace.
Warmth in a pan.  This Cinnamon and Sugar Quick Bread is so easy, great for breakfast (or any time) and it's always a hit with the kids!
Cinnamon bread evokes memories from my childhood, enjoying cinnamon toast for breakfast. I remember my 5 year old self sitting at my grandma's kitchen table as she reached for the sugar and cinnamon to sprinkle on my warm buttered toast. It took a skill that grandma could always pull off the best….she knew just how to hold the spoon for an even spread of sugar, and no clumps of cinnamon.  My dad, he would just skip the cinnamon, and opt to go heavy on the sugar and fold his toast in half for a sugar toast sandwich.  ~ do you see where I got my sweet tooth?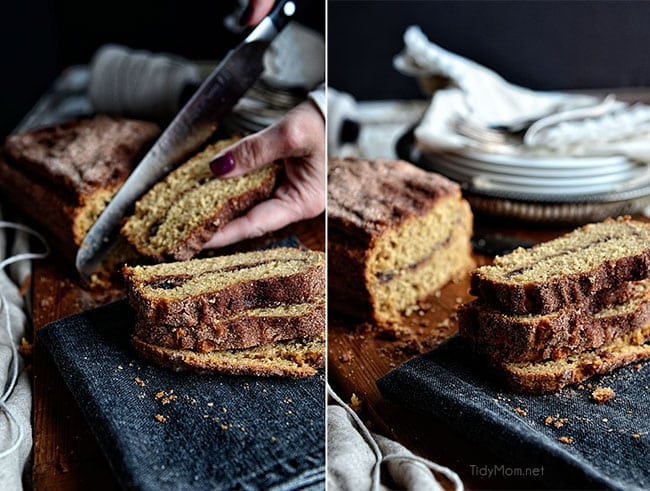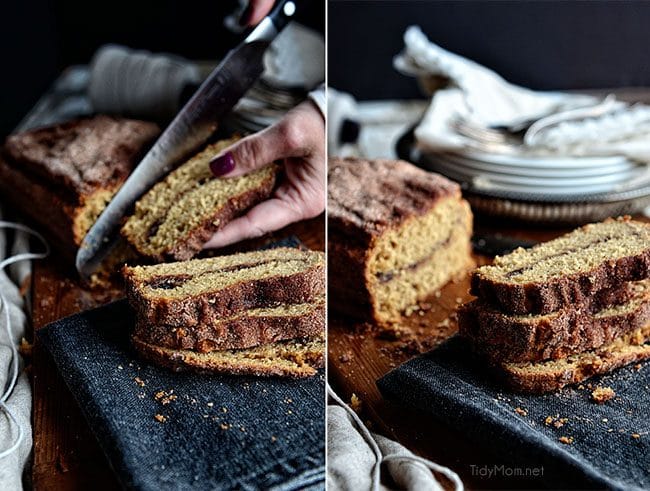 I've always been a fan of quick breads. They are so easy to mix up and bake, this cinnamon bread comes together in just 5 minutes with just a bowl and a wire whisk.  No mixer needed.
What makes this loaf of cinnamon bread so special?  First there is a ribbon of cinnamon-sugar sprinkled into the batter that adds an unexpected pop of flavor. But, the real star is the glorious layer of cinnamon-sugar mixture on top before baking that becomes a delectable crunchy crust.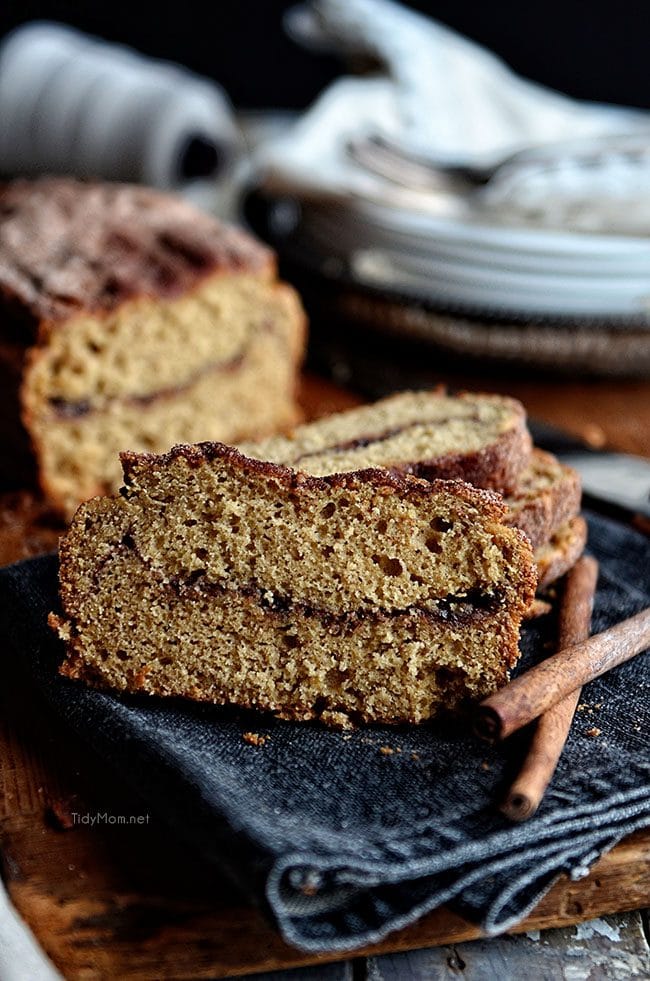 The perfect cure for those cold winter blues, wouldn't you say?
Cinnamon Bread with Cinnamon Crust and Swirl Inside
Easy quick bread recipe comes together in just 5 minutes. A Cinnamon Bread with Cinnamon Crust and Swirl Inside
Ingredients:
1/3 cup granulated sugar
1 tablespoon cinnamon
1/4 cup unsalted butter, melted
1 large egg
1 cup light brown sugar, packed
1/4 cup canola oil
1 tablespoon vanilla extract
1 cup buttermilk*
2 cups all-purpose flour
1 teaspoon ground nutmeg
3/4 teaspoon baking soda
pinch salt
Directions:
Heat oven to 350 F.  Grease and flour 9-by-5-inch loaf pan and set aside.
Combine granulated sugar and cinnamon in a small bowl, stir until well mixed and set aside.
Using a large mixing bowl, add melted butter, egg, brown sugar, oil, vanilla, and whisk to combine.  Add buttermilk and continue to whisk until all ingredients are well incorporated.
Add flour, nutmeg, baking soda and salt to the wet ingredients stirring only until all ingredients are moist.  Do not over mix.  Batter should be lumpy.
Pour 1/2 of the batter into prepared pan. Sprinkle 3/4 of cinnamon sugar mixture over batter. Pour remaining batter on top and sprinkle generously with remaining cinnamon sugar, to create the crust.
Bake in a preheated oven for 45-55 minutes, until toothpick inserted in center, comes out clean.
Let cool for 15-20 minutes. Remove from pan, by inverting pan over towel or parchment paper.  Cool completely on wire rack before slicing.
Store bread in airtight container at room temperature for up to 5 days, or may be frozen for up to 3 months.
*If you don't have buttermilk:  simply add 2 tablespoons white vinegar or lemon juice to a measuring cup, add milk to fill to the 1 cup line. Stir and then let sit 5-10 minutes until milk starts to curdle.
Making this recipe? Share it with us on Instagram using the hashtag #TidyMom so we can see what you're creating in the kitchen!
Want more great recipes like this? Follow my TidyMom Easy Recipes Pinterest Board