White Bean Cheddar Melt | I'm Lovin' It
The addition of a creamy white bean spread, tomatoes and spinach kicks up a simple grilled cheese sandwich into something special, White Bean Cheddar Melt.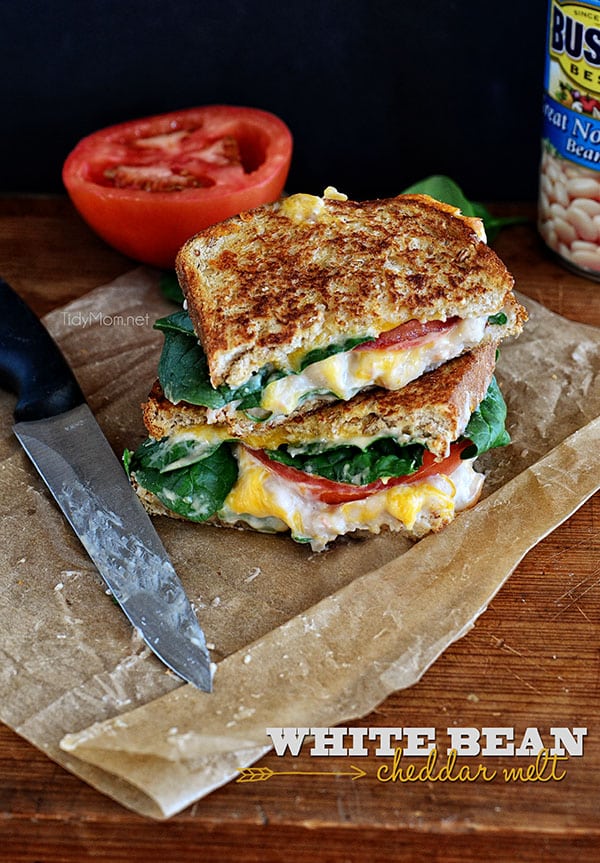 The other day I was craving a hot delicious sandwich for lunch and thought I'd make a grilled cheese…..but that seemed a little boring, when I remembered seeing a recipe for White Bean Cheddar Melt on the Bush's Beans website.  
Lucky me, I had some Bush's Great Northern Beans ( also available in Reduced Sodium) in the pantry and decided the addition of tomato and spinach would surely turn this little vegetarian sandwich into a gourmet grilled cheese.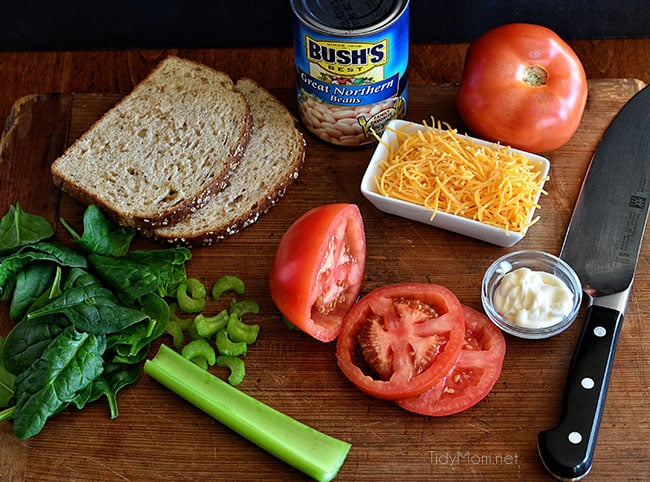 This isn't your ordinary grilled cheese sandwich. It's  kicked up a notch with a white bean spread before being filled with cheddar cheese. Then, of course, grilled on the stovetop for just a couple of minutes to get that cheese nice and melty.  You could stop there…..that's how my husband wanted to eat his (he's a simple man), but I quickly opened my hot buttery toasted sandwich and topped it with fresh spinach and a few slices of tomato!
Oh MY WORD!  This sandwich was a little messy (the best food usually is) and was even better than I expected!  It's become one of my favorite's for lunch  – grilled cheese perfected.  Next time I think I'll try it with smoked provolone and a bowl of  French Onion Soup or Roasted Tomato Soup.  That my friends, is a satisfying meatless meal you can count on any day of the week.
What's your favorite way to eat grilled cheese?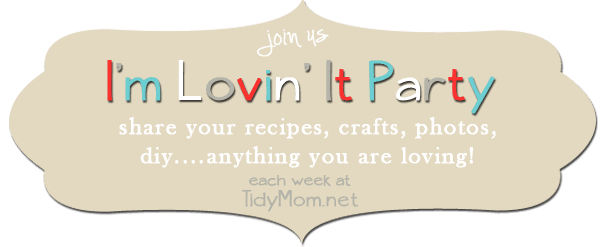 I'm Lovin'…….White Bean Cheddar Melt

Now it's your turn! Please remember to link back to http://TidyMom.net
Let us know what you're lovin' this week!
*Don't forget to come back over the weekend for the I'm Lovin' It Wrap Up post……where I feature a few of the great links!!
What is I'm Lovin' It Fridays? get all the info, how to's trouble shoot and button here
Disclaimer:  I grew up in a house that used  Bush's Beans. I am now fortunate to have an ongoing relationship with them as a brand ambassador. This post is sponsored by Bush's Beans, but as always, all opinions are my own.