Kicked Up Smoked Sausage Alfredo
Savory smoked turkey sausage combined with sun-dried tomatoes, garlic, spinach, and Parmesan cheese make this a sensational 15-minute Smoked Sausage Alfredo recipe the whole family will love.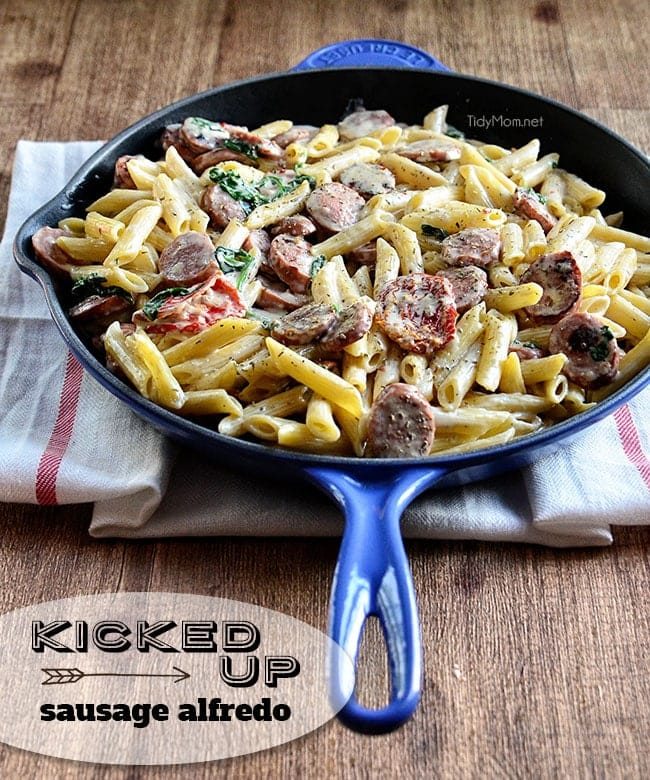 This is REALLY good you guys!
I'm talking a five star dinner at our house. To be honest, not a lot of meals get the full 5 star rating here. It has to pass several points…….
How easy is it to prepare?  Is it full of flavor? Did everyone eat it?  and if they did how much did they like it? First lets talk about time and flavor.  You can't really beat a delicious meal that you can have on the table in 15 minutes. Butterball Everyday Smoked Turkey Dinner Sausage make this really easy.  You simply blend the hardwood-smoked flavored sausage with a robust flavored Alfredo sauce, spinach, sun dried tomatoes and cheese in a skillet while the pasta cooks.  That's it.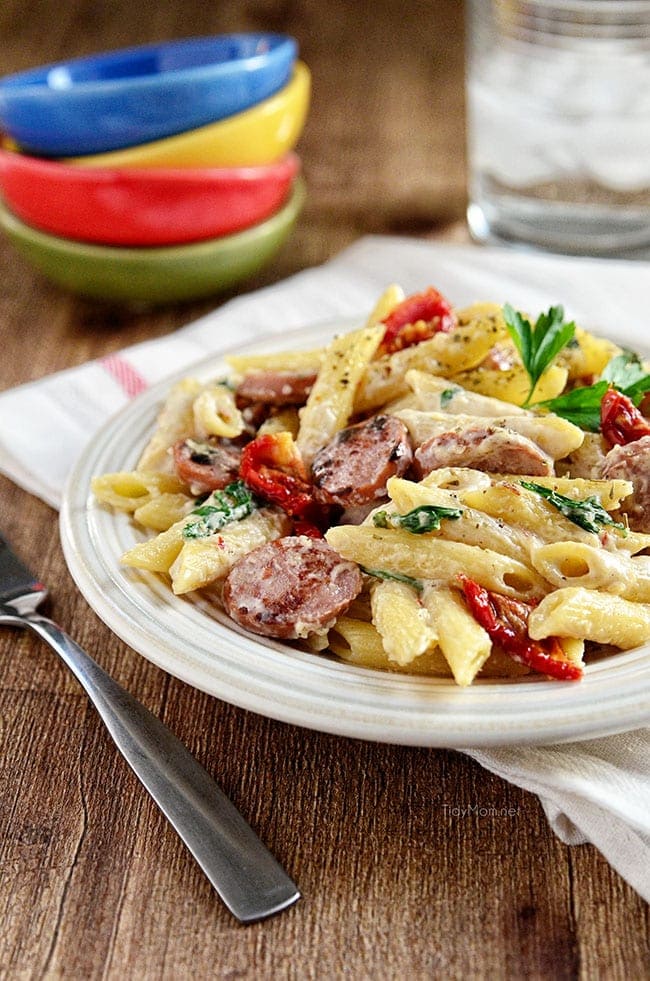 Did everyone eat it?  To my surprise…..yes!!
My husband doesn't usually care for pasta with white sauce, but he was intrigued by the flavors and being a Turketarian, he was especially excited about the Smoked Turkey Sausage.  And guess what?!……….he had THREE SERVINGS!!  That's unheard of you guys!  He really loved it, as did the rest of us.
This is one dish that will definitely stay in our dinner menu rotation.  The crushed red pepper gives it just a little zing, not too much kick, but fell free to use a little less if you're worried about it being to spicy.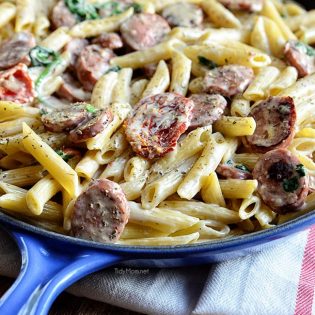 Kicked Up Smoked Sausage Alfredo
Ingredients:
1 package (14 ounces) Butterball® Smoked Turkey Dinner Sausage, diagonally cut into 1/4-inch thick slices 1 pound penne pasta
1/4 cup julienne sun dried tomatoes in oil
2 cloves garlic, minced
2 cups heavy cream
1/2 teaspoon dry mustard
1/2 teaspoon crushed red pepper
1 cup baby spinach
1/2 cup grated Parmesan cheese
1/2 tablespoon Italian Seasoning
Directions:
Cook turkey sausage and garlic in large skillet over medium-high heat turning occasionally for 5 minutes or until sausage is lightly browned.
Meanwhile, prepare penne pasta according to package directions (9-11 minutes) and drain.
Add cream, dry mustard and crushed red pepper to skillet with sausage; bring to a boil. Reduce heat; simmer gently for 3-4 minutes or until mixture begins to thicken.
STIR in spinach and sun dried tomatoes; stir gently until spinach wilts. Remove from heat, stir in Parmesan cheese, add pasta to sauce and toss.
Serve immediately with a sprinkle of Italian seasoning and garnish with parsley.
Making this recipe? Share it with us on Instagram using the hashtag #TidyMom so we can see what you're creating in the kitchen!
Want more great recipes like this? Follow my TidyMom Easy Recipes Pinterest Board
Like this Smoked Sausage Alfredo Recipe? Pin It!

Disclosure:  I have a working relationship with Butterball, but as always, all views, opinions……and my family's love of turkey are all my own.