Greek Chicken Wrap
Garbanzo beans, shredded chicken, feta cheese, tomatoes, and cucumbers are rolled in tortillas for a quick Greek-inspired lunch.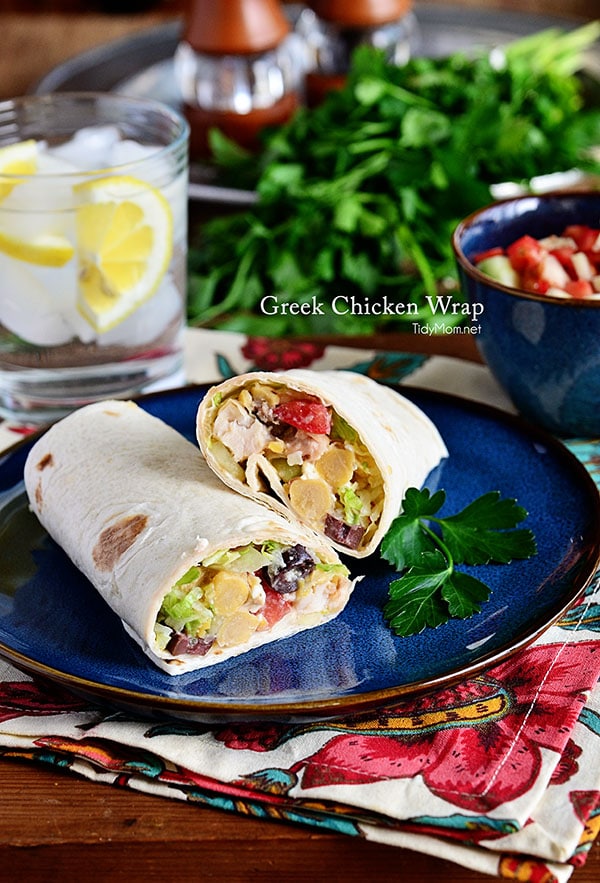 Well, I survived my birthday weekend, and the time change!  How is it I turn another year older and almost instantly lose an hour? …..I'd be all for that if I lost a few years lol
We have a lot going on here in the next few months.  Our oldest bought her first house and closes in 2 weeks, so I've been helping her pack her apartment.  We will help her move the weekend of March 22, then a few days later I'm headed to San Francisco to visit with the great people at Stitch Fix.  Allison is coming with me since we both look forward to our monthly Stitch Fix boxes!  It's going to be fun seeing all the behind the scenes action with the stylist to the warehouse where they pack and ship the clothes!  A week after we return is Allison's senior prom!  She's on the prom committee so we will be busy that week setting up the gym and baking some sweet treats.  
A few weeks later I will head to Salt Lake City to speak on a panel about Pinterest at the SNAP conference!!  Let me know if you'll be there!  when I get home from that trip, graduation is just around the corner and we will be throwing a graduation party.  Where does the time go?!  
So quick, simple, filling lunch and dinner ideas have been on my mind lately.  
This Greek Chicken Wrap I found on the Bush's Beans website meets all of the criteria of a perfect lunch or dinner.
The filling keeps well in the fridge for a couple of days so you can make it ahead and eat it all week, you can even eat it  without the wrap as a big salad to change things up, or serve on a pita or Naan instead of a tortilla.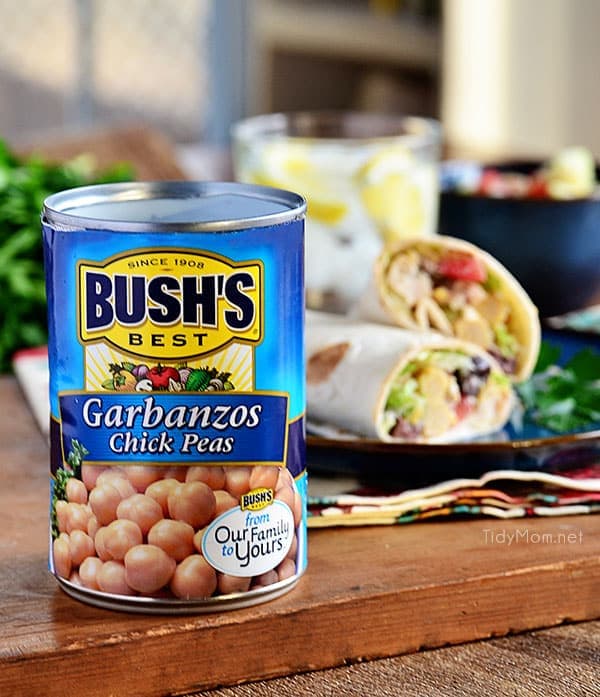 Make these just  one time, and you'll want to make them every week!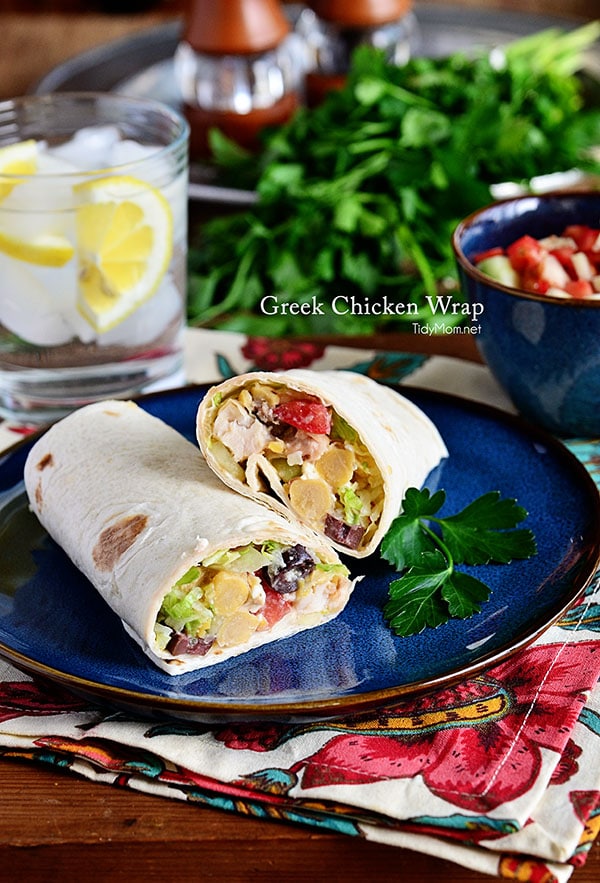 Garbanzo beans, chicken, feta cheese, tomatoes, and cucumbers are rolled in tortillas for a quick Greek-inspired lunch.
Ingredients
1 (16 ounce) can BUSH'S® Garbanzo Beans, drained (also available in reduced sodium)
4 or 6 (8-inch) flour tortillas
1 cup lettuce, shredded
1/4 cup Italian dressing
1/4 cup plain yogurt
1 cup chicken, cooked and shredded
1 small cucumber, peeled, seeded and diced (about 1/2 cup)
1/4 cup red onion, thinly sliced
1 small tomato, cored and chopped (about 1/2 cup)
1/2 cup crumbled feta cheese
6 Kalamata olives, pitted and chopped or slice
Instructions
Place half the beans in a saucepan; mash gently with a potato masher or the back of a fork. Stir in remaining whole beans; heat through. Cover and set aside.
Arrange tortillas on counter, place lettuce evenly in the center of each. Mix yogurt and dressing in a small bowl.
Combine remaining ingredients with bean mixture, adding the yogurt and dressing mixture last.
Divide mixture onto prepared tortillas. Fold in sides of tortilla and roll up tightly. Serve warm or cold.
Notes
you can use prepackaged cooked grilled chicken or a rotisserie chicken from the deli to make this recipe super simple.
recipe from Bush's Beans
https://tidymom.net/2014/greek-chicken-wrap/
Copyright© 2009-2013 TidyMom.Net
NEW FEATURE: Save recipes to your personal recipe box with the

Once you have your favorite recipes in your Recipe Box create a Meal Plan with them and the ingredients will automatically be added to a Grocery List!
MORE WRAP RECIPES YOU MIGHT ENJOY:
Thai Crunch Wrap with Chicken and Peanut Sauce

 My favorite way to shop for clothes


Disclaimer:  I grew up in a house who used Bush's Beans, I am now proud to be a brand ambassador for them for over three years and counting! As always, all opinions and views are my own.