Feta, Peach & Prosciutto Salad – Summer on a Fork
Sweet, salty, cheesy with a hint of lemon and mint. This Feta, Peach & Prosciutto Salad is like summer on a fork! and blows any ol' garden salad out of the water.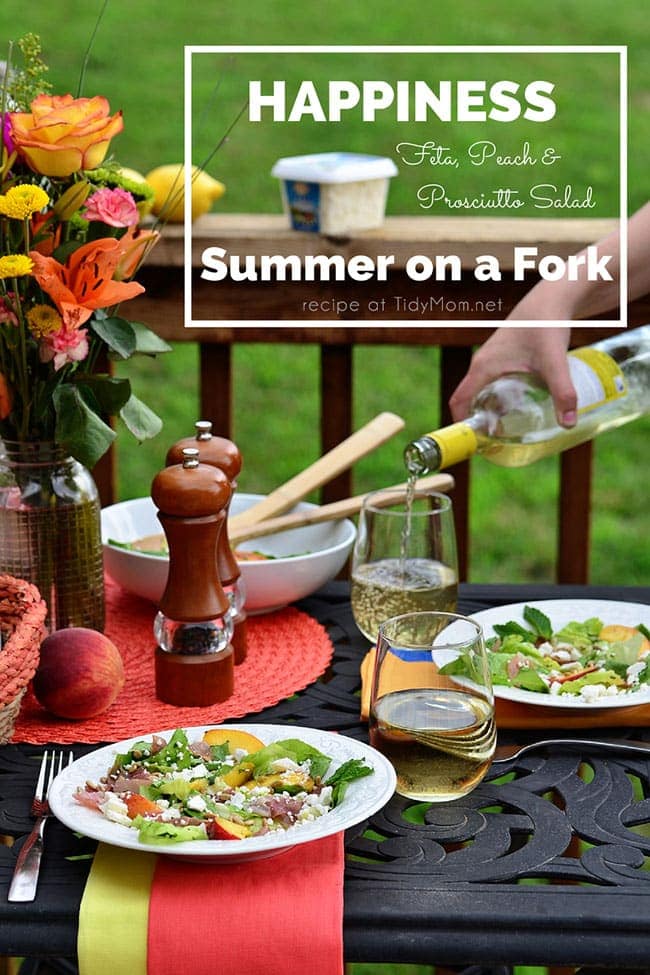 Several days last week we were blessed with unseasonably gorgeous weather!  We had low humidity and highs in the 70's.  That's almost unheard of for July in St. Louis.  It's usually in the 90's+ with suffocating humidity. We took full advantage of the glorious temps, by staining our deck, lighting up the firepit and making s'mores and, my favorite, dining al fresco!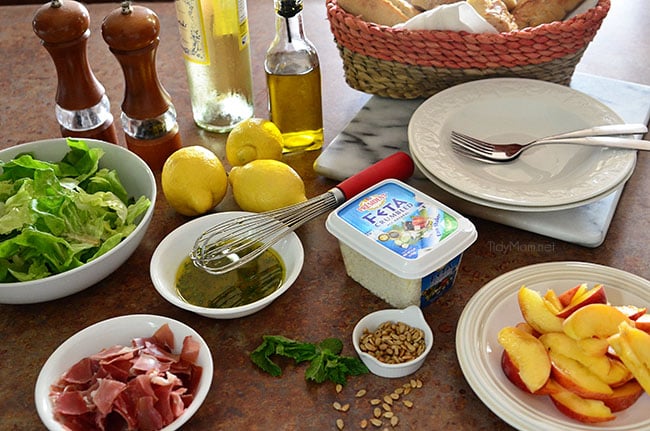 Summer and salads just go together, so what better way to celebrate a beautiful dinner outside than with a salad and a bottle of wine!   I've been on a sweet and salty kick, so mixing prosciutto and feta with sweet sumer peaches, drizzled in a honey lemon dressing was just what I was craving! I can't even begin to tell you how much we enjoyed this salad!  I kept calling it summer on a fork!  That's just what it tasted like.  Everything you could imagine summer tasting like…….all in this salad. 
One thing I love about salads, is they are generally quick and easy, perfect for entertaining, lunch, or even dinner for two.  With a salad this simple, the freshness and quality of your ingredients are key –  the sweetest summer peaches, soft and tender butter lettuce, fresh mint, real lemon juice (not imitation), the best prosciutto and Président® Regular Feta Crumbled cheese.
Your tastebuds are going to dance!  The flavors here are simple, fresh and perfect, and with crumbs of tart and salty feta and slices of juicy golden peaches, it is quite possibly the BEST Summer salad I have ever eaten.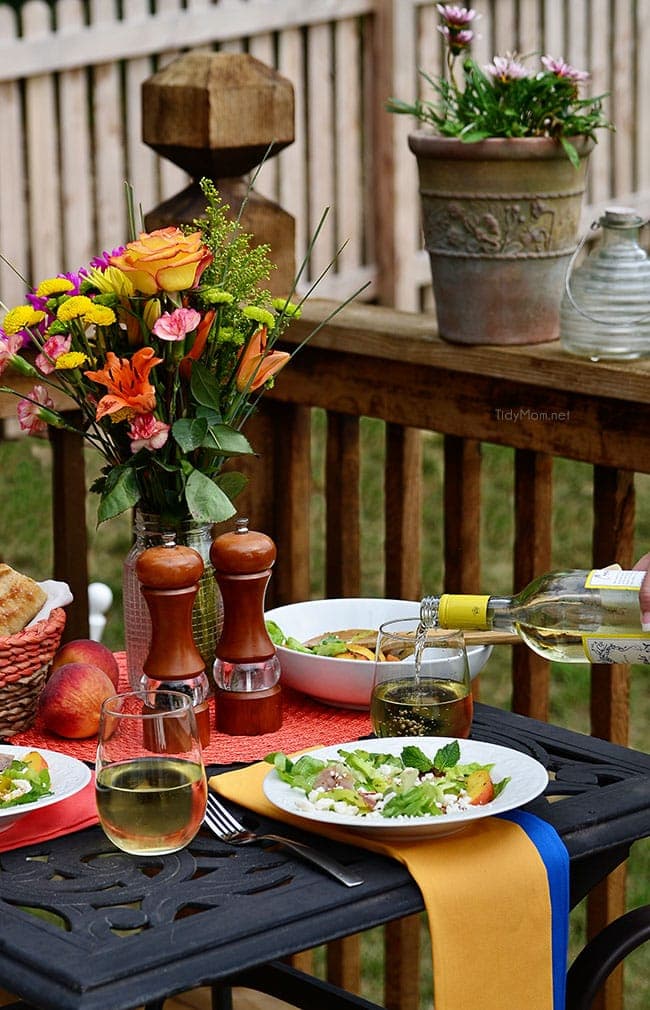 Since there is no need to heat up the kitchen for this dish, I know we'll be eating it all summer long, even when the temperatures outside soaring and it's hard to find any kind of food appealing…..this salad will fit the bill – pair it with a glass of chilled riesling and a loaf of crusty bread and it is about as refreshing as summer dining is going to get.
Feta, Peach & Prosciutto Salad
Sweet, salty, cheesy with a hint of lemon and mint. This Feta, Peach & Prosciutto Salad is like summer on a fork! and blows a garden salad out of the water.
Ingredients
1 lemon, juiced (about 2-3 tablespoons)
2 teaspoons honey
1/4 teaspoon pepper
1/8 teaspoon salt
2 tablespoons olive oil
1 tablespoon finely chopped fresh mint
1 head sweet butter lettuce mix
2 large ripe peaches, cut into slices leaving skin on
3 ounces prosciutto, thinly sliced, torn into 1-inch piece
3 ounces Président® Regular Feta Crumbled
2 tablespoons dry-roasted sunflower seed kernels
Small mint leaves to garnish
Instructions
In a small bowl, combine first 4 ingredients using a whisk. Gradually add olive oil, stirring constantly with a whisk. Stir in chopped mint.
Combine lettuce mix and peach wedges in a large bowl. Drizzle lettuce mixture with dressing; toss gently to coat.
Arrange salad in each bowls; top each serving prosciutto, feta, and sunflower seed kernels. Garnish with small mint leaves, if desired.
Notes
https://tidymom.net/2014/feta-peach-prosciutto-salad/
Copyright© 2009-2013 TidyMom.Net
NEW FEATURE: Save recipes to your personal recipe box with the

Once you have your favorite recipes in your Recipe Box create a Meal Plan with them and the ingredients will automatically be added to a Grocery List!
What has your weather been like?  What's your favorite meal to eat al fresco?
Visit ArtOfCheese.com for coupons
Craving more? Sign up for the TidyMom newsletter to stay on top of what's new right to your inbox! And stay in touch on Facebook, Twitter, Google+ and Pinterest for all of the latest updates

Disclosure: this post is in partnership with President Cheese, but all our opinions and love of feta cheese are my own.