Apple & Brown Sugar Crumb Coffee Cake
This easy-to-follow recipe with all the taste of fall pairs perfectly with a morning cup of coffee.
Let's make apple coffee cake today! Shall we?
WAIT……please don't say "I don't drink coffee, so I'm not going to like this recipe".  Coffee cake is simply a cake that can be enjoyed with a cup of coffee, often served for breakfast.  So are we good?!  good!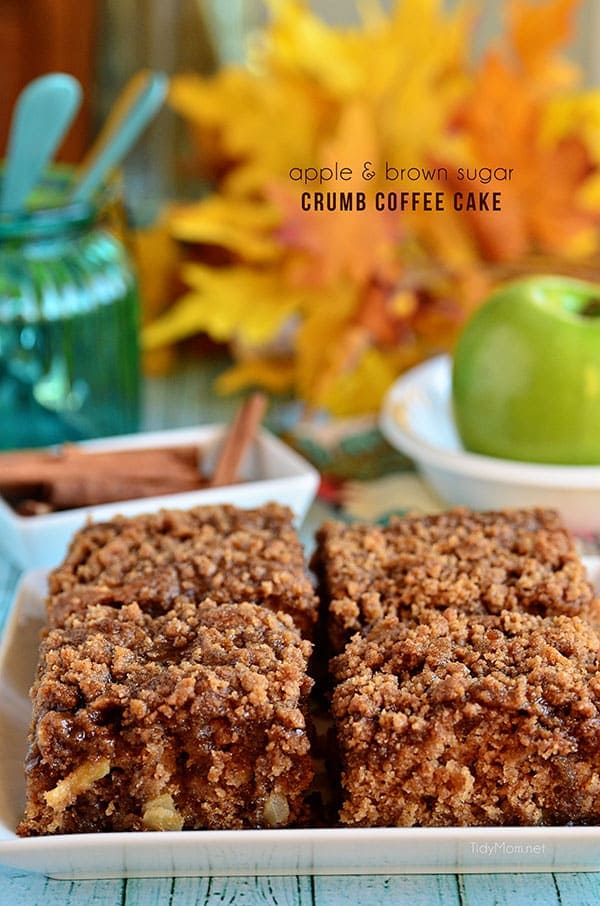 I made this Apple & Brown Sugar Crumb Coffee Cake to take to the nurses when Allison had a little minor out patient procedure recently. Apple coffee cake is a taste of fall and the perfect way to start the day – not to mention a little sweet bribe for extra special care at the hospital 😉
I'll be honest, as soon as the cinnamon and baked apple aroma started to fill our house, I  started to rethink giving this apple coffee cake away.  They'd never know right?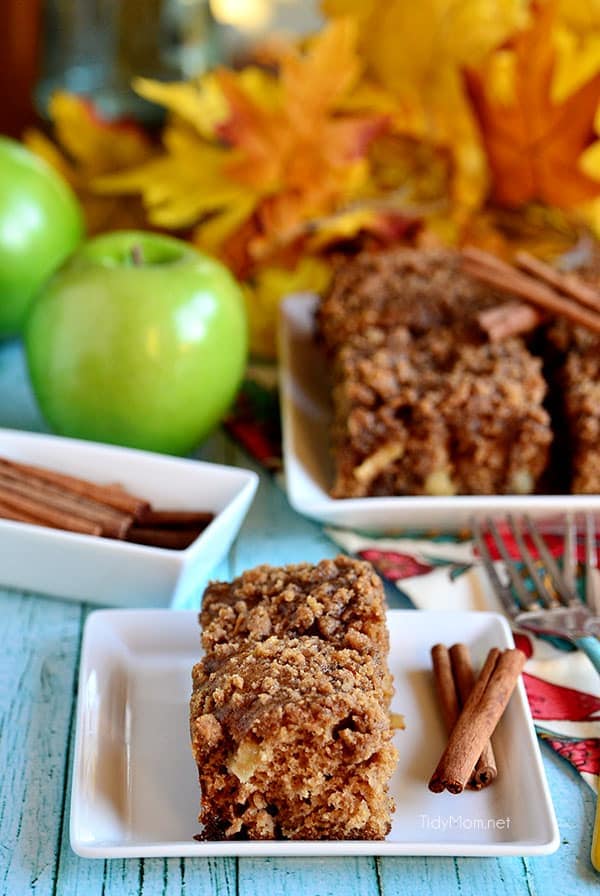 I decided it would be a good idea to cut the apple coffee cake up, so they could easily grab a piece as a breakfast treat or afternoon snack.  I *promised myself * that I would have just a sliver after taking the pictures, you know…..to make sure it was worthy of giving to strangers who would be taking care of our daughter while she's under anesthesia 😉
THEN, I decided that a sliver wasn't really enough for a good test piece of this moist coffee cake, so I sliced off another piece (a piece some might call 2 servings), stood (didn't even bother sitting) over the table, and INHALED both pieces.  It wasn't pretty.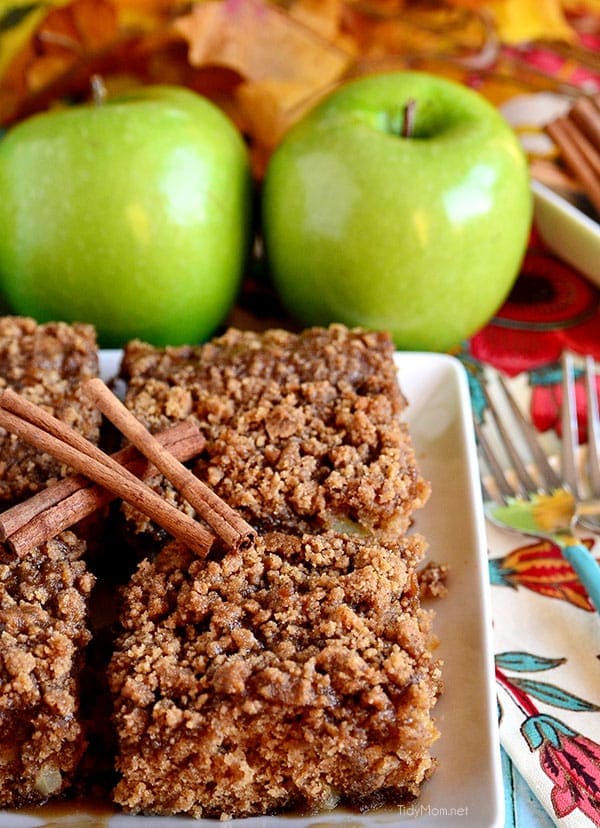 It passed the test! Sure this apple coffee cake recipe may require several mixing bowls, but it's SO worth the mess . The flavor is fantastic.  I'm not sure if it's the juicy apples, the brown sugar crumb topping, or the brown sugar glaze that's poured over the cake after it bakes. But, the combination of it all is magical with all the warm fall flavors.  Need I say more?  I bet this would be fabulous with pecan or walnuts as well, but since I was taking it to a group of people I did not know, I decided to omit the nuts.
In case you're not convinced, it got rave reviews from the nurses!
This apple coffee cake would be a wonderful option for a make ahead dish the night before a brunch or even a holiday breakfast.  I made it on Sunday afternoon and had another sliver piece on Monday and it still tasted incredibly fresh and oh so cinnamony.
Want more great recipes like this? Follow my TidyMom Easy Recipes Pinterest Board