Peppermint Pattie Iced Coffee with International Delight #IDandMe
Like many, coffee IS my morning ritual. Without fail…even sick or hurried or a to-do list a mile long, I make coffee as soon as I get out of bed. It brings me a sense of peace and calm when I get a waif of that soothing aroma coming from my mug. If I have some where to be in the morning, I will make sure I get up early enough for at least a half hour to sit and sip at least one cup of coffee.
You can't have a "fast cup of coffee" it's a drink you sit and enjoy, which means no matter how rushed I am, I know I'm going to sit and slow down for just bit. Before I put on my make up, do my hair, or even begin my day.
With all the warm weather we've been having, I've found a way to enjoy my coffee in the middle of the day. Thanks to International Delight and their fabulous selection of flavored creamers, Allison and I have been making iced coffees a few afternoons a week. It's become our little afternoon ritual together. She will be turning 16 in just a few short weeks, and I know our time together is going to become less and less, so I'm trying to take advantage all I can right now, by louring her in with chocolate, and mint!
Right now our favorite has been International Delight creamer, York Peppermint Pattie. HELLO! That's my favorite candy! and we've been using it to make Homemade Peppermint Pattie Iced Coffee.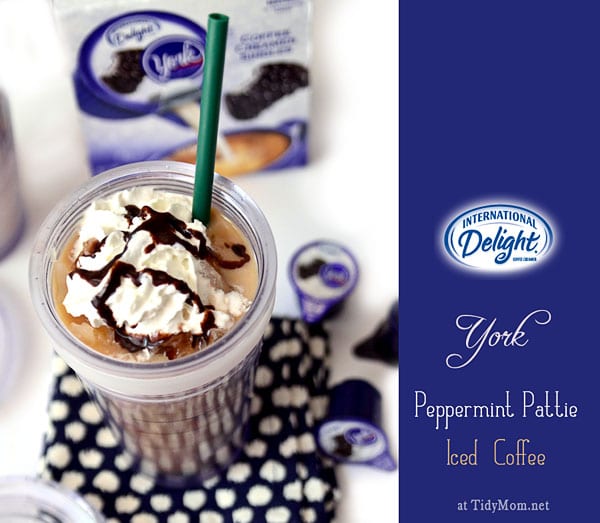 There's really no "recipe", but here's what we do
Peppermint Pattie Iced Coffee with International Delight
Enjoy the flavor of cool peppermint and smooth dark chocolate of a YORK® Peppermint Pattie in a refreshing iced coffee!
Ingredients
6 oz coffee brewed over ice (I prefer to brew vanilla flavored coffee in my Keurig brewer)
chocolate syrup
International Delight York Peppermint Pattie Creamer
Ice
Whipped Cream
Instructions
Fill 12-16 ounce plastic tumbler full of ice. (We love our Starbucks Tumblers
Drizzle a little chocolate syrup over ice.
Brew coffee right into cup (or pour freshly brewed coffee if you don't have a Keurig)
Pour creamer over iced coffee (I use 2 single serve creamers)
Top with whipped cream and another drizzle of chocolate.
Enjoy with a straw.
Notes
adjust creamer and chocolate to your liking. You could also make this in the blender for a delicious frozen Frappe.
https://tidymom.net/2012/iced-coffee-recipe/
Copyright© 2009-2013 TidyMom.Net
GIVEAWAY- ENDED
Enjoying a coffee at home will be even more special for 4 lucky winners! International Delight is currently running an awesome $1,000 Dream Kitchen Sweepstakes through Pinterest! It's so simple to enter and totally worth it! Enter by completing these two steps:
1) Re-pin my coffee moment photo on Pinterest
2) Come back! In the comment field below, tell me you pinned and share your special coffee moment.

This is a sponsored conversation written by me on behalf of International Delight June Sponsored Conversation. The opinions and text are all mine. International Delight Sweepstakes and Rules.