Easy Banana Creme Brulee
I make it a point to always have bananas in the house.  They make a great mid-day snack and of course, they are the perfect fruit to have on hand when the urge to bake strikes. Whether they are fresh from the store or brown and mushy, they can be thrown into batter for breads, cupcakes, and cookies.
Today I have a dessert that is so deadly simple, yet so splendidly delicious it might just make you forget about the mound of laundry staring at you.
This Banana Crème Brûlée requires no torch or special tools, only a few ingredients and hardly any time.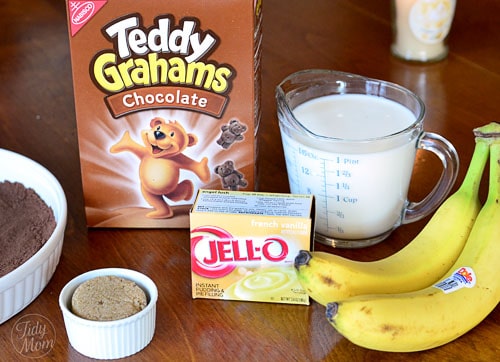 I don't have a food processor, so I started off by using my blender to crush the Teddy Grahams to fine crumbs, and that worked perfectly!
I had meant to pick up Cook and Serve Jell-O pudding, but I accidentally bought instant, so I just went with it, which made this simple recipe even easier!
This is a great dessert for last minute company too – you can prepare everything ahead of time, then just pop it in the broiler after dinner, and it will be ready to serve by the time you've cleared the table!
How can you go wrong with bananas and chocolate?
Make crème brûlée the easy way for a quick dessert any time.
Ingredients
1-1/2 cups Chocolate graham cracker crumbs
2 large bananas, thinly sliced
1pkg. (4-serving) JELL-O French Vanilla Flavor Instant Pudding
2 cups milk
1/4 cup packed brown sugar
1/2 teaspoon cinnamon
chocolate syrup or dulce de leche (optional)
Instructions
Spread and press graham cracker crumbs onto bottom of shallow 1-1/2-qt. casserole; top with banana slices
Prepare pudding with 2 cups milk as directed on package; pour over bananas. Refrigerate until firm, about 15 minutes.
Heat broiler when ready to serve dessert. Sprinkle cinnamon and sugar over pudding. Broil 5 to 8 min. or until sugar is melted and lightly browned. Serve immediately.
Garnish with a drizzle of chocolate syrup or dulce de leche
Notes
I used my blender to chop up chocolate Teddy Grahams
You could also make this using cook and serve Jell-O pudding, or from scratch pudding - just be sure to chill several hours until completely set.
This can easily be made ahead of time, and pop in the broiler right before serving.
https://tidymom.net/2012/easy-banana-creme-brulee/
Copyright© 2009-2013 TidyMom.Net
More Banana Recipes you might enjoy:
Frozen Peanut Butter Banana Bites
Banana- Toasted Walnut Chocolate Chip Cookies
Banana Cupcakes with Peanut Butter Frosting