Best Ever Fettuccine Alfredo Recipe: I'm Lovin' It
Rich and creamy Fettuccine Alfredo is a classic crowd-pleaser.
There are a few things I *always* have in my food arsenal;  pasta, butter, cheese, cream and chocolate…….I left that last one out today – shocking, I know!
Sometimes I just crave creamy, buttery, fatty goodness.  When that craving hits me, nothing satisfies like a big 'ole plate full of Fettuccine Alfredo!   It's so simple to make, it's almost scary – as in, it's scary what my hips would look like if I made it all the time!
Several weeks ago Allison's best friend made a big batch of Fettuccine Alfredo at our house and holy cow! I think it was the best I've ever had!  If you'd like to add a protein to your meal toss in some seasoned grilled chicken, bacon or shrimp for delicious alternative!
You want this recipe in your arsenal – it's great for crowds or can be thrown together quickly on any given night for dinner, and it's a dish everyone in the house likes!
Ingredients
4 large eggs, beaten
1/4 cup melted butter
1/4 cup parsley
1 cup whipping cream
1 pound fettuccini pasta
1 cup Parmesan
1/2 teaspoon garlic salt
pepper to taste
Instructions
Bring a large pot of lightly salted water to a boil. Add fettuccini and cook for 8 to 10 minutes or until al dente; drain and add butter to noodles.
In a large pot over medium, heat cream (don't boil).
Remove from heat, add eggs.
Add pasta to egg mixture and warm on stove top. Add cheese, parsley, garlic salt and pepper.
Cook on low heat until thickened. Add a little cream or pasta water if it gets too dry.
Serve immediately.
https://tidymom.net/2012/best-fettuccine-alfredo-recipe/
Copyright© 2009-2013 TidyMom.Net
"Like this recipe? Add it to your personal recipe box to make later or add the ingredients to your online shopping list to make it this week. Just click the Save Recipe button to get started."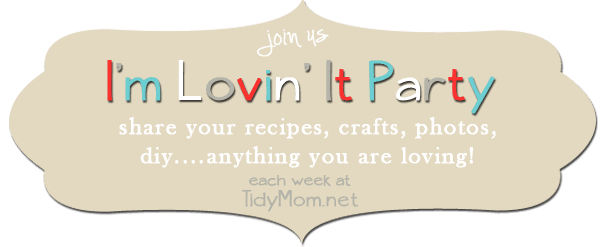 I'm Lovin'…….Fettuccine Alfredo

Now it's your turn! Please remember to link back to http://TidyMom.net
Let us know what you're lovin' this week!
*Don't forget to come back over the weekend for the I'm Lovin' It Wrap Up post……where I feature a few of the great links!!
What is I'm Lovin' It Fridays? get all the info, how to's trouble shoot and button here