Wild Rice Stuffing with Cranberries, Bacon and Pecans
Dried cranberries add a touch of sweetness to the nutty taste of this Wild Rice Stuffing, perfect for any holiday table.
With Thanksgiving quickly approaching, I realized I had not shared a new stuffing recipe I made a few weeks ago when I made a rack of pork.
Stuffing or Dressing
Traditional, modern or just different.  Every Thanksgiving the age old debate arises…….."stuffing or dressing"?  Both terms are used to describe a traditional Thanksgiving side dish,  a moist bread (or rice), seasoned with herbs and vegetables.  Many will argue that stuffing is cooked inside a turkey, while dressing is cooked along side the bird.  But, in most homes and cookbooks, the words are interchangeable…… although stuffing seems to be more prevalent in the south and east.
I don't care what you call it…………as long as it's delicious!
Stuffings and dressings can be prepared many ways. This recipe is not a traditional bread stuffing that you usually see at Thanksgiving, but makes an elegant and delicious side dish.  Dried cranberries add a touch of sweetness to the nutty taste of this wild rice stuffing.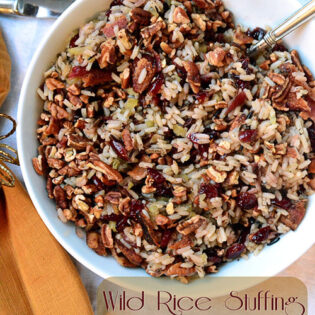 Wild Rice Stuffing with Cranberries, Bacon and Pecans
Ingredients:
1 1/4 cup wild rice, uncooked (I used long grain and wild rice)
4 slices Bacon, cut into 1-inch pieces
1 cup onion, chopped
1 (14-ounce) can chicken broth
1/2 cup water
2 tablespoons dry sherry, (optional)
1 teaspoon dried thyme leaves, crushed
2 cups celery, chopped
3/4 cup dried cranberries
1/2 cup pecans, chopped and toasted
Directions:
Rinse wild rice in cold water. Drain well; set aside. In a large saucepan, cook bacon over medium heat until crisp. Remove bacon, reserving 1 tablespoon drippings in saucepan. Drain bacon; set aside.
Add onion to saucepan; cook until tender, stirring occasionally. Add wild rice; cook and stir for 3 minutes. Add chicken broth, water, sherry and thyme. Bring to boiling; reduce heat. Cover and simmer for 10 minutes. Remove from heat. Stir in celery and dried cranberries.
Meanwhile, heat oven to 350 degrees F. Transfer rice mixture to a 2-quart casserole. Cover and bake for 45 to 55 minutes or until rice is tender and liquid is absorbed, stirring once. Stir in pecans and bacon.
recipe from PorkBeInspired.com
Making this recipe? Share it with us on Instagram using the hashtag #TidyMom so we can see what you're creating in the kitchen!
Want more great recipes like this? Follow my TidyMom Easy Recipes Pinterest Board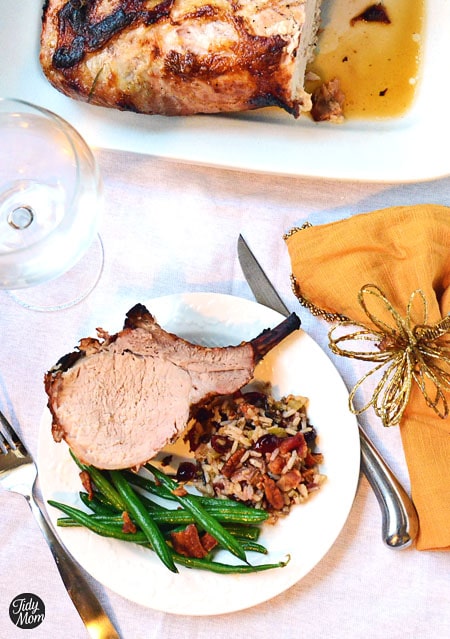 The best holidays are those shared with family and friends.   What dish do you look forward to the most at Thanksgiving?  And do you serve stuffing or dressing?
More dressing and stuffing recipes you may enjoy