Piña Colada Sorbet
Food For My Family {Guest Post}
Homemade Pina Colada Sorbet is a perfect summer treat for those yearning for a tropical beach. It's a pineapple island sorbet spiked with a bit of coconut milk and rum for the big kids.
TidyMom readers are really lucky today!   My sweet friend Shaina of Food for My Family is here sharing a delicious recipe along with her stunning photography.  Shaina is one of the busiest bloggers I know.  She's a fantastic mom and wife and is exceptionally talented in the kitchen. I am truly grateful to know someone as kind, talented and caring and am fortunate to call her my friend!  Welcome, Shaina…….
I've always liked July.  June has passed, with its bright optimism, the summer stretching out before it, and August's heat ramping up for back-to-school season still feels far away. Yes, July is where the magic of summer happens: warm evenings spent lakeside, fires glowing and children chasing lightning bugs in the grass.  Pure heaven.
While living in the Midwest may not afford me access to certain luxuries like ocean views, seashell collecting and the like, I still enjoy the beauty that summer has to offer, even when summer occurs in backyard pools and cheering the kids on from the soccer sidelines.
This week, we embraced summer with a nod to those enjoying those oceanfront tropical beaches with a pineapple and coconut island sorbet, spiked with a bit of coconut milk and rum for the big kids.  Our beaches may look over smaller bodies of water, but when it's 95º F and 80% humidity, it sure feels pretty tropical here.
Related Post: Frozen Raspberry Margarita
How to pick the perfect pineapple:
Crown: Look for bright green leaves, not wilted or crisp ones. Green leaves are a good sign that the pineapple is fresh.
Smell: A pineapple should smell fruity, but not overly sweet.  Smelling overly sweet is a sign of fermentation and that the pineapple is past its prime.
Body: The body should be firm and not squishy, but not as hard as the glass bowl you intend to place it in.  It should have some golden areas in with the green.
Pulling the leaves: While some say if the inside leaves in the crown pull off easily the pineapple is ripe, others refute this claim and its relevance towards picking the pineapple for you.
A ripe pineapple can make or break this sorbet, as there aren't many other sweet elements being added in.  If you simply can't find a ripe pineapple, adding a scoop or two of sugar to taste.
Related Post: 2-Ingredient Peach Sherbet
TOOLS FOR MAKING HOMEMADE PINA COLADA SORBET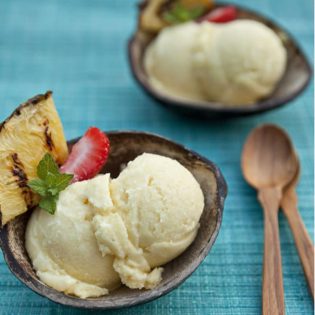 Piña Colada Sorbet
Ingredients:
Directions:
Place pineapple, coconut milk, cream of coconut, syrup, and rum or extract in a blender or food processor and pulse until no large chunks remain. Increase speed and blend until smooth.
Pour into a medium saucepan and heat until boiling*. Turn off heat, cool completely in the refrigerator.
When the mixture is cool, pour into an ice cream machine and mix according to the manufacturer's directions. Remove and serve immediately or cover and freeze until firm. This sorbet is delicious both ways.
*heating the coconut milk and cream of coconut produces a creamier texture to the sorbet.
Making this recipe? Share it with us on Instagram using the hashtag #TidyMom so we can see what you're creating in the kitchen!
Want more great recipes like this? Follow my TidyMom Easy Recipes Pinterest Board
Before you know it, you'll think you're basking in the midday sun under a beach umbrella, a bowl of piña colada sorbet to keep you cool.
Like this Pina Colada Sorbet Recipe?  Pin It!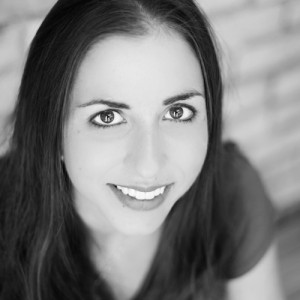 Shaina Olmanson is the home cook and photographer behind Food for My Family, a daily contributor to Babble.com's Family Kitchen Blog and the food editor for Lifetime Moms.
She strives to teach her four children to cook and prepare real food in a day and age where many people have turned to convenience foods because they are so readily available and hopes to encourage others to do the same. Shaina can usually be found in one of three places: cooking, at the computer or behind the camera.
You can also find Shaina on Facebookand Twitter