Ducky Baby Shower Punch
This Adorable Ducky Baby Shower Punch made with blue Kool-Aid gives the look of bath water and bubbles made of sherbet mixed with the ginger ale for the perfect party refreshment.
Be sure to sign up for my email… to get new recipes and ideas in your inbox!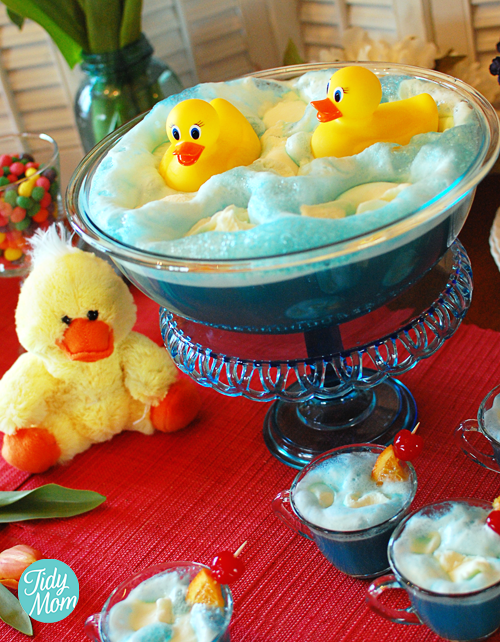 The Cutest Ducky Punch For A Shower
What's the first thing you think of when you think of a baby shower? Great food and even better drinks! Baby showers are a fun celebration that warrants an equally festive baby shower punch.
Punch is a staple at any baby shower and I'm all about it. When else do you get to sip a sugary filled colorful concoction out of tiny little cups?
Punch recipes like Strawberry Party Punch and Strawberry Peach Ginger Ale Party Punch are shower classics—you'll recognize them once you see the frothy mounds of floating sherbet on top.
This incredible Ducky Bath Punch will transform your drink table from a typical party punch into a beautiful part of the party decor.
One of the most rewarding things about blogging is the friendships that are formed. Some I've been able to meet in person, but many I have not, but it doesn't stop us from being a huge support system for one another.
We "get together" daily to chat, laugh, cry, vent, and support each other. (Skype is such an awesome tool!)
So it only makes sense that when one of us has something really huge to celebrate, we ALL want to celebrate!! No matter how many miles between us!
Today, we are throwing a SURPRISE virtual baby shower for a blogging friend. The mom-to-be is expecting her fourth baby next week! A sweet baby boy. And we couldn't let it pass without celebrating in a special way!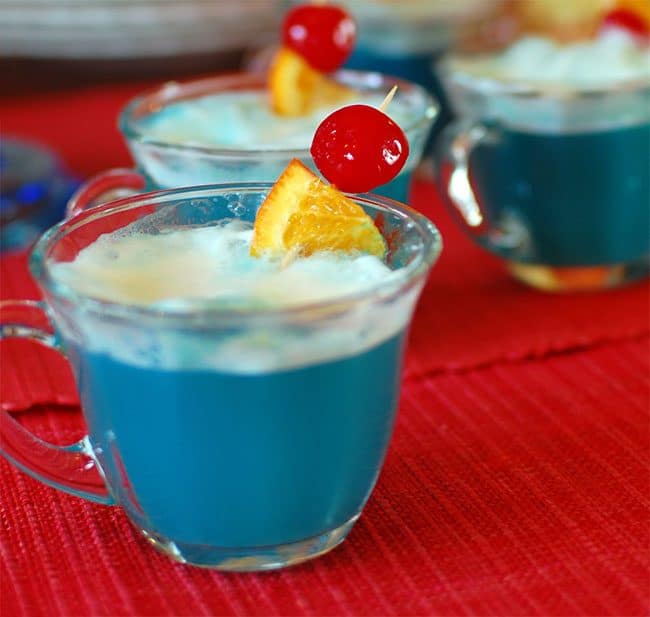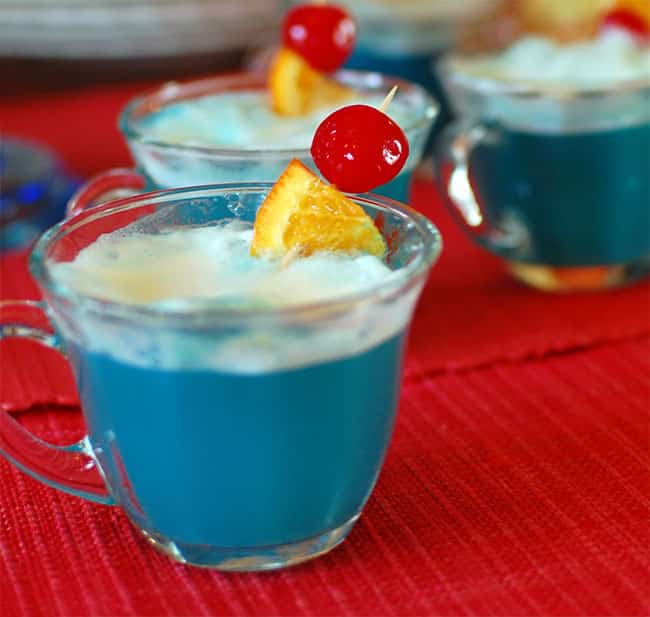 The best thing about this punch is it doesn't have to stay in the baby shower scene. Be the talk of the neighborhood at your next kid's birthday party and roll out this show-stopping drink. It's the perfect opportunity to be the cool parent on the block without spending a fortune on elaborate catered food and drinks.
With these simple steps and ingredients, you won't want to leave this out of your next party. I'm still dying for more excuses to make this adorable Ducky Bath Punch again!
Helpful Ducky Baby Shower Punch Tips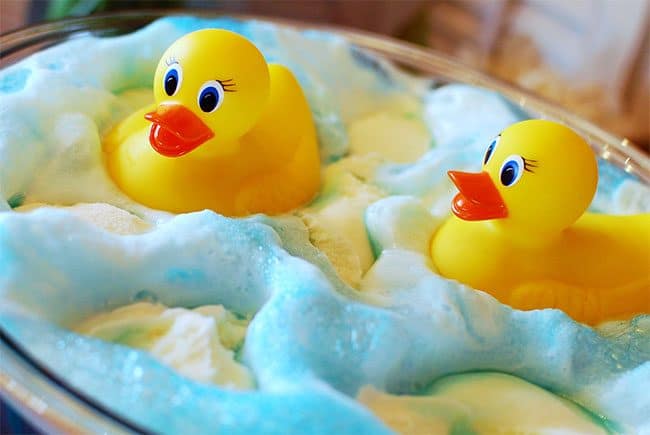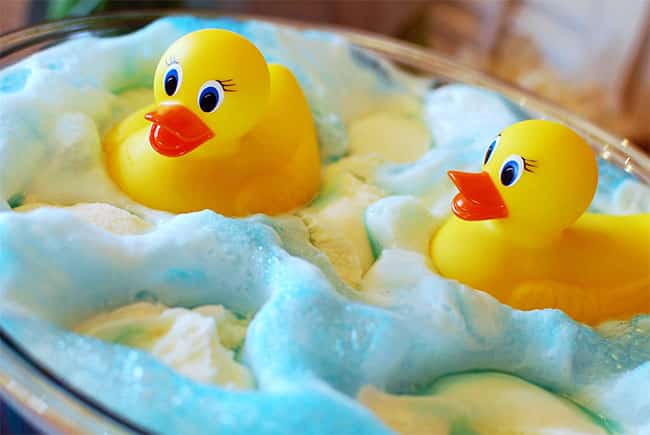 FAQ & Tips For Making Ducky Baby Shower Punch
UPDATE: I've answered some of the questions that are asked about this ducky baby shower punch most often
How Can I Make A Ducky Punch For a Girl? I get emails all the time asking "how to make this ducky punch pink for a girl"….but the whole point of the blue is for the water (not for boy/girl). Pink water would no longer look like ducks in a bath, it would look like ducks in pink punch. I usually suggest if you really need it to look more girly, use pink ducks.…..but honestly if your shower theme is pink, and this is sitting in the middle, it will fit in just fine…blue water and all! HA
My Ducks Don't Float: NOT ALL RUBBER DUCKS WILL FLOAT. I bought bathtub rubber duckies from the baby department. Make sure your rubber ducks float! and don't forget to wash them in hot soapy water (or run them throught the dishwasher) before placing them in the punch.
Blue Kool-Aid – Look for Ice Blue Raspberry Lemonade flavor or any flavor that is blue in color.
Can't find Blue Kool-Aid? Many people have a problem finding blue Kool-Aid. A reader used berry blue typhoon Hawaiian Punch, ginger ale, white grape juice and sherbet… NOTE: You Do NOT ADD SUGAR! (the Hawaiian Punch is sweetened so no more sugar is needed).
Can't find pineapple sherbet? Lemon sherbet should work fine and might be easier to find, or vanilla ice cream.
Be sure to chill all of your ingredients before putting the punch together.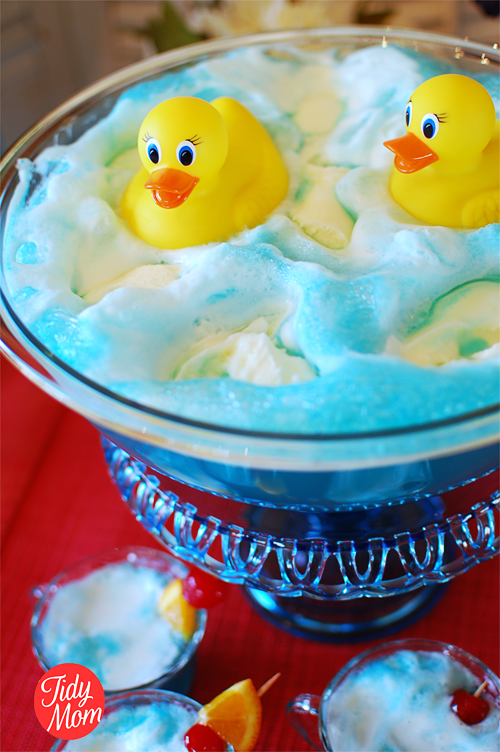 While you can't go wrong with this bathtub punch, it's a good idea to have a batch of flavored water to offer guests as well.
What Do I Need To Make Ducky Baby Shower Punch Recipe
FOR THIS RECIPE I RECOMMEND:



LIKE THIS DUCKY BABY SHOWER PUNCH? PIN IT!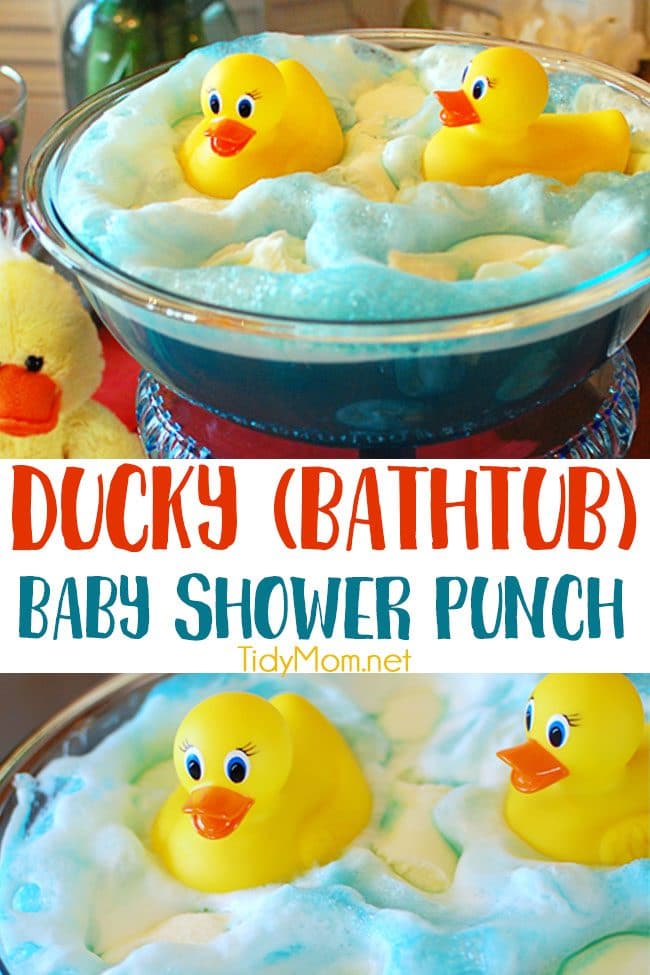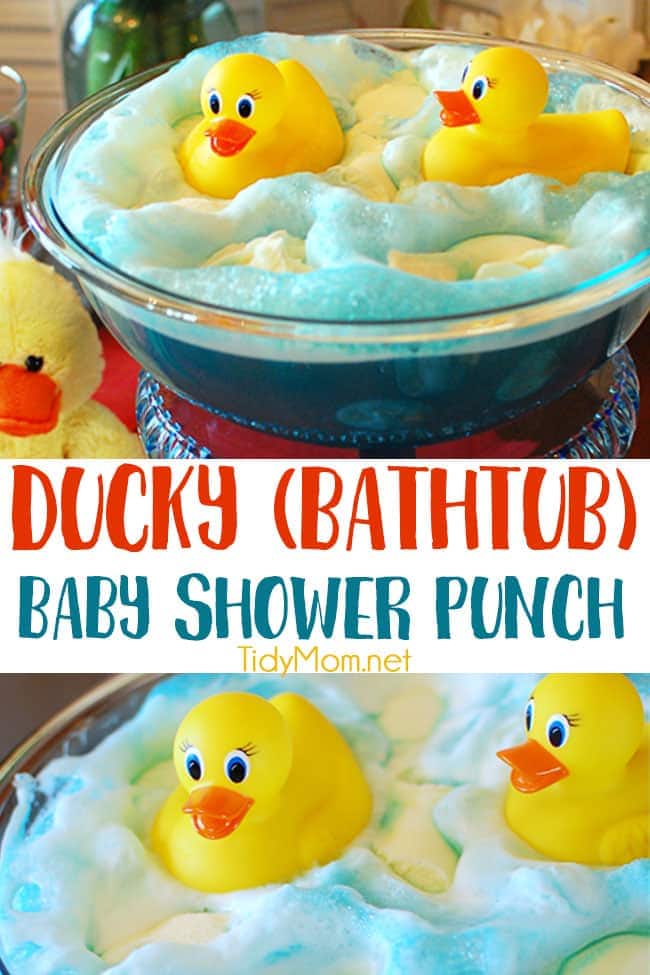 I created a fun little group on facebook and I'd love for you to join in! It's a place where you can share YOUR favorite recipes, home tips, creative ideas and ask questions and see what's new with TidyMom!
If you'd like to check it out, you can request to join HERE. Be sure to follow me on Instagram and tag #tidymom so I can see all the wonderful TidyMom recipes YOU make and tips YOU use!
Connect with TidyMom! Facebook | Twitter | Google+ | Pinterest | Instagram
Sign up to receive an email in your inbox for each new recipe: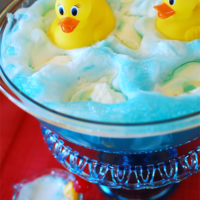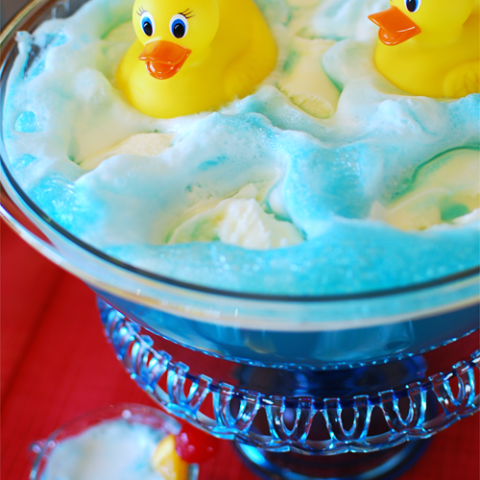 Ducky Bath Baby Shower Punch
Adorable Ducky Bath Punch – The blue Kool-Aid makes it look like bath water and the sherbet mixed with the ginger ale gives it "bath bubbles".
Ingredients
1 cup sugar
8 scoops pineapple sherbet
maraschino cherries (optional for garnish)
orange slices (optional for garnish)
Instructions
Chill ginger ale and grape juice over night
Remove sherbet from freezer about 1/2 hour before serving punch to soften
In a large bowl, combine Kool-Aid packet, sugar and chilled juice. Stir to blend.
Slowly add chilled ginger ale.
Float 8 scoops of softened sherbet on top
Add Rubber Duckies (don't forget to wash before using)
garnish cups with cherries and orange slices
Notes
If you can't find Blue KoolAid then you can replace the unsweetened Kool-Aid and sugar with Berry Blue Typhoon Hawaiian Punch. DO NOT ADD 1 CUP of sugar if you do this! The Hawaiian Punch already has sugar in it.
1 gallon bottle Hawaiian Punch Berry Blue
1 large can of White Grape Juice 1
(2 liter ) bottle of Ginger Ale (or Sprite)
Pineapple Sherbet
If you can't find Pineapple Sherbet, lemon sherbet or vanilla ice cream will work too
Recommended Products
As an Amazon Associate and member of other affiliate programs, I earn from qualifying purchases.