Chocolate Covered Pretzel Pie #LovethePie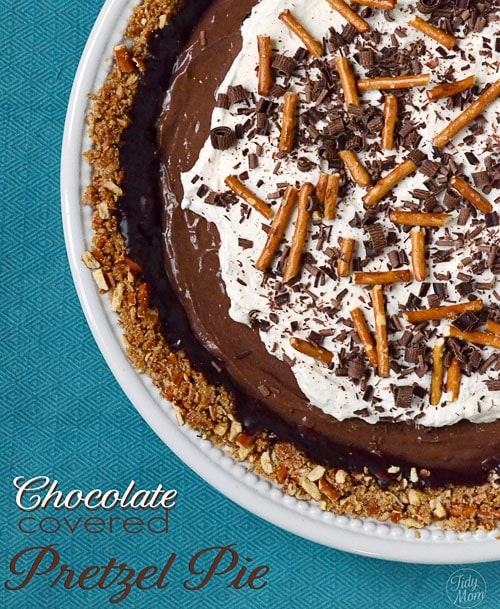 I have to be honest…….I've never been a big fan of pudding pies.  Banana cream, yes! My mom and grandma made the best!  but other than that, I much prefer a juicy warm fruit pie with vanilla ice cream melting over the top.
But a few weeks ago, when traveling I was flipping thru a magazine and spotted a pie recipe that really caught my attention.  Maybe it was the name, Chocolate Covered Pretzel Pie, but this didn't seem like any ordinary boring pudding pie and I knew it was something I wanted needed to make!
So, last weekend I channeled my inner 50's domestic goddess and Kari Russell, as Jenna, in Waitress.  The girl from the deep south who works as a waitress and spends her days dreaming up and making all sorts of unique pies!  I tied on my ruffly apron and stirred my chocolate ganache.  The only thing missing was the vintage stove in a pastel tinted kitchen!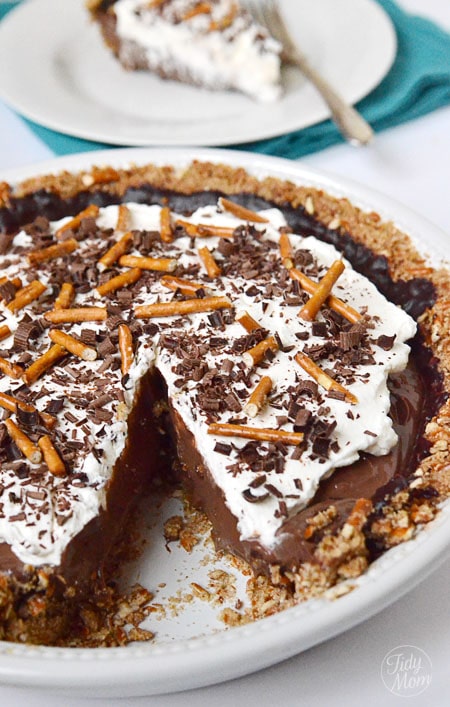 The dark chocolate pudding filling is smooth and creamy, and pairs perfectly with the pretzel crust.   I used Ghirardelli chocolate and must say that you should use the best quality chocolate you can afford.  It can/does makes a difference.
What I used:
Ghirardelli Semi Sweet Chocolate
Ghirardelli Bittersweet Chocolate
Chocolate Covered Pretzel Pie #LovethePie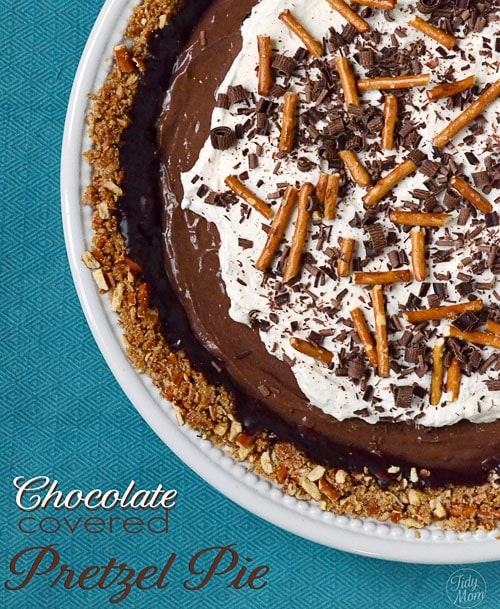 Summary: A crust made from crushed pretzels pairs deliciously with a a rich chocolate custard filling.
Ingredients
4 ounces (3 cups) broken pretzel sticks
3/4 cup light brown sugar, divided and lightly packed
1/2 cup (1 stick) unsalted butter, melted
1/4 cup cornstarch
3 tablespoons unsweetened cocoa
Pinch of salt
2 1/2 cups whole milk (I used 2%)
4 egg yolks
3 ounces bittersweet chocolate, chopped
4 ounces semi sweet chocolate, chopped
1-1/4 cups + 2 tablespoons heavy whipping cream, divided
1 teaspoon vanilla extract
2 tablespoons confectioners sugar
Instructions
Heat oven to 350 degrees F. In a food processor combine pretzels, 1/4 cup brown sugar, and butter; blend until mixture resembles fine crumbs. Press mixture firmly into bottom and up sides of a 9-inch pie pan. Bake crust until fragrant and just turning golden, 10 to 15 minutes; cool.
In a medium saucepan whisk together 1/2 cup lightly packed brown sugar, cornstarch, cocoa, salt, and milk. Place over medium heat and stir until sugar is just dissolved, about 2 minutes. Whisk in egg yolks. Cook, stirring constantly, until custard thickens and just boils, about 5 minutes. Remove from heat and stir in bittersweet chocolate and vanilla. Place pan in a bowl of ice and water and stir occasionally until custard cools.
While custard cools, make a chocolate ganache to cover pie crust. Place chopped semi sweet chocolate in medium bowl. Heat 1/4 cup + 2 tablespoons of heavy whipping cream in microwave about 30-40 seconds (just until boils). Pour warm cream over chocolate and stir until melted. Pour over cooled pie crust, using rubber spatula to help spread chocolate up the sides and over entire bottom of crust. Place in refrigerator or freezer until set.
Pour custard into cooled crust with hardened ganache and press plastic wrap directly onto surface. Chill until firm, 4 hours or up to a day.
Whip cream and confectioners' sugar until soft peaks form, spread over pie and garnish with extra pretzels and chocolate shavings.
Notes
https://tidymom.net/2011/chocolate-pretzel-pie/
Copyright© 2009-2013 TidyMom.Net
NEW FEATURE: Save recipes to your personal recipe box with the

Once you have your favorite recipes in your Recipe Box create a Meal Plan with them and the ingredients will automatically be added to a Grocery List!
This pie is  a little time consuming, but actually pretty easy to make and  impressive for  chocolate-loving family or company! Definitely made me feel like a blue ribbon winner!
***Don't forget……..Love the Pie is tomorrow (I will open up the link party around 11 pm CST tonight)! Get you're pie posts ready there will be lots of prizes but you can only win if you have a pie to share!!  If you don't have a blog, you can share a pie recipe in the comments!

Include in your post the line below in your blog post. (to be eligible for prizes)
  "Come join Love the Pie with TidyMom  sponsored by Cherokee USA, Le Creuset, Wilton, Bags by Bloom and  Harvard Common Press"



More pies you may like
Apple Butter Pumpkin Pie with Streusel Topping
Visit Love the Pie Sponsors:
 I'm sharing this post at Get Your Craft On
Come join the fun at the My Baking Addiction and GoodLife Eats Holiday Recipe Swap sponsored by Breville.