School lunch LIVE Chat 7/27 and recipe for BLT wraps
I'm starting to stress with the thought that school starts back in just 21 days! I remember that growing anxiety as a kid. The morning rush, the homework, the quicker pace of the day, and the daily challenge of "what to do for lunch"
Packing school lunches can be tedious and stressful, especially if you have a picky eater.
I'm teaming up with Wendy from Wendolonia for a LIVE CHAT about "What's in Your Lunchbox".  Join us for one hour on  Wednesday July 27, 2011 1:30pm Eastern /10:30am Pacific to talk about everything lunch related, for the lunch box and homeshcoolers!
So, mark your calendar for Wednesday, July 27 th at 1:30pm EDT to join Wendy and me for the School Lunch LIVE CHAT.
And in the spirit of lunch…….I have a fabulous lunch recipe to share today.
I *may* have had this wrap 4 times in the last 3 days. – They. Are. That. Good.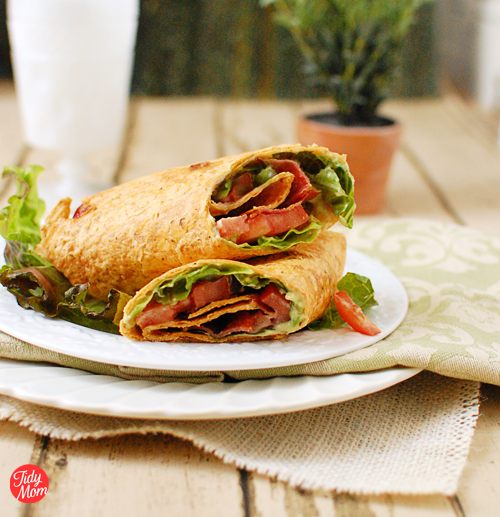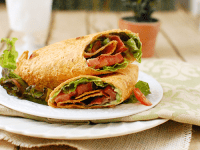 Ingredients
4 Sun-Dried Tomato Basil Wraps
1 ripe avocado, peeled and pitted
1/4 cup sour cream
1 tablespoon lime juice
1/2 teaspoon hot sauce (or desired taste)
Dash of salt
4 lage leaves red leaf lettuce
2 large tomatoes, cut into slices
8 slices turkey bacon, cooked
Instructions
Combine avocado, sour cream, lime juice, hot sauce and salt. Blend/mash with a fork until smooth.
Spread each warmed wrap with 3 tablespoons of the avocado spread.
Layer each wrap with lettuce, tomato slices and 2 strips of bacon.
Roll up and cut in half.
https://tidymom.net/2011/blt-wrap-recipe/
Copyright© 2009-2013 TidyMom.Net