Summertime Dessert…..Lemonade Pie
I hope everyone is enjoying the summer!! I know it's not "officially" summer yet, but the weather here in Missouri has definitely been summer with temps in the 90's and humidity that makes you melt the moment you step outside!!
The other day my 13 year old was going thru my recipe box, picking out recipes she wants us to make (all desserts of course! lol). One of the first recipes she spied was something I scribbled down years ago on a piece of scratch paper, and it didn't even have a name on it…..so we named it……Lemonade Pie!
I'm telling you, if you want a quick and easy dessert that tastes like summer….. this is it!!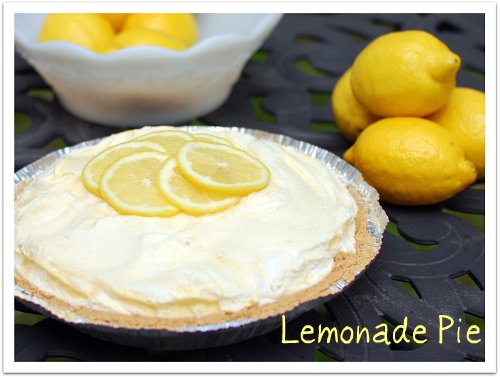 I think this took me less than 5 mins, and it was in the refrigerator.
The hardest part was waiting 4 hours to chill. *hint: licking the bowl is a good way to hold you over until the pie sets! lol 
Stars of the show: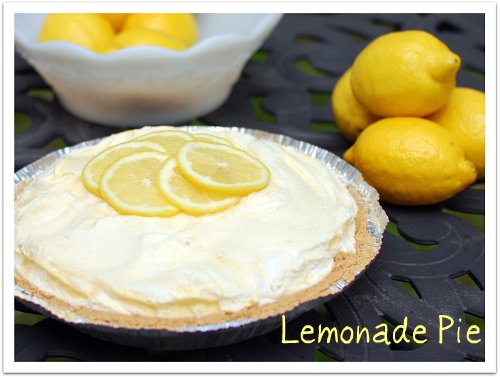 Ingredients
1-3/4 cup milk
2 boxes (4-serving size) Vanilla Instant Pudding
1 (6 oz) frozen lemonade concentrate, thawed
1 (8 oz) Cool Whip
1 Graham cracker crust
Instructions
Pour milk into large bowl, add pudding mix and beat with wire whisk. Add thawed lemonade. Beat with whisk. Fold in Cool Whip. Pour into crust. Refrigerate 4 hours before serving.
Notes
• I used Fat Free Sugar Free pudding, 1% milk and lite Cool Whip – made it a little easier on the hips and still tasted fantastic!
• I only had pink lemonade, and it worked just fine, my pie even remained yellow.
• My lemonade was a 12oz can, that's what I had on hand – the recipe calls for 6oz, so I only used 1/2 the can.
• I put the pie in the freezer for a few hours before serving – we liked it both frozen and refrigerated – both were good. Of course the refrigerated was more creamy, the frozen was….harder.
https://tidymom.net/2010/lemonade-pie/
Copyright© 2009-2013 TidyMom.Net