No-BakePeanut Butter Bee's (or Bunnies)
These adorable no-bake peanut butter treats will have children and adults buzzing with excitement.
My friend Wendy makes these ADORABLE little treats that I just HAD to share with you.
Peanut Butter Bee's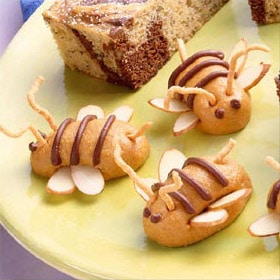 image source
She got this recipe from a friend several years ago and made the bees for her niece's 8th birthday as a surprise and they went over big time! She also made them into bunnies by using the almonds as ears instead of wings. The bunnies make an adorable Easter treat.
Wendy doubles the recipe because everyone loves them!
*Wendy uses black gel icing, but you could also melt chocolate to pipe stripes and eyes.
Peanut Butter Bee's (or Bunnies)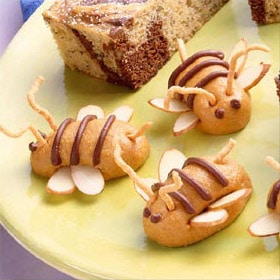 Ingredients
1/2 cup creamy peanut butter
2 Tbsp butter/margarine softened
1/2 cup powdered sugar
3/4 cup graham cracker crumbs
1/3 cup sliced almonds, toasted if desired
Black gel icing in tube
Instructions
In mixing bowl, cream peanut butter, butter and sugar until smooth.
Add crumbs and mix well.
Shape teaspoons of dough into 1 inch ovals and place on waxed paper lined cookie sheet.
Pipe two or three stripes on each bee, insert two almonds for winds and use a toothpick to poke holes for eyes.
Store in refrigerator.
Notes
you could also melt chocolate to pipe stripes and eyes
https://tidymom.net/2009/no-bake-peanut-butter-bees/
Copyright© 2009-2013 TidyMom.Net
edit:  the picture of Wendy's bee's has some how been lost on my blog and computer, so it's been replaced with an image from Land O Lakes.