Easy Butterscotch Pudding Pie
This easy and delicious butterscotch pudding pie becomes magical when saltine crackers transform into a soft crust.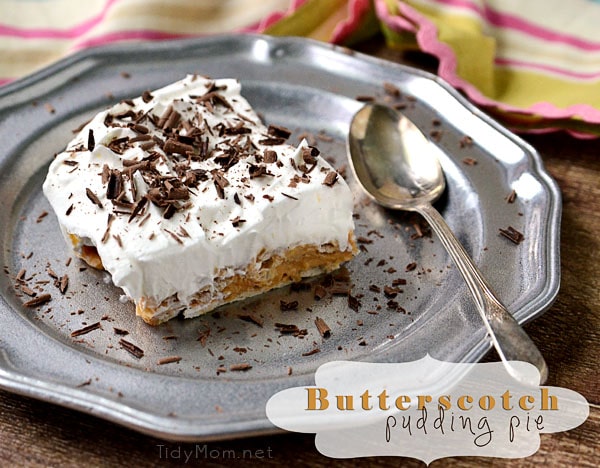 It's no secret that dessert if usually my favorite part of the meal. While I don't treat my family to a rich dessert every night, I do love when I can make something that tastes and looks extra special, that I can whip up in no time.
So when I find a recipe that's versatile, easy, delicious and made with ingredients I usually have on hand……..it's a winner!
When I mention making pie, I always hear "but I can't make pie crust", from some of my friends. Well, what if I told you I had a way for you to make a pie that I could GUARANTEE you would have no problem making this pie crust?!
We've been making this magical pudding "pie" dessert for several years now, it's so easy, even my girls can make it! What makes this dessert "magical"? It's made with saltine crackers……and after sitting overnight, the saltine crackers taste just like a phyllo dough! All you do is lay the crackers down and let the pudding do all the work!
The stars of the show; instant JELL-O pudding mix, milk, COOL WHIP whipped topping and salted-top saltine crackers.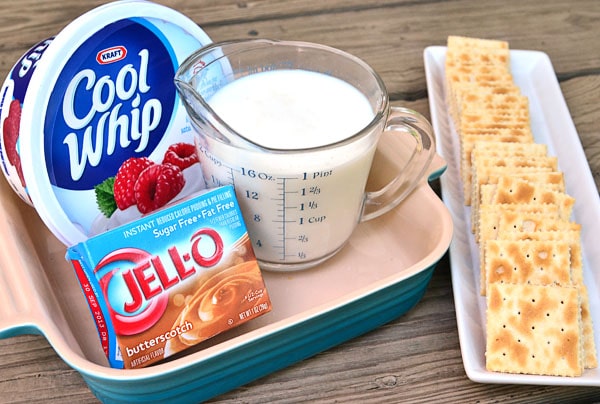 We switch up the pudding flavors all the time, but butterscotch is one of our favorites.
If you make this using sugar-free JELL-O pudding, 1% or skim milk and COOL WHIP LITE whipped topping, you have a dessert you can eat even while you're watching your waistline.
Simply mix the pudding and milk and chill for 5 minutes.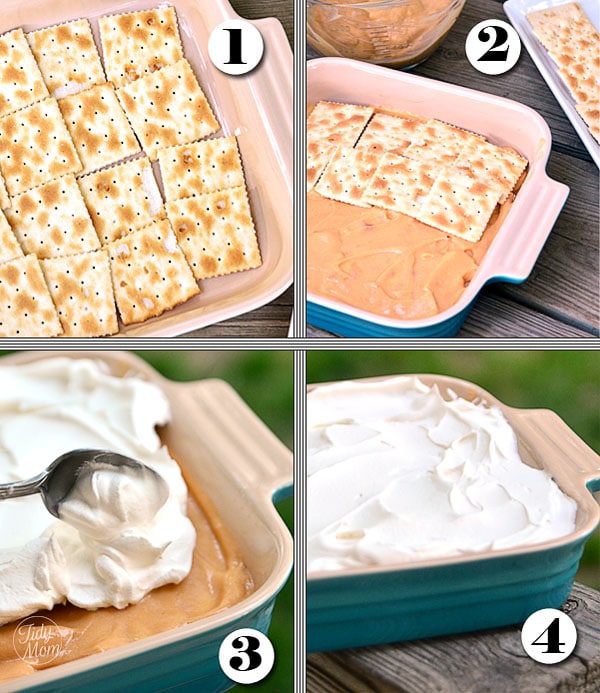 lay 16 salted- top saltine crackers on the bottom of a 9×9 pan (I've used 8×8 before too)
top with one half of the pudding, spread with spoon, and place another 16 crackers on top of pudding
top with COOL WHIP whipped topping
refrigerate 12-24 hours before serving.
Want the full recipe? yes! yes you do!…….here you go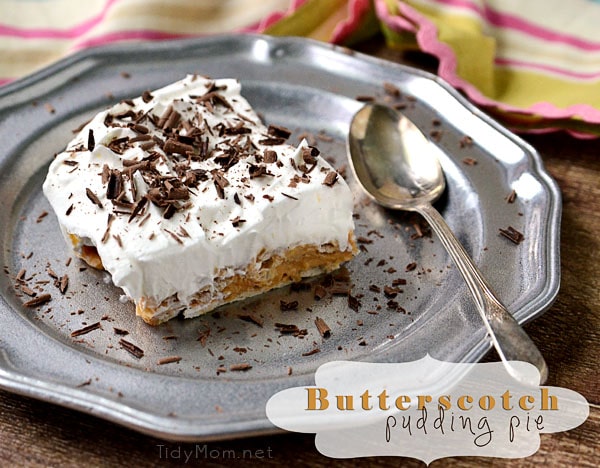 This easy and delicious pudding pie becomes magical when saltine crackers transform into a soft crust.
Ingredients
1 (1.4 oz.) Package Sugar Free Butterscoth Instant Pudding
2 Cups Milk
32 Salted-Top* Saltine Crackers
1 (8 oz.) Container COOL WHIP whipped topping
chocolate shavings for garnish (optional)
Instructions
Whisk instant pudding and milk together and place into the refrigerator 5 minutes.
Place 16 crackers in the bottom of an 9x9 pan.
Pour half of the pudding over crackers, and spread evenly with spoon.
Place remaining 16 crackers over pudding, the pour other half of pudding over crackers and spread evenly with a spoon.
Top with entire container of COOL WHIP.
Cover with plastic wrap and refrigerate for 12-24 hours.
Garnish with chocolate shavings before serving, if desired.
Notes
*you must use salted-top saline crackers. It wont taste the same with unsalted.
We have served this after 12 hours and it's fine, but it's really best after 24 hours.
http://tidymom.net/2012/easy-butterscotch-pudding-pie/
Copyright© 2009-2013 TidyMom.Net
This is really one of the easiest desserts I make, and we make it quite often.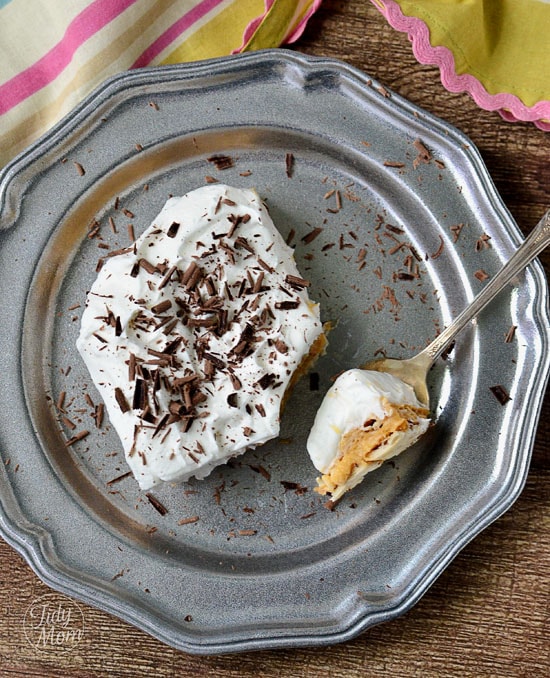 Now that I have shared a quick and easy dessert recipe, I want to know what are the go-to desserts you serve your family? Reply below with your favorite desserts using COOL WHIP !
Visit the COOL WHIP Facebook page to see more recipes and to share your own COOL WHIP creations!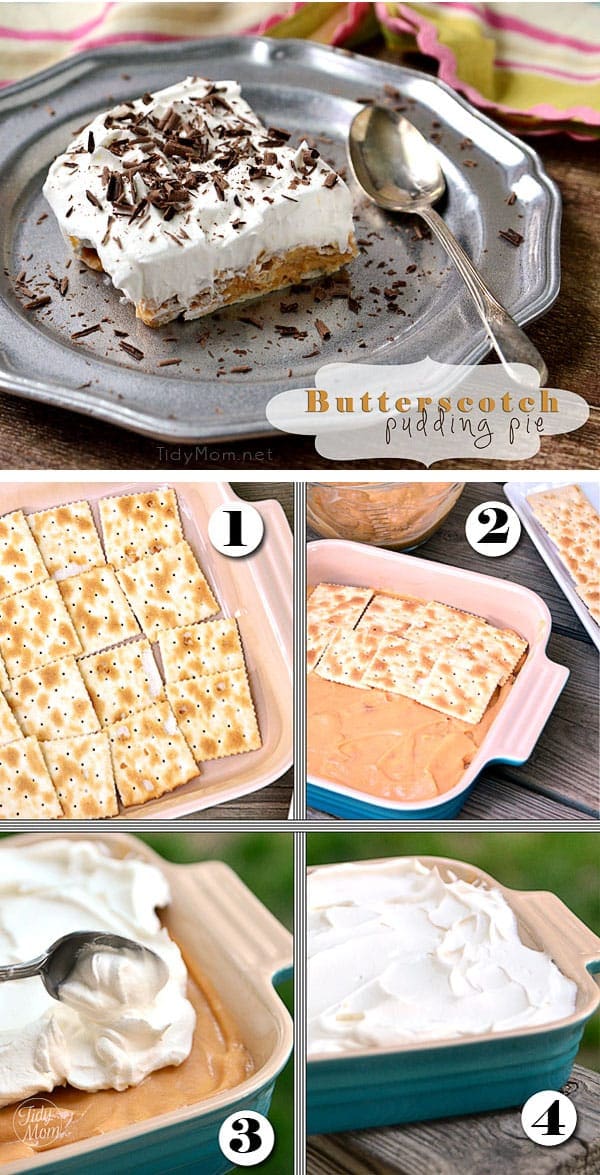 Don't forget to check out the TidyMom Facebook page for even more recipes and creative ideas.  Also, be sure to subscribe to TidyMom by email so you never miss a thing!

Sponsored posts are purely editorial content that we are pleased to have presented by a participating sponsor. Advertisers do not produce the content.