Holiday
Sweetheart Cherry Cake
This Sweetheart Cherry Cake recipe is perfect for Valentines Day! The heart shaped cake comes together in no time, it's moist and bursting with sweet dark cherries.  Definitely a treat to be shared with those that you love.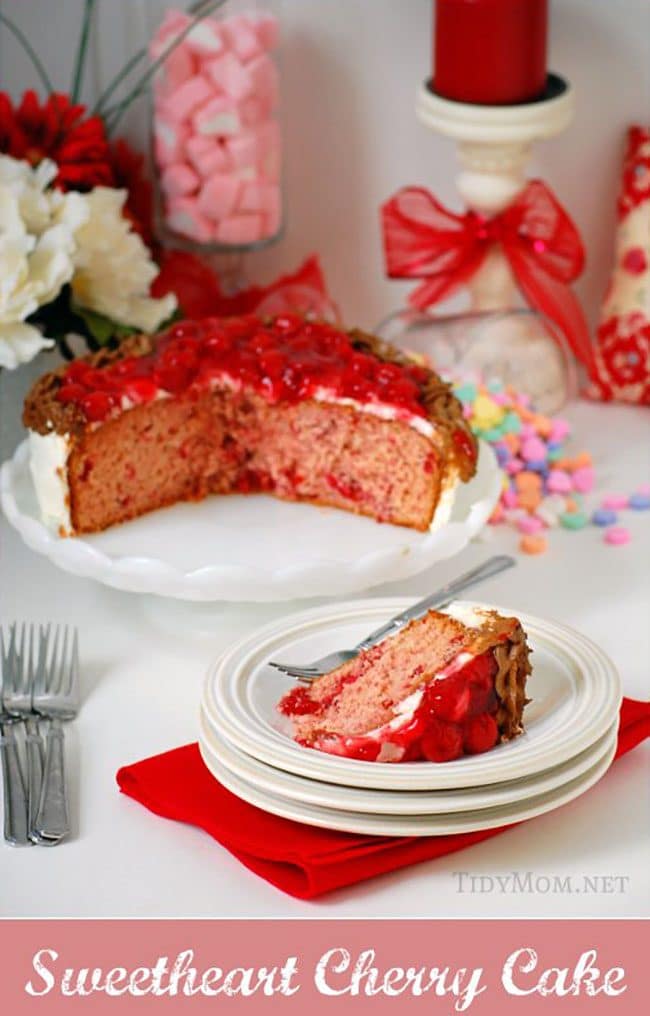 Valentines day is just around the corner. We don't celebrate by buying gifts or going out for an expensive dinner, but I do enjoy baking Valentine goodies for my family. To me, Valentines Day is really about the simple gestures you make to show someone you love them.
That's why I was really excited when I was asked to make a cake using a recipe and pie filling from Lucky Leaf, maker of easy-to-use dessert products. They sent me a heart-shaped cake pan , 2 cans of Lucky Leaf Premium Cherry Pie Filling, some CUTE heart- shaped measuring spoons and a recipe for a Sweetheart Cherry Cake.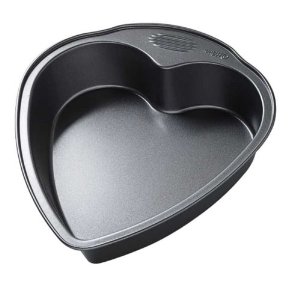 Lucky Leaf is a 60 year old family owned business who believes in providing simple, delicious dessert products for families. At first, Lucky Leaf was solely dedicated to fresh applesauce. But as the American woman became too busy to make her delicious homemade pies from scratch, they took care of the hard part and started making ready-to-use apple pie filling. Today you can find Premium Cherry, Apple, Blueberry, Lemon, Red Raspberry, Lite, and Crème in your grocery stores — so you can make whichever type of pie you want quickly and easily.
Even if you don't really enjoy pie, you're sure to find a great Lucky Leaf recipe and filling you would like. They show you how to make everything from pies and salads to Sweet & Spicy Chicken…and many more!!
Shop this post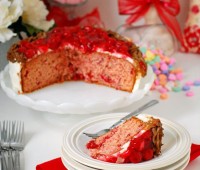 Sweetheart Cherry Cake
Ingredients:
Sweetheart Cherry Cake
1 (18.25 oz) dry white cake mix
2 large eggs
1 teaspoon baking powder
1 teaspoon vanilla extract
1 teaspoon almond extract
1 (21 oz) can Lucky Leaf Premium Cherry Pie Filling
Buttercream Icing
1 cup butter, softened
1 teaspoon vanilla
1 teaspoon almond extract
4 cups (1 pound) confectioners' sugar, sifted
2-4 tablespoons milk
food coloring (optional)
Directions:
Sweetheart Cherry Cake
Preheat oven to 325 degrees. Lightly grease 9 x 2 1/2-inch heart-shaped cake pan* (substitute heart pan for 9×13 pan)
Mix together on medium speed, dry cake mix, eggs, baking powder, both extracts, and 1/2 can of Lucky Leaf Premium Cherry Pie Filling until moistened. Fold in the remainging 1/2 can of cherry pie filling by hand until blended (if you'd prefer cherry pieces in stead of whole cherries, then just add the whole can and mix). Batter should appear thick.
Pour batter into pan, and level with a spatula.
Bake for 65-75 minutes for heart shape pan(mine was done in 65), 40-45 for 9×13 pan, or until toothpick comes out clean. Remove cake from oven and allow to cool completely in pan. Invert cake onto a serving platter to decorate.
Buttercream Icing
Cream butter and both extracts.
Slowly add confectioners' sugar, beating well. Add 2 tablespoons of milk. Mix well. If needed, continue adding milk 1 tablespoon at a time until icing is smooth and spreadable.
Mix in food coloring, if desired. *This would also be cute in pink or red icing. I colored a small amount with brown gel food color to pipe around the edges.
To Decorate:
Frost all sides of the cake with white buttercream
Evenly spoon 1/2 can of additional cherry pie filling over top (keeping the pie filling about one inch from the edge of the cake).
Fill a decorating bag, fitted with a 1M tip with the brown frosting and pipe around the cherry pie filling.
**Making this recipe?  Take a picture and share it on Instagram! Make sure to tag it #TidyMom so we can see what you're creating in the kitchen!
Optional ideas I thought of
you could pipe some of the buttercream around the cherry pie filling, like I did.
you could put chocolate chips around the edge of cherry pie filling (like a heart outline)
tint your buttercream pink, ice whole cake then sprinkle top with chocolate chips and cherry pie filling
add a few mini chocolate chips to the cake mix
use a chocolate cake mix instead of white.
use 2 cans of any flavor prepared icing instead of making buttercream icing.
there really are just endless possibilities!
LIKE IT? PIN IT!


Want more great recipes like this? Follow my TidyMom Easy Recipes Pinterest Board
Follow Cheryl Sousan | Tidymom.net's board TidyMom.net easy recipes on Pinterest.

You May Also Like...