Mardi Gras Cupcakes | French Vanilla Butter Rum
It is officially Mardi Gras Carnival Season , and Fat Tuesday – Mardi Gras – is just around the corner.  So I thought  Mardi Gras cupcakes were in order!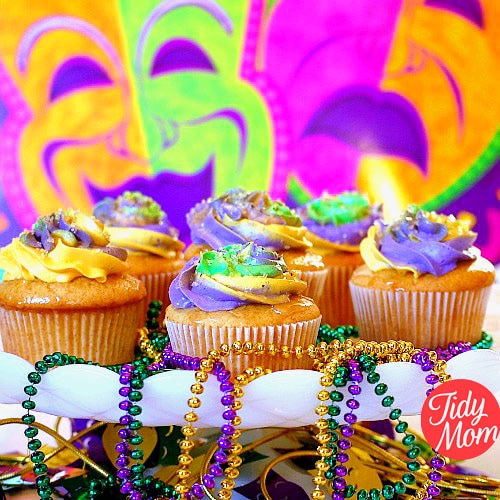 The King Cake might be the traditional sweet on Mardi Gras, but these fun cupcakes are decorated with traditional Mardi Gras colors: purple represents justice, green represents faith and gold represents power.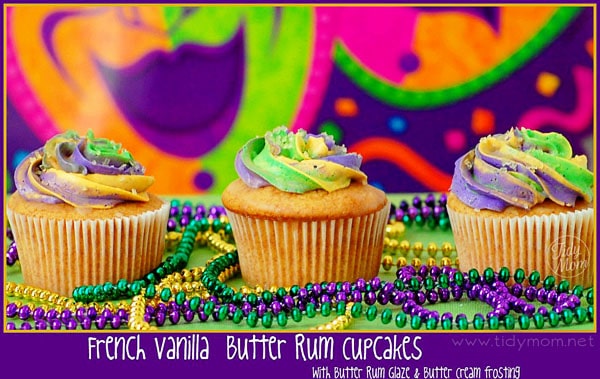 LET'S MAKE MARDI GRAS CUPCAKES
French Vanilla Butter Rum Mardi Gras Cupcakes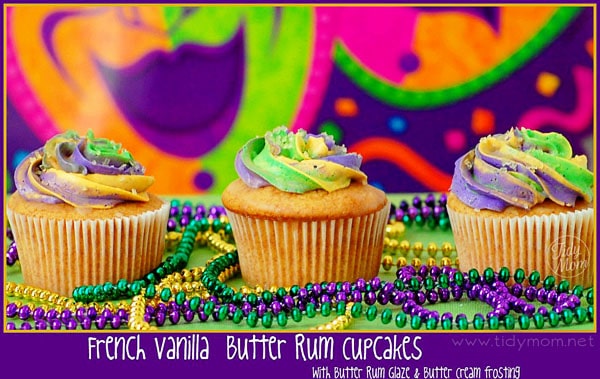 Ingredients
French Vanilla Butter Rum Cupcakes

1 French Vanilla cake mix
1 1.75oz (4 serving) instant French vanilla pudding mix
1 tsp cinnamon
1/2 tsp nutmeg
4 eggs
1tsp vanilla
1/2 C cold milk
1/2 C melted butter (not margarine)
1/2 C rum (I used Capt. Morgan which is a spiced rum)

Butter Rum Glaze

1 stick butter
1/4 C water
1 C sugar
1/2 C rum

Butter Cream Frosting

1 cup real butter (not margarine) *room temperature
1 cup vegetable shortening
pinch of salt
1 tsp vanilla
4 cups powdered (confectioners) sugar
1/4 – 1/3 cup heavy whipping cream
paste food coloring
Instructions
French Vanilla Butter Rum Cupcakes

Preheat the oven to 350. Combine all ingredients and beat for 2 minutes. Pour into lined cupcake pans and bake for 22-24 mins. Cool slightly on a rack.
*these would also be good with a toasted pecan in each cupcake (my family wont eat nuts, so I didn't put them in mine)

Butter Rum Glaze

Melt butter in a saucepan and stir in the water and sugar. Boil for 5 minutes, stirring constantly. Remove from heat and slowly stir in the rum.
Let the glaze cool down a little.
Dip the tops of the cooled cupcakes in the glaze.

Butter Cream Frosting

Thoroughly cream butter and shortening . Beat in the vanilla. Add sugar, one cup at a time until blended. When the sugar is completely beaten in and the sides of the bowl are scraped down, add the whipping cream, beating at the highest speed until super fluffy, about one minute.
If you wish to add color to your frosting, like I did for these Mardi Gras colors, use the gel paste food coloring. It's stronger and more vibrant.
Pipe frosting on top of glazed cupcake then drizzle a little more glaze over the butter cream frosting and top with chunky sugar sprinkles.
Notes
**I have to be honest, piping 3 colors was NOT an easy task, only about 1/2 of my cupcakes came out looking good, the others were either missing a color, or the colors started to mix and looked gray or brown……if anyone has any tips on piping 3 colors I'd love to hear them!!
How did I do it?- I divided my frosting into 3 bowls and colored each. I then spooned a big scoop of each color into the bag, trying the best I could to get them side by side. I then squeezed the frosting into another bowl until all three color started to come out—then I piped onto the cupcakes, using my 1M tip.
http://tidymom.net/2010/french-vanilla-butter-rum-mardi-gras-cupcakes/
Copyright© 2009-2013 TidyMom.Net
These were FAN-TAS-TIC!
**Making this recipe?  Take a picture and share it on Instagram! Make sure to tag it #TidyMom so we can see what you're creating in the kitchen!
Seriously… GO…make these… now!! My kitchen smelled SOOOO wonderful even the next day!
Want more great recipes like this? Follow my TidyMom Easy Recipes Pinterest Board
Follow Cheryl Sousan | Tidymom.net's board TidyMom.net easy recipes on Pinterest.
LIKE IT?! PIN IT!