Sunriver Resort – Falling in Love With Central Oregon
A few weeks ago I was invited to experience Sunriver Resort on my first trip to Oregon.  If you haven't been to Sunriver,  just south of Bend in the Pacific Northwest you need to put it on your travel bucket list. Be prepared to fall in love, with the high desert of central Oregon like I did!
My goal was to escape a few days and enjoy time relaxing and recharging in the foothills of the Cascade Mountains with 11 friends who understand the crazy world of blogging.
What I discovered was a luxury retreat in the quiet pine forests that boasts 300 days of sunshine, a climate perfect for countless outdoor activities and all the beauty that nature has to offer.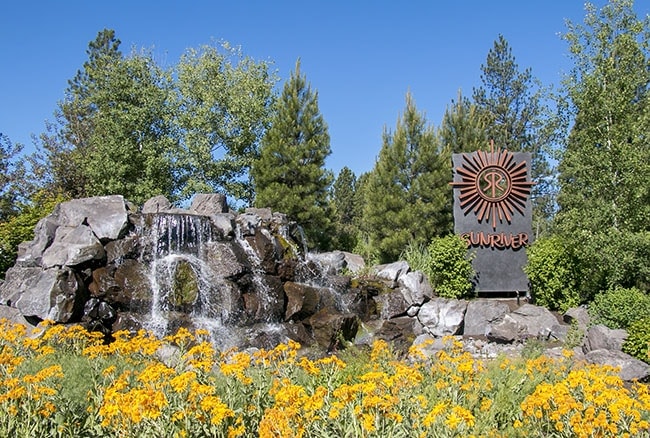 SUNRIVER RESORT OREGON – CALDERA SPRINGS
The vacation community Sunriver Resort, Oregon, is a widely popular destination spot that we called home for a long weekend in mid-September. You can stay at the lodge or you can choose from the many rental homes or condos scattered all around town, either way, you have access to all the amenities!
The moment my plane touched down in Oregon, a smile never left my face.
Sunriver Resort hosted our stay and provided an absolutely gorgeous home in Caldera Springs.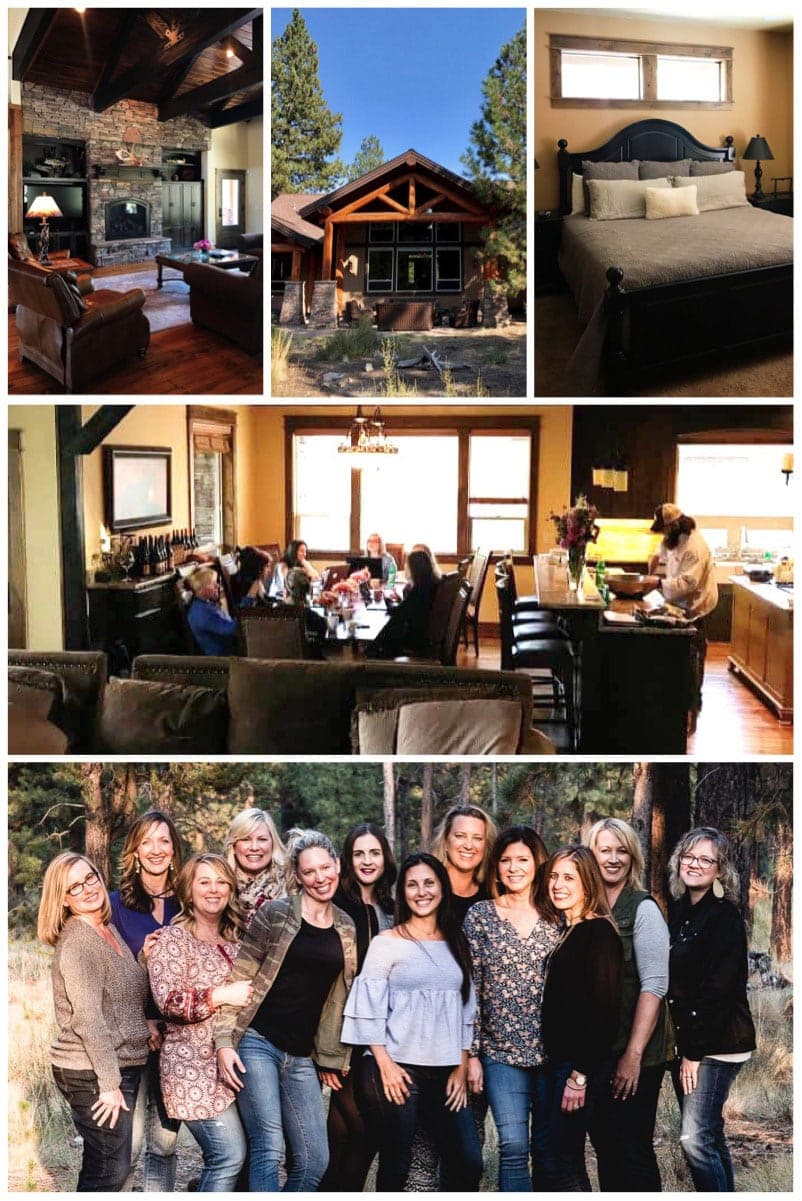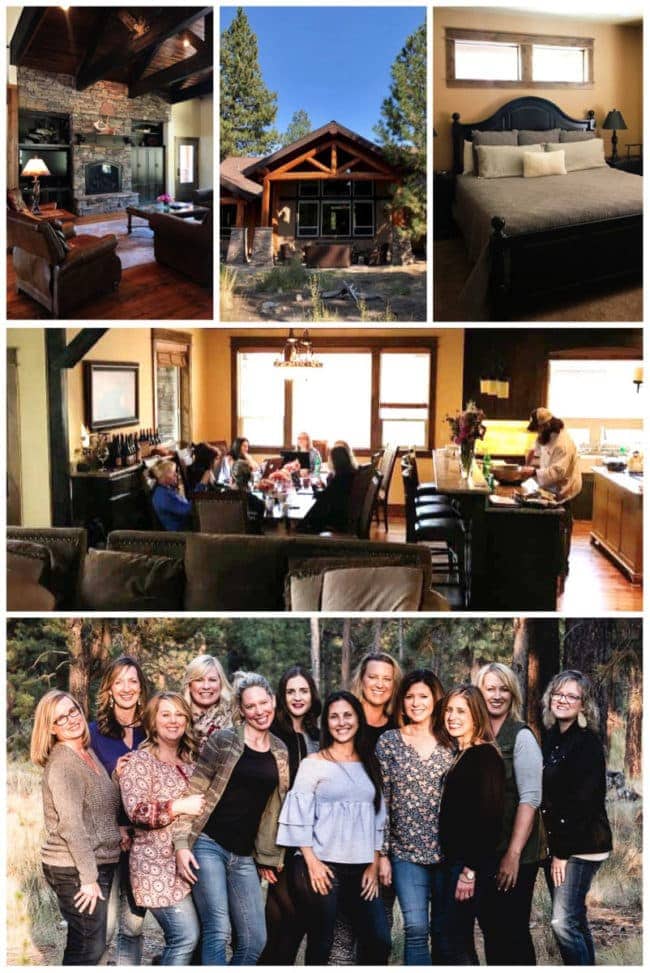 Our group left to right:
Cathy, Brenda, me, Lori, Amanda, Maria, Gina, Heidi, Sandy, Erin, Kristen, and Mary. We shared good food, made more remarkable by our conversations and laughter. I loved learning from each and every one of them.
Our home-away-from-home was filled with exquisite furnishings, a spacious and stocked kitchen and with 3,450 sq ft, it easily slept all 12 of us with plenty of space to spread out and relax. Since it was still warm enough to enjoy happy hour outside, we spent every moment possible on the back patio, which was meant for relaxation.
Guests staying at Caldera Springs can take advantage of a community gathering place at the Lake House, use the acres of lakes for canoeing or kayaking, access the Quarry Pool and Fitness Center, explore over nine miles of walking and biking trails, and play at the children's discovery playground.
SUNRIVER RESORT OREGON – ACTIVITIES
The sun filtered through the pines, as we rode bikes along the 40+ miles of bike paths and kayaked on the Deschutes River.
This was one beautiful river. We enjoyed a brown bag lunch, thanks to Whole Foods, in our kayaks in a spot where the water was crystal clear and turquoise in color.
When you're not on the water, I highly recommend getting around Sunriver by bike! They have 40 miles of paved, mostly flat bike paths.
Just head to the bike barn to pick up your wheels for your entire stay. Biking to breakfast, lunch, down to the marina or shopping is part of the Sunriver culture.
All guests staying at Sunriver have access to many amenities and activities. This sprawling 400-acre property has enthusiasts flocking to the Bend, Oregon resort to enjoy world-class golf, skiing and snowboarding, kayaking, fishing, rock climbing, biking, horseback riding-virtually endless year-round recreational opportunities. Sunriver Resort's private airport is the only private resort airstrip in the Pacific Northwest.
Since we were looking to relax, we took refuge in the renowned Sage Springs Club and Spa. They offer a full range of massages, facials, body treatments, and salon services for relaxation seekers.
For those seeking a fun-filled family vacation, Sunriver Resort offers family vacation packages designed to keep every member of the family happy, no matter their age.
With so many dining options in Sunriver as well as nearby restaurants, markets, and cafes, eating well and often is not an issue.
We even had the resort's executive chef make us an incredible meal at our Caldera Springs house. Chef Travis has an imaginative palette and we were all blown away by the extraordinary five-course meal he created for us— without ever breaking a sweat!! lol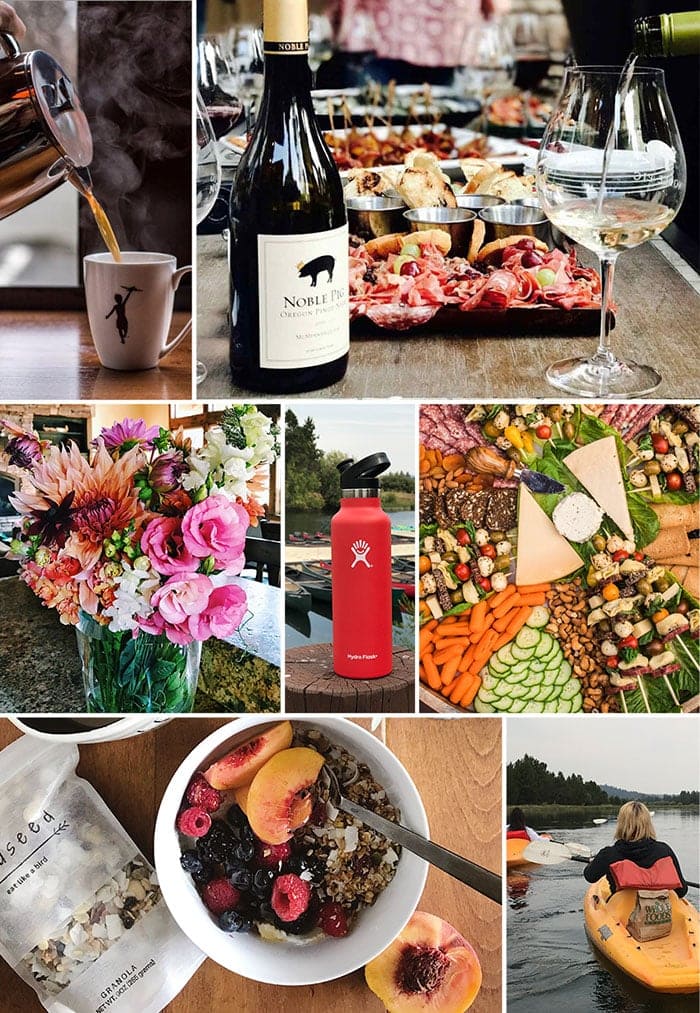 Thanks to each of the companies below for making our weekend together extra special and delicious!
Storyville Coffee  Seriously one of the best cups of coffee I've ever had!! Not only did Storyville come to the house to make their amazing french press coffee, we learned about their mission to end human trafficking. If you choose their regular coffee delivery subscriptions, the beans are shipped the same day they are roasted, and you are supporting a significant cause.
Noble Pig Wine  I am officially a Noble Pig groupie after trying this Pinot Gris and Pinot Noir.  I had a case shipped to me as soon as I got back home.
Birdseed Foods  Makers of the most wonderful granola right in Bend, Oregon This gluten-free granola is packed with nuts, seeds, and nutrients, fewer oats, fillers, and sugar. It's become my new favorite breakfast with yogurt and fresh fruit.
Hydroflask  The rest of my family is jealous of my new water bottle.
Whole Foods Bend  Check out their ultra-affordable store brand, 365 Organics. you can now buy Whole Foods' (affiliate link) 365 products through Amazon if you don't live near one of their stores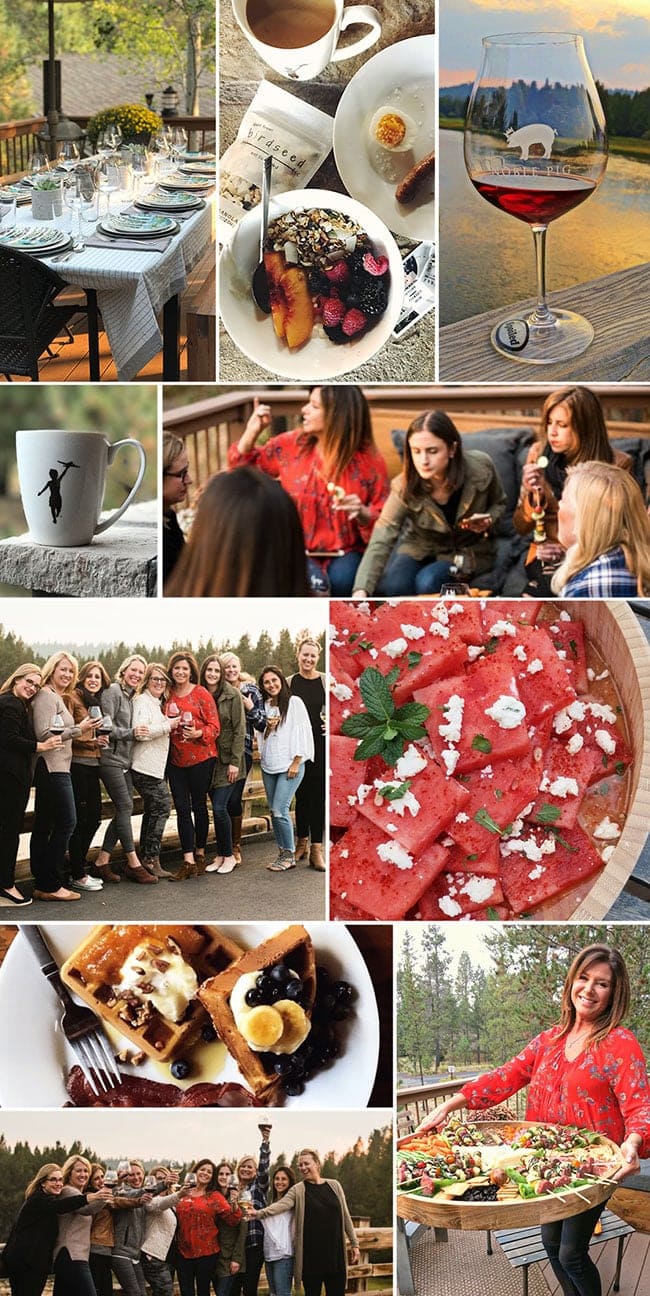 I want to give an extra thank you to my sweet friend Sandy of the blog Reluctant Entertainer, who spent months organizing this incredible weekend!  Sandy lives in Bend, Oregon and if you follow her on Instagram, you will see that her every day looks like a vacation!!  Sandy is a gracious host and one of my dearest friends.   Thanks again Sandy and Sunriver for providing us with a cozy and stunning place to gather with friends, relax, and recharge.
Thanks for following along with my travel adventures! If you are looking for a lovely escape of your own, be it with family, a group of girlfriends, or a significant other, Sunriver is a fantastic choice.

Have you been to Sunriver Resort in Oregon?  I'd love to hear about it!!
Want to Travel to Sunriver Resort Oregon? Pin It!

Disclosure: Sunriver Resort hosted us for the weekend. As always, all thoughts shared here are my own.
Tidymom is a participant in the amazon services llc associates program, an affiliate advertising program designed to provide a means for sites to earn advertising fees by advertising and linking to Amazon.com.
Please respect my work, recipes and photographs. If you do use a recipe in your own writing, please give proper credit and link back to the original post.