Silhouette Vinyl Promo + Portrait GIVEAWAY!
If you're looking for a fantastic Silhouette Discount, then you are going to love what I have to share today!! A pretty sweet discount for vinyl AND the Silhouette machines PLUS I have a Silhouette Portrait to GIVEAWAY!
Silhouette is having the BIGGEST VINYL EVENT EVER! They have cut the price on their vinyl dramatically. Plus, during this promotion, you get an additional 25% off!! PLUS, you can get a fabulous bundle deal if you don't have a CAMEO or Portrait yet.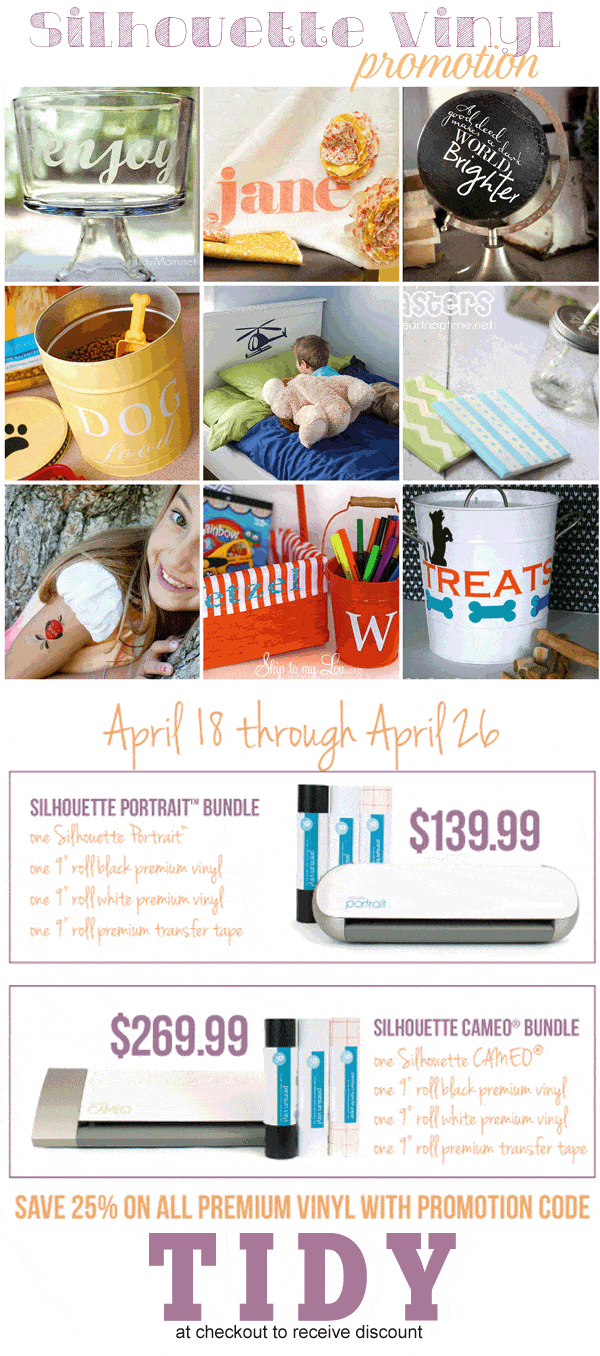 Simply go to the Silhouette website and use the special code "TIDY" at check out to cash in on the great deals!

Projects featured:  etched glass dessert bowl / cut fabric / globe / dog food tin / headboard / coasters / temporary tattoos / personalized teacher gifts / dog treat bucket
The Silhouette Portrait is the newest personal craft cutter from Silhouette with an 8-inch cutting mat. It's small in size, small on price, and BIG on features!
What's so great about the Silhouette is you can cut ANY font on your computer — no extra charge! There's no need to buy cartridges either! With the Silhouette, you have a whole arsenal of fonts that you can start cutting right away, right on your computer. You can also use the Silhouette software to trace your own designs, or purchase individual designs from the extensive Silhouette Online Store. You don't have to buy a whole cartridge for just one design! Most designs in the Silhouette Online Store are 99¢ or less. Plus there's a new free shape each week that can be downloaded and kept permanently in your Silhouette Studio library.
GIVEAWAY! I have one Silhouette Portrait to giveaway to ONE LUCKY TIDYMOM READER!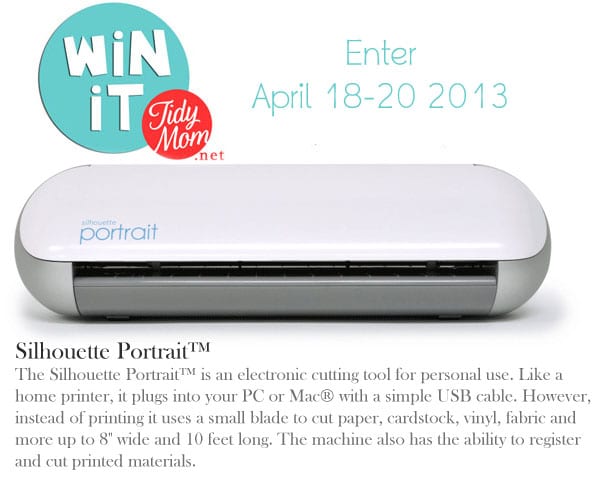 To enter the giveaway, leave a comment on this post then simply complete the steps in the giveaway widget below:
If you don't see the widget, be patient because it might take a minute to load (especially with Internet Explorer 9).  Or you can click here to for the entry form  if you have any questions, you can contact me via email