Hydrangea Care – Making Cut Hydrangeas Last Longer
Essential hydrangea care tips to keep your fresh-cut hydrangeas looking beautiful longer. You'll be amazed at how long you can make your flowers last!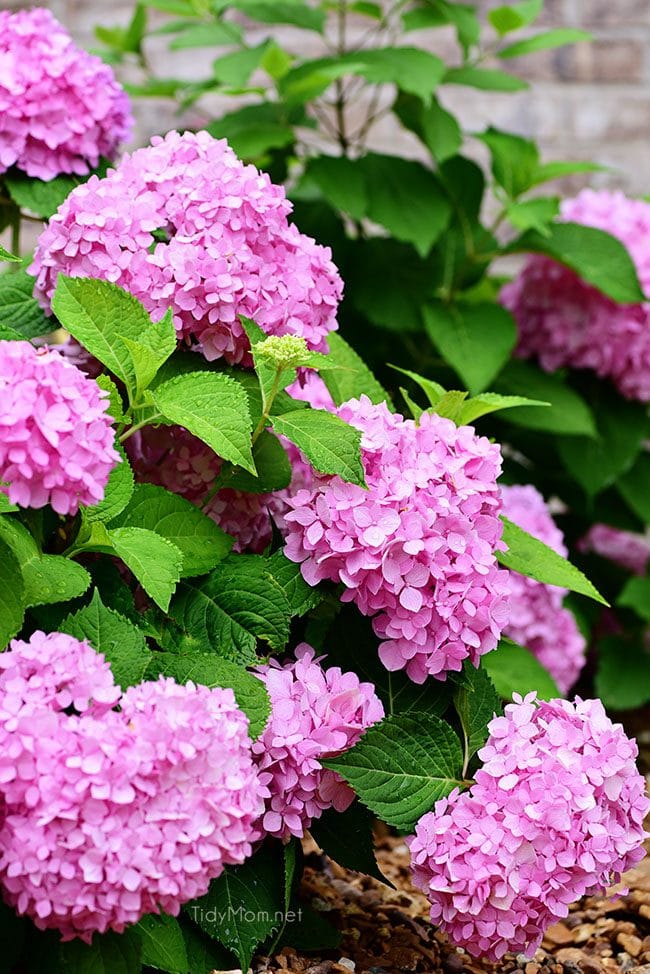 Hydrangea Care – Making Your Cut Hydrangeas Last Longer
I absolutely love hydrangeas! I think they make such a beautiful addition to any landscaping and an even better addition to any home decor.
Two years ago we had some new landscaping put in, that included three Endless Summer Hydrangeas. They were full of blue blooms that year and looked beautiful.
Last year I was so excited to see my hydrangea bush bloom again. I couldn't wait to see how beautiful all the blooms would look in front of the house. Imagine my disappointment when I only got a few blooms the whole summer.
Thankfully this year I rejoiced to see I had a full set of blooms on all three plants and they are pink! I could finally cut flowers to decorate inside and make hydrangea centerpieces.
Here are some of my favorite secrets for long-lasting hydrangeas.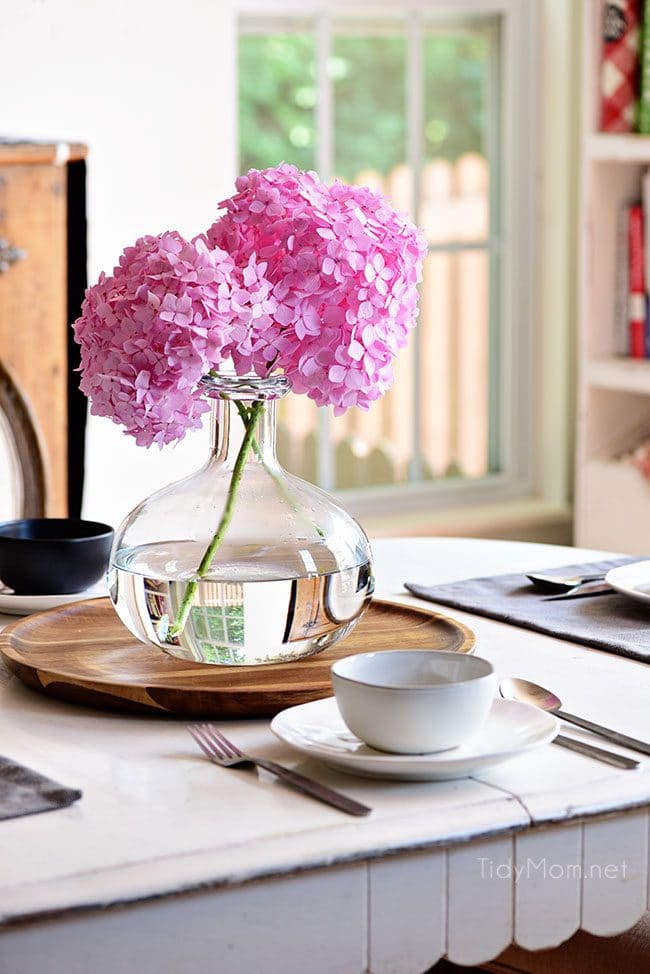 How to Keep Hydrangeas from Wilting
Hydrangeas can be pretty hit or miss for most people. Keeping flowers alive can be a tricky battle, and a lot of times the flowers win.
If you have problems with your flowers wilting almost immediately you might need to check for a sap buildup where the flower was cut. Often this forms on the stem of hydrangeas after being cut and prevents them from being able to suck up water.
An easy solution is to cut the flowers and immediately coat the stems with a spice called alum, it can be found in the spice aisle at most grocery stores.
Once the stems are coated, just arrange as you planned and enjoy your beautiful flowers.
Hydrangea Care Tips for Keeping A Healthy Arrangement
There are a few quick things you can do to keep your cut hydrangeas healthy once you've assured they won't wilt immediately.
First, add a 1/4 cup of sugar to the room temperature water in the vase. The sugar helps feed the stems and increases the life of the cut flowers.
Next, you should add a couple of pumps of hand soap into the water, along with the sugar. The soap works to keep away any bacteria that might form in the water, and on the flowers.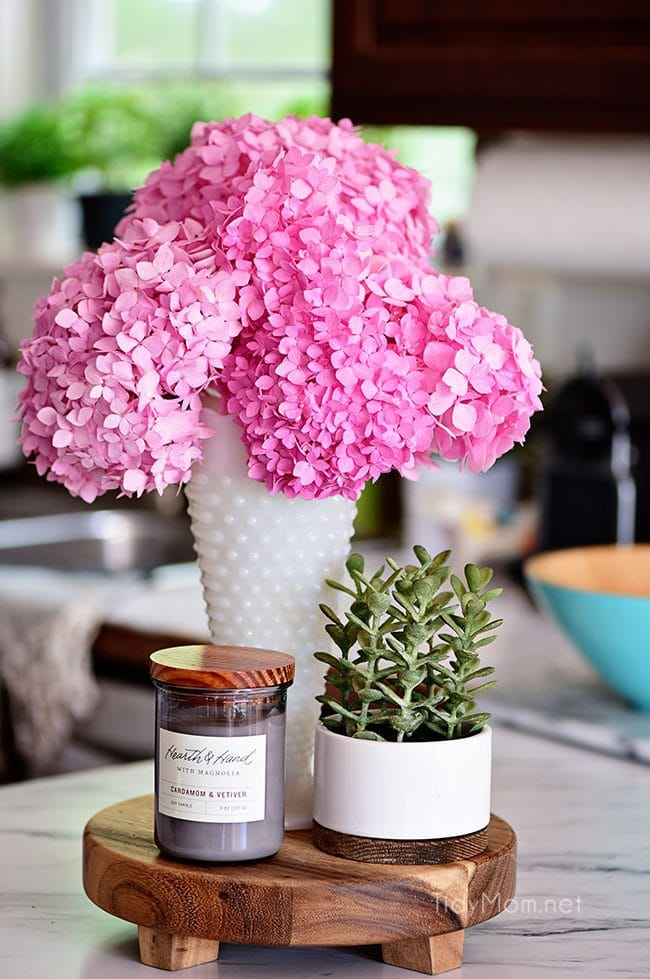 Cutting Hydrangeas for Longevity
The way you cut the flowers can make all the difference when it comes to hydrangea care.
Be sure to cut the stems at an angle, when removing them from the bush. Cutting at an angle increases the amount of water they can take in at one time.
It's also a good idea to remove the leaves from the flowers before arranging them. The leaves take up too much water and take away from what the stems need to suck up.
Other Helpful Tips for Arranging Hydrangeas
Once you have all the basics down, there are a few more things to keep in mind. Try not to put too many flowers in one vase, crowding in the vase will cause them to wilt faster.
You will also want to change the water every two days. Even with adding soap to the water, there's still a chance for bacteria, so adding fresh water on a regular basis is always a safe bet.
Now that you know all the best tricks and tips for long-lasting hydrangeas, go out and cut your favorite ones and get decorating!
Like This Post? Pin It!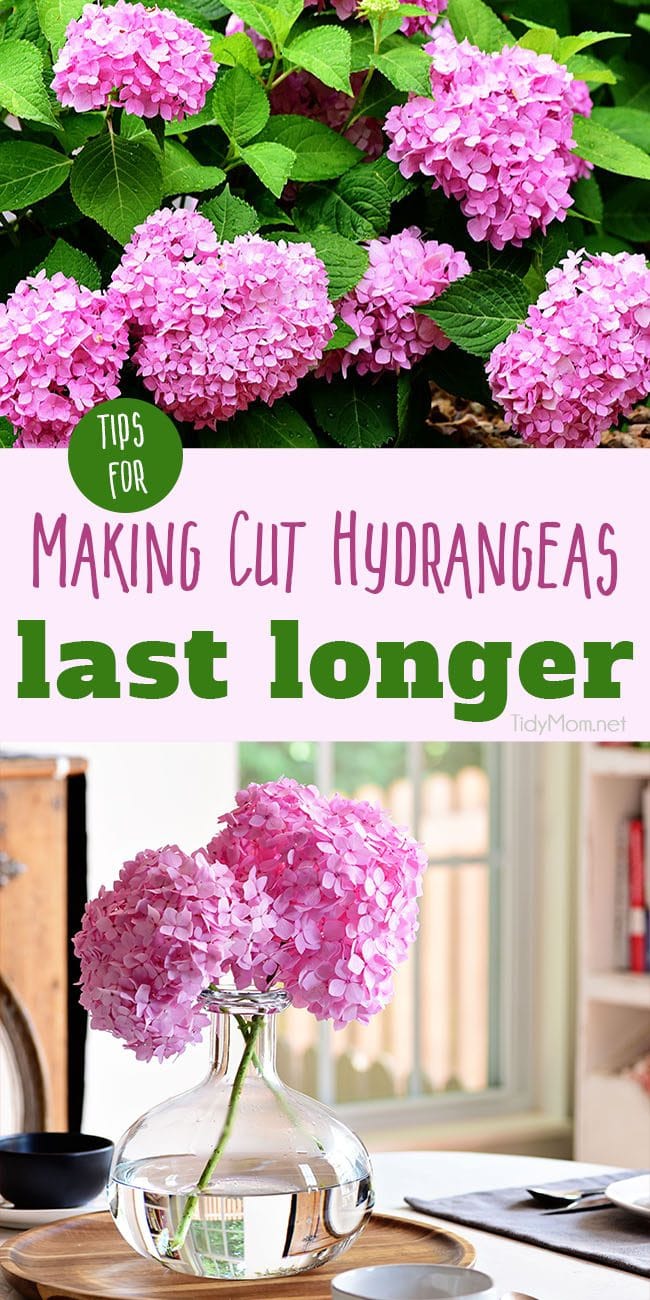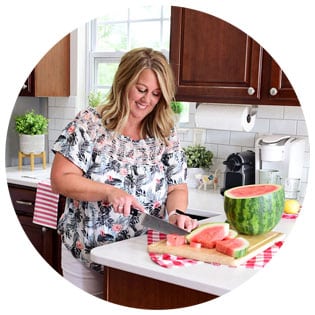 Hi there, I'm Cheryl!
As a wife, mom, and caffeine enthusiast, my journey has taken me from bustling mornings with my family to sharing delicious recipes, home care tips, and heartfelt decorating insights with wonderful readers like you. My love for baking, photography, and tidiness shines through every post I craft. Dive into my world and discover the art of homemaking, one tidy moment at a time. Read more...
Tidymom is a participant in the amazon services llc associates program, an affiliate advertising program designed to provide a means for sites to earn advertising fees by advertising and linking to Amazon.com.
Please respect my work, recipes and photographs. If you do use a recipe in your own writing, please give proper credit and link back to the original post.