How to Plank Grill Burgers | Black Pepper Encrusted Provolone Cheeseburger
Impress your taste buds and friends by using wood planks to plank grill burgers at your next cookout! Plank grilling adds a delicious smoky flavor these Plank Grilled Black Pepper Encrusted Provolone Cheeseburgers! Perfect for a summer BBQ!
Today I'm sharing a recipe and video for the BEST Burgers we've had in a long time!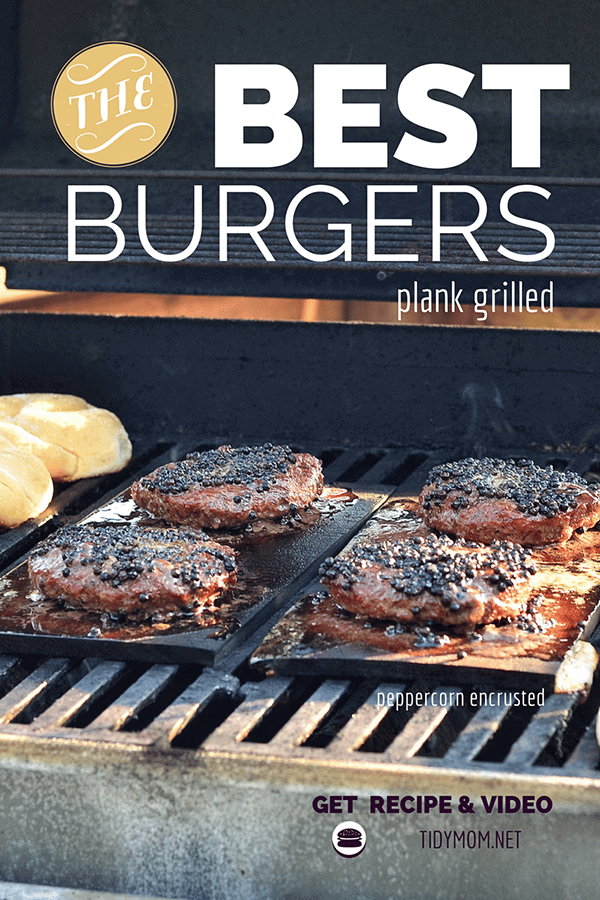 This post may contain affiliate links. Please read my disclosure policy here.
To me, summer is about long sunny days, icy cold drinks and grilling outside!  I love easy grilling recipes and plank grilling is becoming a favorite way to grill at our house!  Planking is no longer just for fish!
I have been wanting to try plank grilling for quite some time.  I finally remembered to pick up some cedar planks and decided to try a tasty peppercorn encrusted burger for our first planking. Sautéing the pepper tames the heat, but if you're not a fan, you can just skip the pepper or use less.
**I had trouble with my peppermill, so I had to use whole peppercorns, we just scraped them off before eating.
What is Plank Grilling
If you aren't familiar, planking is cooking food directly on a piece of hardwood.   
The wood plank's natural flavor and aroma infuses into the food as it cooks.  Planking has been documented back to Native Americans in the Pacific Northwest, who slow-cooked their salmon on large wooden boards.  Today, most home cooks plank grill using their outdoor grills.
I purchased my planks at Lowes ($5 for a package of 2 planks), you can also find planks at specialty stores like Williams Sonoma, as well as most places that sell grilling supplies.
You can cut your own planks, just be sure to use untreated wood, and sand the surface real good to avoid splinters in your food!  According to The Kitchn, you could even pick up a 2″ thick 8′ long cedar board at the hardware store and ask them to cut it into 8 pieces, for a fraction of the cost of buying one-time-use planks from a specialty store.
The hardware store lumber is thicker than the cedar planks made specifically for culinary use, so they take longer to fully char. You can use them more than once.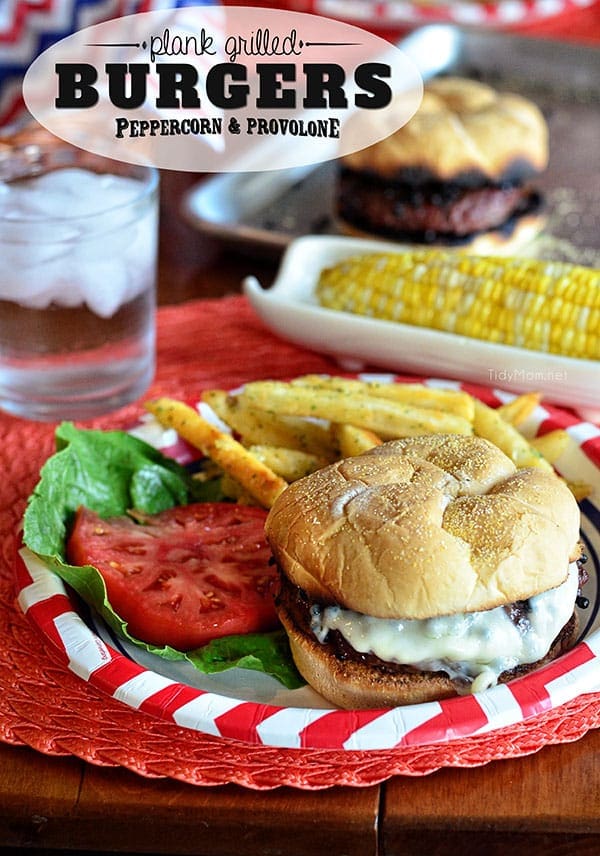 Wood Plank Flavors
There are a variety aromatic planking wood flavors with cedar being the most common.  Other plank wood flavors include alder, maple, apple, pecan, oak, and hickory.  (Amazon sells a variety pack of Cedar, Alder, Cherry, Hickory, Maple, Red Oak))
You might want to match your wood flavor to what you are cooking: 
Fish: try gentle flavors of woods like cedar or alder
Chicken or pork: try medium flavor woods like maple, apple, and pecan.  They will leave more flavor without being overpowering.
Beef or other game: You can try a heavier wood flavor such as oak or hickory.
I really wanted to try oak to plank grill our burgers, but was only able to find cedar at the local stores.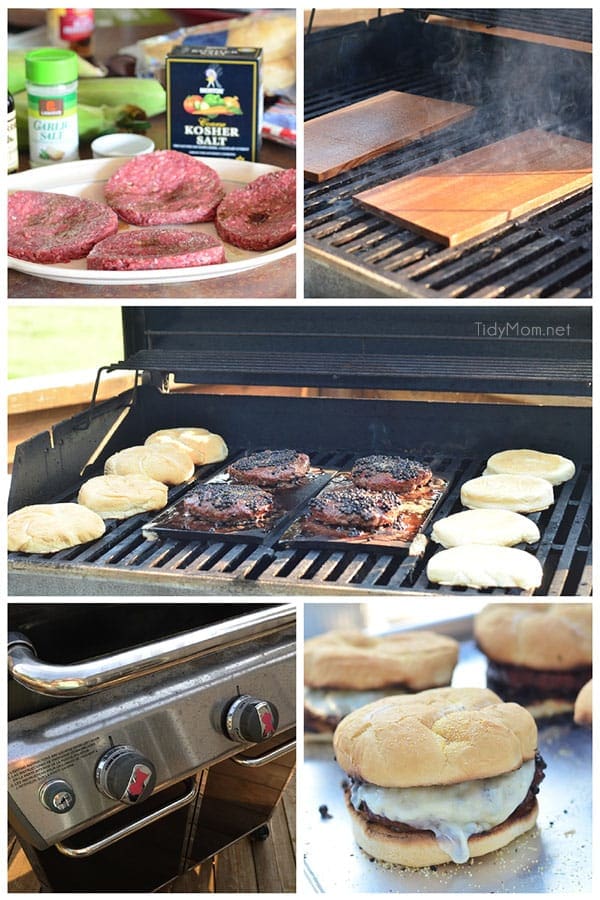 Soaking Planks
Plank preparation is important: Planks must be soaked in water for at an hour prior to grilling.  Soaking the planks adds moisture to the wood, slowing down the burning of the plank on the grill, avoiding over-charing and catching fire.
Soaking also helps to 'smolder-smoke' the plank as it cooks and infuses its wood flavor.
I soak my planks in the kitchen sink, but you could also use a pan or dish, anything that the planks will fit in.  Be sure to flip them halfway through to ensure they are thoroughly soaked.
I've read you can also soak planks in other liquids, like white wine, beer, apple or berry juice; citrus fruits, or add onion or garlic to your plank soaking water to add subtle flavors to the food.
Toasting Planks
Part two of plank preparation is smoking and toasting.  Place your plank on a hot grill, with the smooth side facing down. Close and toast for approximately 2-5 minutes.
Open the grill and turn your plank over and toast the rough side. Cover the grill again and toast for another 2-5 minutes.
You may hear popping and snapping sounds, this means your planks are ready for cooking!  Be sure the smooth side is up when you are ready to start cooking.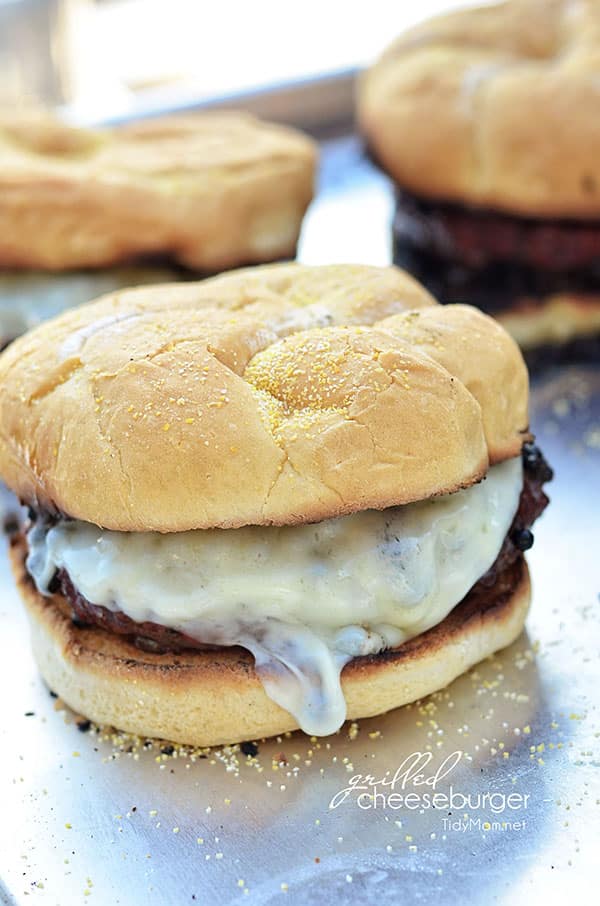 Grilling with Planks
Gas grills are preferred for planking because of the ability to control the heat and consistent temperature levels.  Use high heat to toast your planks, then medium indirect heat to cook.
I have 3 burners on my grill, so I turn the middle one off, and turn the other two to medium and place the planks in the middle of the grill, hence medium indirect.  This will give you slow, even, gentle heat, allowing more time for flavors to mingle and marry.
Always use a meat thermometer to make sure that the safe food temperature is reached before removing your planked food from the grill. Don't leave the grill unattended while planking, and it's always a good idea to have a squirt bottle of water handy if plank catches fire, or seems to blacken too quickly.
Reusing Planks
Planks are re-useable if it's not too charred and there is unburned wood. After removing cooked food from the plank, soak your plank in water to cool. This also helps to loosen any stuck on food.
Clean used plank, by scrubbing it down with water and a scouring pad without soap. Rinse and let completely dry out before storing it away to prevent molding.  Store in a dry place.  When ready to re-use the plank, rinse well, then soak it for planking.
Just note, that the aromatic wood flavor and smoke from the plank will not be as intense as the first time.
CHECK OUT HOW EASY IT IS TO PLANK GRILL BURGERS! WATCH THE VIDEO!
I made a little video so you can see exactly how I plank grilled the burgers.
click to see more of my recipe videos
RECIPE NOTE:  I made peppercorn encrusted burgers topped with provolone cheese and they were fantastic!  Plank grilling will definitely happen more at our house!.
I couldn't get my pepper mill to coarsely grind the peppercorns, so I used whole peppercorns.  You are going to sauté them, so it takes away some of the heat of the black pepper, but I would recommend using coarsely ground pepper instead of whole peppercorns unless you are a huge pepper fan. (we scrapped the peppercorns off before eating)
I RECOMMEND FOR PLANK GRILLING
Impress your taste buds and friends by using wood planks for your next cookout!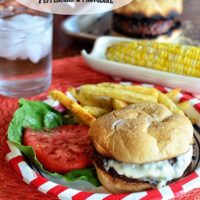 Plank Grilled Black Pepper Encrusted Provolone Cheeseburgers
Yield: 4 burgers
Prep Time: 1 hour
Cook Time: 25 minutes
Total Time: 1 hour 25 minutes
Plank grilling adds a delicious smoky flavor to these black pepper encrusted cheeseburgers.
Ingredients
2 tablespoons olive oil
1/2 cup coarse ground black pepper
4 (1/3 pound) hamburgers
1-2 tablespoons worcestershire sauce
1-2 teaspoons garlic salt
1-2 teaspoons Lawry's Seasoned Salt
2 tablespoons butter
4 slices provolone cheese
2 (12-inch) cedar planks
kaiser rolls or hamburger buns
Instructions
Soak planks in water for at least 1 hour (turning over after 30 minutes)
Warm oil in a 10-inch skillet (preferably a cast-iron), add coarsely ground black pepper and satué on high for 3 minutes then on medium for 7 minutes stirring occasionally with a wooden spoon. Set aside and let cool completely.
Season both sides of hamburger patties with worcestershire sauce and salts to taste. Spoon sauteed black pepper on each patty and spread around evenly (use less or more according to your taste), flip burgers over and add black pepper to other side. Cut butter into 4 patties and place one on top of each burger.
Pre-heat gas grill on high to 400 degrees.
Remove planks from water after one hour (or more) and place planks on hot grill to toast, about 2-4 minutes with lid closed. Open lid, flip planks over and toast on other side for another 2-4 minutes with lid closed, until planks begin to crackle and smoke.
Open grill lid and make sure planks are smooth side up and in the center of grill. Set grill heat to medium indirect (if you have 3 burners, turn the middle one off and the other two to medium).
Using a spatula, place 2 burgers on each plank, close the lid and cook for 20-25 minutes, until burgers reach internal temperature of 160 degrees.
Place a slice of cheese on top of each burger and close lid until cheese melts (about 1-3 minutes)
If you would like toasted buns, place buns open side down around on grill. Watch closely and remove when toasted (2-4 minutes)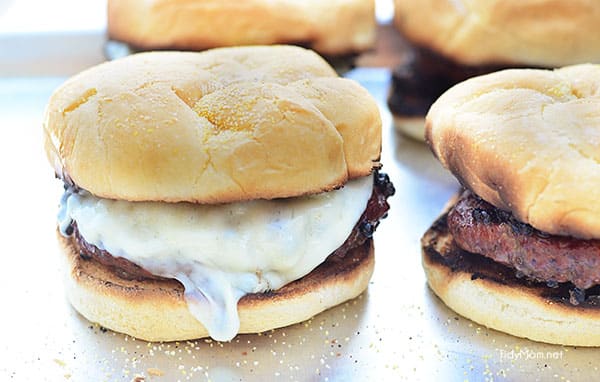 I would love to hear if you've had any experience planking!  What woods and food have you used?

Tidymom is a participant in the amazon services llc associates program, an affiliate advertising program designed to provide a means for sites to earn advertising fees by advertising and linking to Amazon.com.
Please respect my work, recipes and photographs. If you do use a recipe in your own writing, please give proper credit and link back to the original post.