Frozen Fruit & Yogurt Rollups
I hope you all had a Fantastic fourth!! 
Did you see the guests I had while I was away with family?
Janet shared her BEAUTIFUL Garden and her exciting 4th of July news!
Solving a Garden Trouble Spot
Are you a Mod Podge fan? That stuff is fantastic isn't it?
Amy from Mod Podge Rocks shared a fun project you wont want to miss!
We are still crazy busy here, that's why I LOVE this yummy little treat we've been enjoying.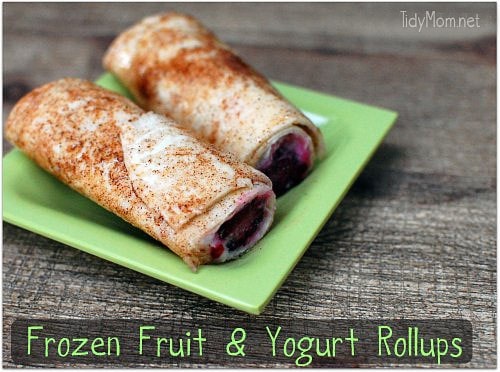 I first saw this "recipe" at I Blame My Mother,
and Sarah got the idea from Once a Month Mom, who calls them Fruity Breakfast Burrito's.
In the last month I have made 3-4 batches…..we love these THAT much!
Frozen Fruit & Yogurt Rollups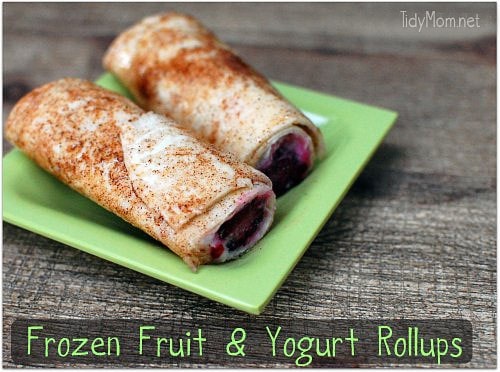 Ingredients
10 flour tortillas
1-1/2 cups Vanilla yogurt
frozen berries
1/2 cup sugar
1 T. cinnamon
spray butter
Instructions
Mix cinnamon & sugar on a large plate. Spray one side of a flour tortilla with butter, covering the entire surface, then place butter side down on plate with cinnamon and sugar. Press down and move around, coating one side of tortilla in cinnamon and sugar.
Next, place tortilla, sugar side down on another plate. Spread about 1/8 cup of yogurt (I just eyeball this, I don't measure) in a strip a little left of the center. Add some frozen berries (I bought a bag of mixed, strawberries, black berries, raspberries and blue berries- I cut the strawberries up). Roll the tortilla tight and place on a large cookie sheet.
Continue the process with the rest of the tortillas.
Place the cookie sheet in the freezer for about 2 hours. Remove from freezer, cut each tortilla in half and place them in a large zip lock bag and put them back in the freezer for storage.
Notes
To Serve: Take out of bag and eat immediately. You can let them thaw a little bit, but if you let them thaw too long, they're mushy, but can be eaten that way too.
Variations: you can try this with different flavors of yogurt and different fruits. Strawberries and bananas would be good…..just be sure to cut the strawberries up, a whole strawberry is hard to eat when frozen.
https://tidymom.net/frozen-fruit-yogurt-rollups/
Copyright© 2009-2013 TidyMom.Net
Be sure to click over to Once a Month Mom she has step by step pictures that really help understand how to put these together.